UCEM Property Awards 2021 – Our Alumni Award nominees: Ranikqué Hayden-Best
Posted on: 7 October, 2021
We will be hosting the 34th UCEM Property Awards in London on Thursday, 14 October. After being hosted online last year due to restrictions imposed by COVID-19, we are delighted to be able to resume the prestigious event in person this year.
The Awards will see a seventh person receive our Alumni Award since it was added to the event in 2015.
The Alumni Award goes to a former UCEM student who has made an outstanding contribution in their early career towards creating a better built environment.
In the lead-up to 14 October, we will be profiling each of the nominees for the Award. Following on from our profiles of Nella Pang, Lucy Winzer, Rachel Ricketts and Lucy Gaitskell, today, we profile our fifth nominee, Ranikqué Hayden-Best, who studied on our BSc (Hons) Quantity Surveying programme.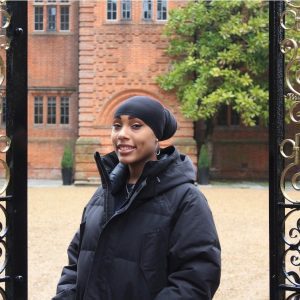 Ranikqué graduated from UCEM's BSc (Hons) Quantity Surveying programme in 2020. When joining UCEM, Ranikqué was working in the childcare industry and, with determination, she was able to transition into the built environment. She is now a quantity surveyor and is working towards completing her APC.
During her time at UCEM, Ranikqué was elected as a student rep, which led to her becoming the diversity student ambassador. Since completing her studies, Ranikque has become a UCEM role model.
As a female from a diverse background in the construction industry, Ranikqué sees every day as an opportunity to lead by example with manners and kindness. Her achievements in the industry have earned her this nomination for the 2021 Alumni Award.
Ranikqué has grown in confidence along her journey in the industry and is keen to see where her future takes her. She understands the potential she has to inspire others and is passionate to do so. She is keen to let others know that if you can dream it and believe it, you can achieve it with hard work and dedication.
Reacting to the nomination, Ranikqué says: "It is an absolute honour to be nominated for this year's Alumni Award. It is so enjoyable to work with UCEM and its students and I have loved continuing to work with UCEM after graduating from my course.
"Knowing that your contributions may be a benefit to others is such a rewarding feeling, and to be nominated for an award like this has really taken me by surprise but, at the same time, it inspires me to continue to do my best and push myself.
"Thank you so much for my nomination. I look forward to continuing to work together with UCEM and its students in the future."
Reflecting on her studies with UCEM, she adds: "I never quite knew what I was going in to when I decided to study an online degree with UCEM. I began my studies in 2017 with very little knowledge of the construction industry.
"I had been a nanny for seven years prior to landing my first job as a trainee quantity surveyor. During the early stages of my studies, I found what some things others would call straightforward to be the hardest, most complex aspects of the industry ever!
"I would say understanding the construction industry was like studying to understand and speak a whole new language!
"During my time at UCEM I found that the staff were always super supportive and understanding to the best of their abilities. At times when I struggled to find the support I felt I needed, the staff at UCEM went above and beyond to help and ensure I received the guidance required to progress to the best of my ability.
"I definitely had my fair share of challenges juggling university with my personal and social life. I studied three modules per semester and it was such a challenge at times! UCEM was always both supportive and understanding, and I feel its staff went the extra mile to ensure my studying experience went as smoothly as possible.
"I believe with online learning it's easy to sometimes feel like you are not part of an online student community yet UCEM constantly explores new ways to ensure all students worldwide feel part of an online learning community – which I can imaging is not the easiest of tasks!
"Overall, I have learnt so much from studying with UCEM and I would like to thank all the staff for their continuous efforts to improve the learning experience for students – it is much appreciated."
Ranikqué continues: "In the near future, I intend to complete my APC. Whilst doing that, I hope I am able to inspire others to consider a career in the built environment. I hope to lead by example and help others to do their best so they can achieve their goals and aspirations.
"I hope to continue a relationship with UCEM as I personally appreciate the university's efforts and I feel it is always important to help others succeed. I intend to be a high-performing, well-respected professional in the industry with a good reputation for the quality of my work and respect for others."
Thanks for sharing your thoughts and best of luck, Ranikqué!
To keep up-to-date with the build-up to this year's Property Awards, follow us on Twitter, LinkedIn, Facebook and/or Instagram.