THE PRINCIPAL
Ashley Wheaton BA (Hons)
Ashley is Principal at University College of Estate Management (UCEM). Ashley is responsible for all aspects of the university college's academic and business operations. As Principal he works directly with the Chairman, the Board of Trustees and the Executive within UCEM to ensure that the university college delivers against its vision to be the Centre of Excellence for Built Environment Education. Ashley has previously held senior roles as Director of Global Learning Services for Microsoft, and Chief Executive Officer of InfoBasis Ltd, a global talent management software company. He spent six years as a Non-Executive Director of BRE, and is currently a Member of the GuildHE Executive, Vice-Chair and Trustee of JISC and Chairman of Building People CIC. He holds a BA (Hons) in Economics from the University of London.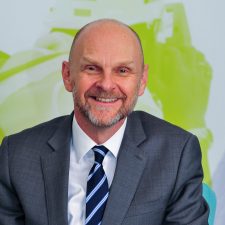 THE EXECUTIVE
SENIOR LEADERSHIP TEAM
Jane Fawkes BA (Hons) PGDip AHEA - Deputy Principal and University College Secretary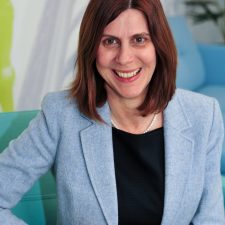 Jane has over 25 years' experience working in Higher Education, including leading Professional Services Teams, and Academic Quality. In her current role as Deputy Principal Jane has oversight of the institutions strategy and planning, performance monitoring and regulatory compliance with the Office for Students. Jane's remit also includes oversight of all HR matters including the employee engagement and wellbeing survey strategy and she led the institutions response to the Pandemic with a specific focus on Staff Wellbeing throughout.
Jane is the University College Secretary to the Board of Trustees and its sub-committees, which involves providing guidance to Trustees on best practice in Corporate and Charity Governance, ensuring the Boards and sub-committees fulfil their governance requirements, and the recruitment and induction of trustees. As University College Secretary Jane is responsible for the updating of UCEM's Charter, Bye-Laws and Regulations and management of UCEM's policies on risks and public benefit.
Jane Deputises for the Principal when required.
Stephen Bartle – Executive Director Business Development and Apprenticeships
Stephen has responsibility for all aspects of business development, including marketing and admissions, employer engagement, international development and corporate training. He also leads on new product development, identifying opportunities for UCEM to expand its range of programmes to meet demand from the built environment industry. His role was recently expanded to cover the delivery of apprenticeship programmes, which have been the largest driver of growth for the institution over the last five years.
Stephen joined UCEM in 2011 and has twelve years' experience of further education from previous roles. He is also a trustee of the Chartered Surveyors Training Trust and a Non-Executive Director of Propertymark Qualifications.
Stephen studied Modern Languages at Oxford University and completed an MBA by distance learning with the Open University.
Lynne Downey BSc (Hons) MA (ODE) (Open) MBPsS – Vice Principal Digital Education and Professional Services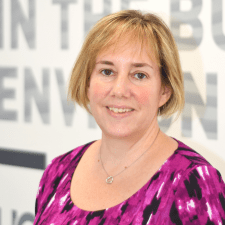 Lynne joined UCEM in January 2014 to develop our academic programmes into a fully online offer and has had responsibility for a number of key areas since including Digital Education. She is now Vice Principal Technology and Academic Services and leads the strategic approach and delivery of technology including learning technology. Lynne also leads our Academic Services departments, including Academic Quality, Academic Registry and Student Services.
Lynne has nearly 20 years' experience of working in digital education. She has worked in Higher Education, commercial training and IT throughout her career and has also taught at the OU as an associate lecturer in Psychology. She has degrees in Information Technology and Psychology and a MA in Online and Distance Education.
Wendy Finlay – Vice Principal Learning and Teaching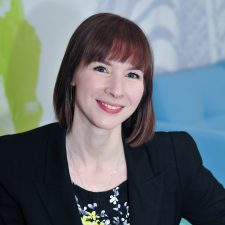 Wendy has held responsibility for a number of key areas since joining UCEM as Vice-Principal in 2016, including Professional Services, Apprenticeships and the project team for UCEM's flagship Project Transform: the Student Success Project, which launched in 2020.  She is currently responsible for the leadership and management of the School of the Built Environment, Apprenticeships Compliance and Academic Resource Management.
Wendy has nearly twenty years' experience of working in higher education following the achievement of her PhD in 2002.  She started her career as a Post-Doctoral Research Associate at a Russell Group University, which incorporated the teaching and supervision of undergraduate and postgraduate students.  She then held positions that focussed on the leadership and management of the professional services that support the student lifecycle from admission to graduation, as well as quality assurance and enhancement services and the provision of external data returns.  Wendy held these positions at a range of providers delivering higher education, including a second Russell Group university, a small and specialist HE provider, and an Ofsted Outstanding Further Education College delivering higher education in partnership with a university.
Wendy has also held the role of Independent Director/Trustee of the Office of the Independent Adjudicator for Higher Education (OIA) since April 2017 and was appointed to the Board of Trustees of the New Model Institute of Technology and Engineering (NMITE) in September 2021.
Tim Mills – Executive Director Finance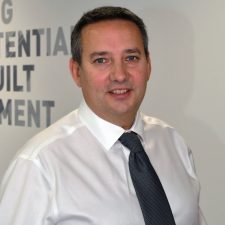 Tim Mills joined UCEM in February 2019 as a contractor and took up a permanent position in July 2019 as the Finance Director. Tim is responsible for statutory/management accounting, financial operations, business partnering, investments, planning and forecasting, audit, financial controls and facility management. Tim is part of the Finance sub-committee, that is made up of employees and members of the Board of Trustees.
Tim has held senior finance roles in oil and gas, assurance and management consultancy firms. He holds a BA (Hons) in Accounting and Finance and is a Chartered Management Accountant (ACMA).
Aled Williams – Executive Director Innovation and Partnerships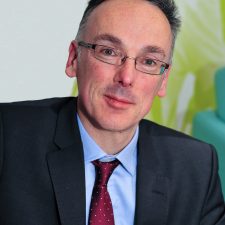 Aled's role focuses on developing UCEM research capacity, output and excellence, as well as commitment to working through partnerships, aligning and coordinating education for sustainability across the institution.  He is developing deeper and more substantial partnerships to have a wider impact on education, industry and society.
Aled has contributed to the development of Built Environment education with enthusiasm and effectiveness and has over 20 years' experience in the sector including LJMU, University of Salford and being seconded to the Higher Education Academy as Discipline Lead (Built Environment).
Aled's external roles include: CIC Champion, Education and Co-ordinator, CIC Climate Change Action Plan (Education & Qualification Workstream); Chair, Council of the Heads of Built Environment (CHOBE); Member of the Construction Leadership Council (CLC), People & Skills Network which has led to him Chairing the CLC Education Sprint Group; Member of the Construction Skills Delivery Group which contributes to the government's 'Project Speed' initiative.
Andy Youell – Executive Director Regulation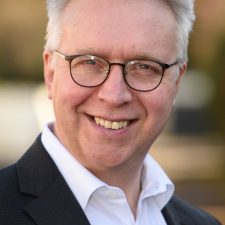 Andy Youell has three decades experience working in Higher Education including spells with the Higher Education Funding Council and the Higher Education Statistics Agency. He has worked with government departments and bodies across the UK and was previously a member of the DfE Information Standards Board. He has also worked as a consultant advising HE providers, systems suppliers and governments across the world.
HONORARY FELLOWS
All our honorary fellows are approved by UCEM's trustees for their eminence in their chosen field and typically have made a significant contribution to the world of property, real estate and construction.
An honorary fellow is someone who acts as an ambassador for UCEM, raising our profile by spreading the word about what we do and sharing networks where appropriate. Attending various UCEM events – such as our honorary fellows luncheon and Property Awards – an honorary fellow may also have specialist expertise and knowledge, which they use as part of their role.
From time to time, UCEM Principal Ashley Wheaton, will invite honorary fellows to special events – such as small scale networking dinners – to provide industry insight and support on their specialist subjects.
Our honorary fellows may also get involved in UCEM activities and promotions such as:
Speaking at lifelong learning sessions
Participating as part of an employer forum, on matters such as sector trends
Endowing a scholarship, bursary or prize
Promoting academic programmes to contacts
Sponsoring UCEM applied research
Extending the UCEM Alumni Network
We are delighted to have an association with the following honorary fellows, and to work alongside them in their role as ambassadors for UCEM.
2007 Mr Peter Angel LLB
2011 Sir Michael Bear BSc (Eng) MBA Alderman
2009 Mr Chris Blythe BA (Hons) FCMA
2019 Mr Ben Bolgar RIBA RIAS FRSA
2022 Mr Bruce Boughton
2009 Mr Roger Bright CB MA (Cantab)
2006 Mr Robin Broadhurst CBE FRICS
2002 Mr Nick Brooke JP BSc BBS FRICS FHKIS RPS
2000 Mr Stephen Burman Hon MPhil FRICS FAAV MCIArb
2013 Mr Jim Carter FRICS IRRV
2019 Mr Graham Chase FRICS FCIArb C.Arb FRSA
2017 Dr Philip Y M Chen AKC PhD MRICS MICE MHKIE
2022 Ms Karen Cheng Yoke Ching DipArch BArch MSc PGDipPM MRICS
2017 Dr Cheng Shing Kwong, Eric EdD LLM BA (AS) FRICS FHKIS FHKIPD
2002 Mr Alan Collett BSc FRICS
2000 Mr Richard Courtenay Lord FNAEA (Hon) (Retd)
2007 Lord Cunliffe MA DUniv AADipl RIBA MCMI
1985 Dr Barry Denyer-Green LLM FRICS FRSA
2004 Mr David Doubble OBE MA FRICS
2000 Mr John Earl FSA MRICS FRSA IHBC
2005 Mr John Edgcumbe BSc FRICS
2008 Mr Gordon Gabbani LLB
1985 Professor Alan Gillett OBE DSc MA FRICS
1992 Mr Alfred Goldstein CBE BSc(Eng) FCGI DIC FEng
2019 Ms Helen Gordon BSc MRICS
1978 Mr David Green FRICS FCIArb FEWI
2011 Mr Michael Green
2016 Dr Ann Heywood FRICS FCIOB FRGS MCMI
2019 Professor Stephen Ho DBA MSc MBA MScIS CDipAF FSCA FAIA FHKSI FICS FSTLA FCILT FIFP MHKCS DipM FCIM DipCAM MCAM FIEx(Grad) MinstAM FHKloD
2020 Mr Graham Hough MSc MCIOB CertEd
2009 Mr Bill Hughes MA MSc ASIP
1992 Mr Peter Huntsman BSc FRICS FAAV
2007 Mr Paul Hutton OBE FRICS FAAV
2022 Mr Andrew Hynard FRICS
2019 Mr Simon Kolesar FRICS
1996 Mr Keith Knowles MBE FRICS
2022 Mr Denys Lok Ping Kwan MBA (Const & RE.) Dip.Proj.Man (RICS)  FRICS  MHKIS  FILA  MHIREA  RPS (GP)
2013 Sr Stephen Lai
2019 Mr David Larkin FRICS
1988 Mr Roger Lucas FRICS MRTPI
2011 Mr Roger Madelin CBE
1988 Mr Julian Markham CBE FRICS FRSA
2019 Mr Adam Marks LLB(Hons)
2020 Mr Peter McCrea FRICS FCIArb
2013 Mr Michael Moir FRICS, MICE
2017 Mr Marco Wu Moon-hoi GBS SBS
2010 Mr Paul Morrell OBE FRICS HonFRIBA
2013 Ms Alison Nimmo CBE
2002 Mr James Offen MA FRICS
2011 Sr See Lian Ong BSc (Hons) PPISM FISM FRICS ICECA CIDB Accredited Mediator
1983 Mr Paul Orchard-Lisle CBE TD DL MA LLD FRICS
2004 Mr Lawrence Parnell DipProjMan FRICS
2015 Ms Delva Patman FRICS ACIArb FRSA
2008 Mrs Liz Peace CBE
1987 Sir Idris Pearce CBE TD DL FRICS
2017 Dr Poon Wing Cheung Lawrence JP
2012 Mr Gerald Ronson CBE Hon. DCL
2008 Mr Clive Ross BSc FRICS
2009 Mr Mike Slade FRICS
2017 Mr D Nigel A Smith FRICS FHKIS MBA
2021 Dr. Professor Sr. SO Chun-hin Albert
2005 Mr Tim Stapleton BSc MPhil FRICS
1987 Mr Nick Strathon MA FRICS
2013 Dr Thomas Tang
1991 Mr Dennis Tucker MA
1996 Mr Dennis Vine FRICS
1982 Mr Roger Warren Evans BA FCIOB Barrister
2020 Sir James Wates CBE FCIOB FRICS FCGI FRSA FICE CCMI
1990 Mr Philip Watkins FRICS
2012 Mr Barry Woodman FRICS
2022 Sr Professor Gary Man Kai YEUNG, FRICS FHKIS F.PFM
ASSOCIATE FELLOWS
UCEM launched the Associate Fellowship Scheme in March 2019, appointing the first twelve associate fellows in its Centenary Year. Associate fellows are appointed by the Board of Trustees and are people who have meaningful involvement with UCEM, typically UCEM alumni or those at earlier stages of their careers.
Associate fellows play an ambassadorial role for UCEM and make an active contribution to the work of UCEM, including, but not limited to:
Speaking at CPD events or providing online guest lectures
Participating in employer forums
Hosting events in support of UCEM
Providing mentoring opportunities
Promoting UCEM programmes
Contributing to research projects and papers
Extending the UCEM Alumni network
We are delighted to be working alongside the following associate fellows:
Jessica Austen BSc (Hons) MRICS
Claire Brown MSc BEng (Hons) MRICS
Joe Siu Kai Chan PgDipSurv, BBA (Hons), MRICS, RICS Registered Valuer, BEAM Affiliate, Estate Agent's Licence (Individual)
Ella Campbell MA (Hons) MSc
Laura Collins BSc (Hons) MRICS
Elias Crang MSc
Nicola Dixon-Brown MSc.(Oxon) MRICS
Phoebe Farrell MRICS
Lucy Gaitskell BSc (Hons), MBA ConstRealEst CMgr
Judi Greenwood PG Dip CHE (Conservation of the Historic Environment)
Jane Henshaw BSc (Hons) MBA
Jack Ung Sio Hong MscSurv, MCIH
Nathan Jarman BA (Hons) PGDipSurv
Professor Ling Kar-kan – SBS, FHKIP, RPP, MHKIUD, PRC Registered Urban Planner Qualification
Sara Kelleher BSc (Hons)
Deborah McGhee AssocRICs, DipSurvPract, MScCHE
David Mason MSc MAPM
Jonah Mastin MScCM
Jesse Meek MCIOB BSc (Hons) MBA
Nella Pang MRICS
Dritan Uka BSc (Hons)
Stanley Kong Wing-Kin BSc (Hons), PD OSH, ASc FM, ICIOB, RSO
Laura Wilson BSc (Hons)
Lucy Winzer BSc (Hons) MRICS