UCEM Property Awards 2021 – Our Alumni Award nominees: Lucy Gaitskell
Posted on: 6 October, 2021
We will be hosting the 34th UCEM Property Awards in London on Thursday, 14 October. After being hosted online last year due to restrictions imposed by COVID-19, we are delighted to be able to resume the prestigious event in person this year.
The Awards will see a seventh person receive our Alumni Award since it was added to the event in 2015.
The Alumni Award goes to a former UCEM student who has made an outstanding contribution in their early career towards creating a better built environment.
In the lead-up to 14 October, we will be profiling each of the nominees for the Award. Following on from our profiles of Nella Pang, Lucy Winzer and Rachel Ricketts, today, we profile our fourth nominee, Lucy Gaitskell, who studied on our MBA Construction and Real Estate programme.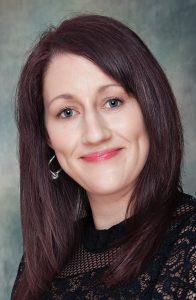 Lucy graduated from the MBA in Construction and Real Estate with a Merit in 2020 and now works as a director of her own award-winning property business, Rolcor Property.
Rolcor Property started with one holiday let and now has five in its portfolio across Cumbria and North Wales. Lucy has had more than 300 guests stay in Rolcor's properties since the business was set up, with high levels of guest satisfaction.
During her studies, Lucy experienced significant personal challenges, including losing a close friend to bowel cancer, relocation, two miscarriages and, shortly after, an ectopic pregnancy where she nearly lost her life. Despite this, she has continued to be successful in her studies and career. In addition, she recently made a podcast with UCEM to try and encourage other people to reach out for support when studying and is working with the Ectopic Pregnancy Trust to raise much needed awareness and funds for the charity.
Lucy started her property journey in 2016 with no prior knowledge and now runs her own property business. She believes this success is down to the many incredible people she has had around her during that time and now and the knowledge and support gained from UCEM during her study.
Reacting to the nomination, Lucy says: "I am utterly blown away to have been nominated for the Alumni Award by Andrew Belt [UCEM PR and social media manager]. I found out that I had been nominated whilst managing our most recent property renovation for our business in Cumbria. Andrew and I put together my podcast to try and help other students who might be studying with UCEM. Andrew was very supportive and understanding during and after our podcast. I was so impressed with how carefully he listened and appreciated the situations I'd been through.
"The original email [announcing Lucy's nomination] had gone into my junk folder and then when I received another email, I was initially a bit confused – and then elated! During my studies, I had so many personal challenges to overcome so to be nominated for something as special as this, after all that I've been through, feels incredible."
Reflecting on her studies with UCEM, she adds: "Studying with UCEM was a really valuable experience. It was hugely challenging in terms of the subjects, as I had very little prior knowledge of some of the subjects, so I had to learn many of the concepts before I could even think about writing about them!
"The quality of the online material was incredible so you could study flexibly anywhere. Many of the academic tutors were fantastic and really supportive. I even had an hour-long one-to-one call with David Hourihan, one of UCEM's tutors, as I was struggling with the module material and the assignment. After our call, I felt so much more prepared and confident.
"I had a lot of support from the support staff too. Bethan and Bethan (there must be something in that name!) were so supportive. I had regular calls from one and help and guidance from another for an exam. They helped me to believe in myself and that I could achieve anything I put my mind to.
"When I think back to my time with UCEM, I will remember the mountains I had to climb both personally and educationally. Sometimes it felt impossible, but with the support of my amazing partner, James, my mum and brother, family, friends and UCEM, those mountains were conquered."
Looking to the future, Lucy states: "My future aspirations are to grow my own property business with a real focus on people; be that our employees, guests, partners, investors or the communities our properties are part of. Doing the right thing at the right time for the right reasons.
"To build a company based on strong values and high levels of integrity, even if that challenges us or perhaps isn't the ideal solution financially, I believe this pays dividends in the long run!
"It can occasionally be difficult for women in this sector, especially if you have no prior knowledge, as I did when I started my career in property five years ago, but I would love to inspire other women to give it a try and to challenge any perceptions.
"You don't always need to have the knowledge or all the answers, you just need to know the right questions to ask and have great people around you because often they are the experts and they appreciate that value that you place on them!"
Thanks for sharing your thoughts and best of luck, Lucy!
To keep up-to-date with the build-up to this year's Property Awards, follow us on Twitter, LinkedIn, Facebook and/or Instagram.