Overview
UCEM has a range of prestigious Honorary Awards it bestows on worthy recipients within the Built Environment and Higher Education fields of specialism.
Each scheme has strict nominations criteria and processes which are opened annually (details of nominations windows will be provided on this page when they are opened).
In accepting their Honours, our Honorary Awards Community members commit to fostering a longer lasting and mutually beneficial relationship with UCEM. They get involved with UCEM activities in a variety of ways, such as: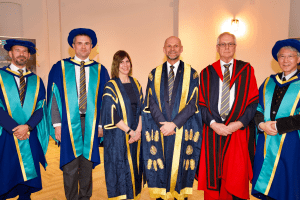 Speaking at special events, CPD events or providing online guest lectures

Providing industry insight and support on their specialist subjects

Speaking or hosting student-focussed events

Participating in employer forums

Endowing scholarships, bursaries or prizes

Sponsoring UCEM applied research or contributing to research projects and papers

Extending the UCEM Alumni network

Providing mentoring opportunities

Promoting UCEM programmes
Honorary Degree Recipients
UCEM launched its scheme for Honorary Degrees during its Centenary Year in 2019 and it represents the highest mark of distinction that we can award. Our Honorary Degrees are conferred on persons of eminence who have made a significant contribution to the professions aligned with UCEM. They are of high public profile which can be mutually beneficial and strengthen our links with industry but there is no requirement for a direct link with UCEM prior to award.
Honorary Fellows
All our Honorary Fellows are approved by UCEM's Board of Trustees in recognition of having made a significant and distinguished contribution to UCEM through affiliation or active involvement. They are often from the world of property, real estate and construction but can be from academia or even past members of UCEM staff.
An Honorary Fellow is someone who acts as an ambassador for UCEM, helping to raise our profile by spreading the word about what we do through their networks where appropriate. They may have specialist expertise and knowledge, or they may simply be UCEM's strongest champions, keen to continue their collaboration and active involvement with us, and supportive of our ambitious plans for the future.
Associate Fellows
UCEM launched the Associate Fellowship Scheme in March 2019, appointing the first twelve associate fellows in its Centenary Year. Associate Fellows are appointed by the Board of Trustees and are people who have meaningful involvement with UCEM, typically UCEM alumni but generally at an earlier stage of their careers.
Associate Fellows play an ambassadorial role for UCEM and make an active contribution to the work of UCEM. They may go on to become full Honorary Fellows of the institution.
The Property Award
Since 1987, UCEM has presented its annual Property Award to a person or organisation which has made an outstanding contribution to the property industry. The winner is selected by the UCEM Board of Trustees from nominations made to them by peers within in the industry. They typically have made a significant impact within the sector and are of current high profile and standing. We also award two more junior awards at the annual event – the Alumni Award for a recent alumni making an outstanding contribution to the Built Environment in their early career, and the Academic Excellence Award for a student who's research or dissertation is highly commended.
Community news and activities