OVERVIEW
BUILT FOR CAREERS
A career in the built environment offers the opportunity to transform the world around you and truly make a difference.
The built environment is a large, diverse and exciting industry with traditional areas such as construction, property, and land surveying being included. Professions within the built environment consist of design, engineering, surveying, management and planning.
There is huge opportunity for school leavers, recent graduates, and current professionals to grow their career within the industry. There are a variety of professions available to those seeking a career within the industry; we look at what some of the career paths are and what they entail.
Make yourself at home using the resources on this site to learn more about the built environment and where your place within it could be. We're always here to help, so get in touch at any time if you have any questions or would like a chat about your future.
THE BUILT ENVIRONMENT LIFE CYCLE
The term Built Environment encompasses all human-made surroundings that provide the setting for human activity; from offices, houses and parks to supporting infrastructure, such as water supplies and travel networks. From design to repurpose, each stage of the Building Life Cycle is a complex and dynamic process, each requiring a wide range of Built Environment professionals.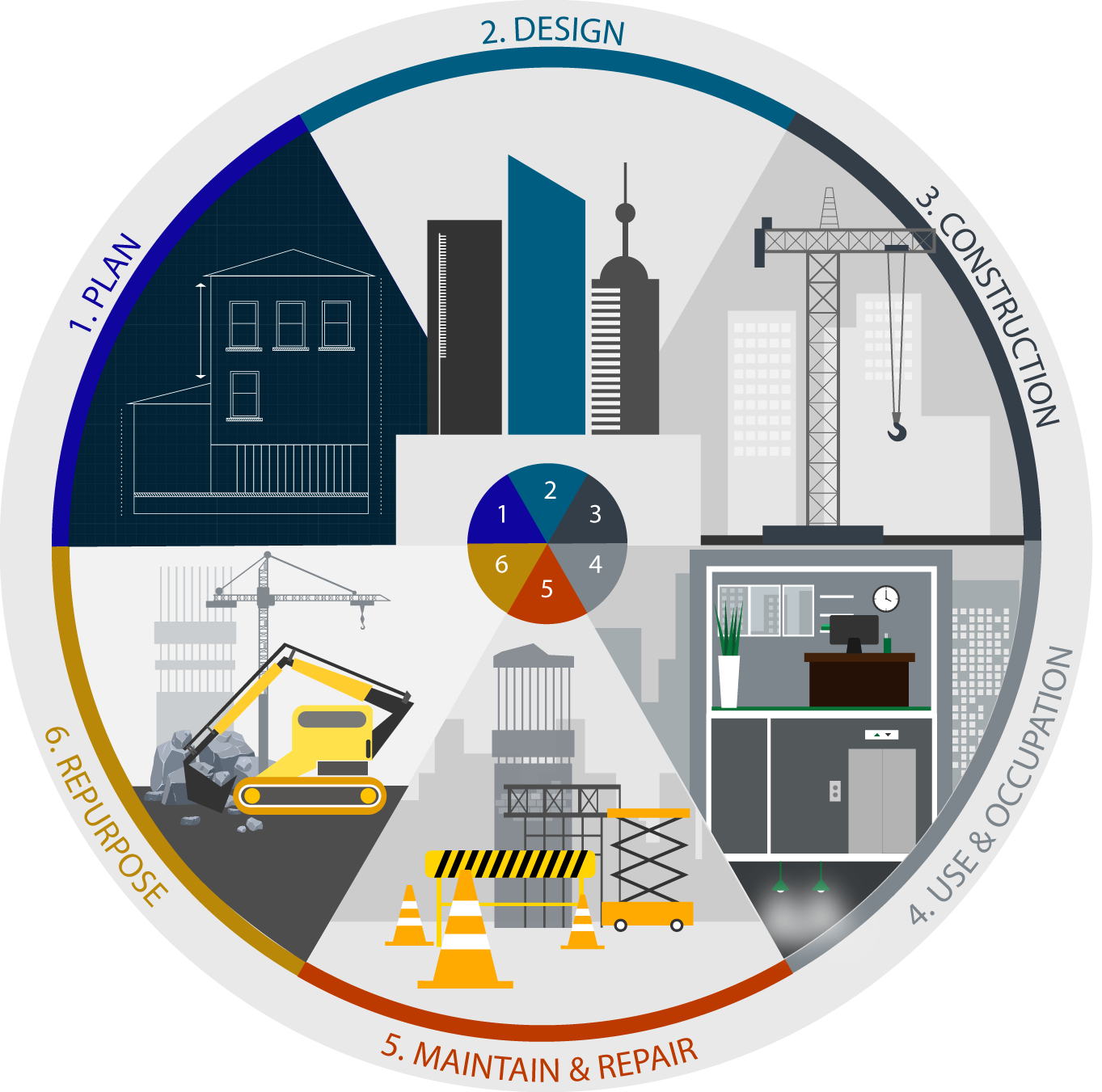 PLAN
This stage identifies the need for and establishes the feasibility of a project.
Key people at this stage can include:
Research specialists, corporate real estate surveyors and finance and investment surveyors who evaluate commercial aspects such as finance, potential and client need
Land and resource surveyors, environmental, infrastructure and geomatics surveyors who research, measure and advise on the suitability of the land and its environment
Planning and development surveyors and town and country planners who advise on the impact of local and national planning law and requirements.
DESIGN
The design team is responsible for the design of the building and for producing the information required to manufacture and construct it.
Key people at this stage can include:
Architects, interior designers and landscape architects who design the building and its surroundings
Architectural technologists who bring the design to life using technology and identify any potential design and materials problems before and during construction
Quantity surveyors who use drawings and specifications to calculate the quantities of materials and workforce costs of the build
Building services engineers who design essentials systems such as air filtration and heating.
CONSTRUCTION
The construction team is contracted under the building contract to construct the building or project.
Key people at this stage can include:
Construction managers who specialise in areas such as logistics, contracts and site management
Civil engineers who oversee building infrastructure projects
Contracts and arbitration specialists who help parties resolve contractual disagreements
Quantity surveyors who manage the costs and budget of the project
Safety, health, environmental and quality (SHEQ) specialist who ensure that the building is constructed safely, with health and safety at the heart of the process
Building control surveyors who assess a structure's safety and compliance with legislation.
USE AND OCCUPATION
Specialists at this stage of the lifecycle focus on the financial and physical performance of real estate.
Key people at this stage can include:
Valuation surveyors assess the value of the building for a range of purposes
Agents who manage the sale of lease of the property
Facilities managers focus on the services and physical aspects used by occupants and users
Estate management surveyors work with landlords to effectively manage a property portfolio and with tenants on legal aspects such as leases and maintenance
Building surveyors advise on the performance, use and adaptation of the building.
MAINTAIN AND REPAIR
Real Estate needs regular maintenance and repair to deterioration caused by climate, materials wearing out or failing or accidental or deliberate damage.
Key people at this stage can include:
Building surveyors who draw up and manage maintenance schedules, advise on and manage repairs and on changes to the building's performance, structure or use
Historic buildings and conservation surveyors who use specialist knowledge and research to  develop, preserve, and maintain historic buildings
Facilities managers who manage contracts for maintenance and other building services.
REPURPOSE
At this stage of the life cycle, the building may be obsolete due to economic factors, uneconomic to repair or maintain, financially unviable or simply not needed.
The decision to replace or repurpose a building often uses the same specialisms as the planning stage as the financial, environmental and societal impact and potential of repurposing or preplacing real estate is considered.
Key people at this stage can include:
Building surveyors may carry out a building survey to assess condition and identify materials used in construction
Minerals surveyors may use specialist knowledge where mining or quarrying factors exist.
Demolition is a specialist construction role that deals with the breaking down and clearing up of derelict buildings and other structures that are no longer needed. Demolition specialists make surveys of a condemned building, and then ascertain the safest, quickest and most efficient way of bringing it down. This may involve large plant machinery or explosives or taking a building apart by hand.
School leavers
Discover the built environment
Bridget Wells
Careers and Employability Adviser
+44 (0)118 921 4392