WELCOME TO OUR ALUMNI ASSOCIATION
BUILT FOR CONNECTIONS
The UCEM Alumni Association is a free global interactive hub, connecting 150,000 past students for future benefit.
All areas of business thrive on support and collaboration, particularly as you progress to the higher levels in your career.  Our Alumni Association offers forums to share ideas, provides discounted accessible CPD and connects networks that can leverage the experience of others.
Communicating excellence in the built environment is also driven by a global view – an awareness of projects around the world, developing economies and emerging social, environmental and technological trends.
AS AN ALUMNI ASSOCIATION MEMBER
YOU WILL EXCLUSIVELY RECEIVE
A

ccess to our interactive alumni platform,

UCEM Global Community

, where you can

connect

with past alumni and

register for networking events

A dedicated Alumni LinkedIn Group where you can keep up to date on UCEM news and events
A range of networking, social and professional development events and seminars
A 10% fee discount on any one of our Postgraduate programmes
A careers support service for three years following graduation
15% discounted online CPD through UCEM's Online Academy
The opportunity to give back through mentoring service which connects students and graduates with experienced alumni
A MESSAGE FROM OUR PRINCIPAL
Welcome to the UCEM Alumni Association
I understand the importance of not only maintaining contact with other alumni and strong links with UCEM, but also the benefits that come with being part of such an association.
With the Built Environment facing serious challenges, there has never been a more important time to stay connected with other industry professionals and keep abreast of industry developments. Our interactive Alumni Association has been built with this in mind, and offers a wealth of benefits including an online networking community, discounted online CPD, careers support service and networking social events.
I hope you'll find UCEM's Alumni Association a valuable resource and support tool throughout your professional life and beyond, and enjoy the benefits that come with being part of UCEM's global community.
Ashley Wheaton
Principal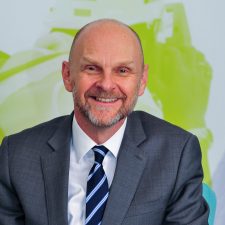 JOIN THE ALUMNI ASSOCIATION