UCEM Property Awards 2021 – Our Alumni Award nominees: Nella Pang
Posted on: 28 September, 2021
We will be hosting the 34th UCEM Property Awards in London on Thursday, 14 October. After being hosted online last year due to restrictions imposed by COVID-19, we are delighted to be able to resume the prestigious event in person this year.
The Awards will see a seventh person receive our Alumni Award since it was added to the event in 2015.
The Alumni Award goes to a former UCEM student who has made an outstanding contribution in their early career towards creating a better built environment.
In the lead-up to 14 October, we will be profiling each of the nominees for the Award, and first up is our BSc Estate Management alumna, Nella Pang.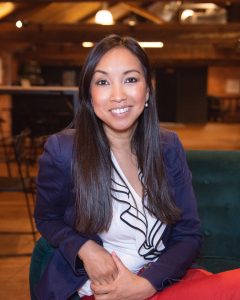 Nella Pang is a chartered surveyor, a member of the Royal Institution of Chartered Surveyors (RICS) and is ex-chairperson of the Southampton Property Association. Nella is purposefully making some real changes in commercial real estate on the south coast.
Built upon the foundations of experience garnered from 17 years' of working for industry leaders including Vail Williams, BNP Paribas Real Estate and Jones Lang LaSalle Limited, Nella launched her business, Omega RE, in December 2019 after running the South Coast agency team for JLL. She advises and represents both commercial tenants and landlords on their lease negotiations, property strategies and portfolio optimisation, as well as commercial property lettings and sales.
Driven by her ambition to leave a positive legacy, Nella is now an ambassador and role model for women and those from non-traditional backgrounds breaking into the industry at UCEM and City College Southampton. She has launched a networking initiative called Strong Female Lead to provide support and encouragement to women in the property industry.
Nella is actively involved with key stakeholders across the south coast to help support both the private and public sector, and provide a platform to best encourage inward investment at the South Coast Commercial Property Show and is a part of Southampton City Council's Intelligent City Steering Group, which works on its efforts to become a smart city.
Reacting to the nomination, Nella says: "I am overwhelmed to have been nominated by David Hourihan, my former lecturer at UCEM, and can't really believe I have been shortlisted. I don't necessarily see myself as inspirational, but I am so pleased that people believe in me and are supporting my journey.
"I didn't come from money, I'm the first generation in my family to achieve a degree, I started as a secretary and was head of agency in Southampton for global real estate firm, JLL, and I am now managing director of Omega RE. I am very grateful for my previous companies believing in me which has led me here."
Reflecting on her studies with UCEM, she adds: "Being able to balance a full-time role whilst studying full time was one of the hardest things I have done. Without UCEM, I would not be here today.
"I would not class myself as academic but being able to relate the coursework to work experience made the online learning route the right one for me. I highly would recommend this route."
What's next for Nella? "I choose to challenge and speak up," she answers. "I want to set an example that females are not just a tick box. Yes, I am a wife, a mum, a boss and a chartered surveyor but those titles do not define me. I am so much more. We are all so much more. Women are just as capable as men.  Yes, we are moving in the right direction to create equality, but research shows there are still barriers and challenges facing women specifically.
"I've always wanted to be promoted for the right reasons; not because I was the 'token' female or Asian to help someone's stats.
"Did you know that 33% of all FTSE 100 board members are now women, up from just 12.5% less than a decade ago; however, figures highlight a concerning lack of female representation in senior leadership and key executive roles in FTSE companies – for example, just 15% of FTSE 100 finance directors are women.
"I am supporting City College Southampton to provide property work experience to individuals from all backgrounds as I believe we all deserve an opportunity.
"We still have a lot to do. I personally believe that businesses with a wide reach have a responsibility to educate, promote and inspire change. I decided that it was the right time to go it alone and create Omega RE where I can really create an environment that works well for me and my family.
"I am determined to leave a legacy and demonstrate that we don't have to choose one or the other, we can have both. We just need to create the right balance. I love my job and I want to encourage a diverse talent pool into the industry, as I believe this is how we can make a change."
Thanks for sharing your thoughts and best of luck, Nella!
To keep up-to-date with the build-up to this year's Property Awards, follow us on Twitter, LinkedIn, Facebook and/or Instagram.