UCEM Property Awards 2021 – Our Alumni Award nominees: Elly Wallace
Posted on: 8 October, 2021
We will be hosting the 34th UCEM Property Awards in London on Thursday, 14 October. After being hosted online last year due to restrictions imposed by COVID-19, we are delighted to be able to resume the prestigious event in person this year.
The Awards will see a seventh person receive our Alumni Award since it was added to the event in 2015.
The Alumni Award goes to a former UCEM student who has made an outstanding contribution in their early career towards creating a better built environment.
In the lead-up to 14 October, we will be profiling each of the nominees for the Award. Following on from our profiles of Nella Pang, Lucy Winzer, Rachel Ricketts, Lucy Gaitskell and Ranikqué Hayden-Best, today, we profile our sixth and final nominee, Elly Wallace, who studied on our BSc (Hons) Building Surveying programme.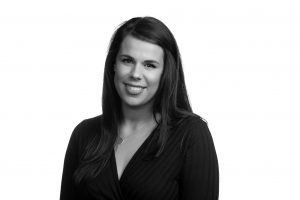 Elly completed UCEM's BSc (Hons) Building Surveying programme in 2018. Following the completion of her degree, Elly decided to focus solely on project management, and in 2019, she qualified as a chartered project manager with the Royal Institution of Chartered Surveyors (RICS).
With nine years of experience managing projects, Elly has worked across various sectors including education, commercial property, aged care, residential, local government, sustainable construction and historic buildings in both the UK and Australia. In her role as senior project manager with Turner & Townsend, she has recently been focusing on projects within education in the public sector.
Elly is passionate about supporting individuals at the beginning of their careers in the construction and property industries. She is an RICS APC assessor and an active member of the Victoria branch of the RICS Member Engagement Group. Elly is also involved in initiatives within Turner & Townsend to support future talent in the construction industry.
Reacting to the nomination, Elly says: "I am delighted to be nominated for this award. UCEM's alumni includes some very inspirational figures in both property and construction, and to be nominated for the Alumni Award is a great honour.
"It has been an interesting couple of years both professionally and personally (with a pandemic, a baby and working in a new continent) and it is great to be recognised for the hard work and dedication that I have put into my career and the industry over the last nine years."
Reflecting on her studies with UCEM, she adds: "UCEM's programme enabled me to work full-time, gaining a hands-on experience which was complemented by my academic study in the evenings and weekends.
"I was able to graduate from my degree with six years of experience in the industry which opened up various job opportunities for me. It also enabled me to qualify as a chartered project manager with RICS within 18 months of graduating.
"The major benefit to studying distance learning with UCEM is that you can make the course work around your commitments. Online learning definitely requires commitment and drive, however, UCEM ensures that you have all the tools you need to succeed!
"I was also very fortunate to have my degree sponsored by my employer and therefore, I was able to complete my course with no student debt."
As for Elly's future aspirations, she states: "One of my key aspirations is to inspire the next generation in the industry. I love my job and I want those considering careers in property and construction to know how diverse and interesting the industry can be.
"I also want to provide the support that I was fortunate enough to receive when I was first starting out to those beginning their careers. I feel very lucky to be working in a different country, on different contracts, with different legislation, and with different terminology and I hope to continue to develop my skills and understanding to become the best project professional that I can be."
Thanks for sharing your thoughts and best of luck, Elly!
To keep up-to-date with the build-up to this year's Property Awards, follow us on Twitter, LinkedIn, Facebook and/or Instagram.