Principal Thoughts: UCEM – a COVID-resilient university
Posted on: 8 September, 2021
Welcome to the latest edition of Ashley Wheaton's 'Principal Thoughts'. This month, Ashley shares the positive feedback from students in relation to UCEM's handling of the pandemic and reflects on the other findings from two recent student surveys.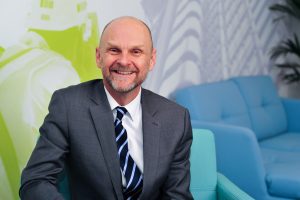 UCEM is a COVID-resilient university.
I've previously used this column to comment on achieving our highest student success and satisfaction results last year and to praise colleagues for their extraordinary efforts since the first UK lockdown. On top of this, recent feedback from students has confirmed how pleased they have been with our approach post-COVID.
COVID section of the NSS
The National Student Survey (NSS) provides a yearly yardstick by which universities and colleges are judged by their students. The overall satisfaction rate – derived from a single question – is the headline figure which conveys student sentiment but, without delving deeper, you may not know that there are plenty of other questions students respond to as part of the survey.
This year, an entire section was devoted to students' learning experience in context of the COVID-19 pandemic; here, my previous statements relating to UCEM's operational resilience and our employees' dedication were fully endorsed.
In every area we could influence (with questions skewed towards traditional, face-to-face providers), we overwhelmingly outscored the sector average. We knew the online learning model we had implemented over several years would serve our students well during the pandemic and were convinced that the accelerated introduction of take-home exams (a project we had begun but we sped up due to COVID) would enhance the student experience. Seeing this reflected in the scores in the NSS was hugely satisfying.
Here are the results:
| | | |
| --- | --- | --- |
| | Agree rate | UCEM |
| COVID1. I have received useful information about changes to my course from my university or college during the COVID-19 pandemic. | 73.09% | 86.67% |
| COVID2. I have received timely information about my course from my university or college during the COVID-19 pandemic. | 63.79% | 81.67% |
| COVID3. My university or college has taken sufficient steps to support my mental wellbeing during the COVID-19 pandemic. | 41.85% | 66.1% |
| COVID4. My university or college has taken sufficient steps to protect my physical safety from the virus during the COVID-19 pandemic (e.g. providing protective equipment such as masks, social distancing on campus, offering distance learning opportunities). | 79.75% | 64.71% |
| COVID5. I am content with the delivery of learning and teaching of my course during the COVID-19 pandemic. | 47.57% | 91.38% |
| COVID6. I have been able to access the learning resources I need (lecture notes, course materials, journals, Virtual Learning Environment) for my course during the COVID-19 pandemic. | 78.14% | 96.61% |
Student Experience Survey
In addition to the NSS, we run our own Student Experience Survey (SES) for those students not eligible to take part in the NSS. This gives us a greater overall picture of how everything is going for our students, with responses provided anonymously.
When asked to comment on any positive aspects of the past year, UCEM's response to the pandemic was one of three themes captured in the comments.
Here is just one example we received:
'I think they [UCEM] have handled the pandemic excellently in that other than some changes in the exam process, which again was done very well, no massive alterations were needed. UCEM is very much geared towards online working anyway, so the infrastructure was in place and I don't feel like I've lost out in quality at all in that respect. I'd be confident in saying that UCEM are one of a very small few universities that could make that claim.'
Student testimonials
Adding to the qualitative evidence in support of our role during the pandemic has been the growing inclusion of positive feedback from students and recent graduates in relation to COVID-19.
Last November, our welfare student ambassador, Paul Adeleye, wrote about his role and studying with UCEM, adding: 'During the current situation with COVID, UCEM has shown its strength. No matter the situation, UCEM continues to teach its programmes online. Students at traditional universities have lost a large chunk of the experience they expected when signing up and they feel short-changed. At UCEM, I don't think anyone feels that way.'
The most recent Graduate Celebration Week in June saw several recent students single out UCEM for praise during the challenges posed by the pandemic. Reading comments such as Zoe Wood's – 'UCEM supported me fantastically throughout, particularly when COVID hit and home-working alongside home-schooling became a thing, so I would like to thank the university…' – made me feel very proud. Mohamed Siddeeque, James Dillon, Kirk Norine and Rosanna Fung Mui Lau also shared similar sentiments which you can read on our Graduate Celebration Week webpage.
Other conclusions
The headline result from the NSS saw UCEM's overall satisfaction rate fall in the same way it did across the sector:
| | | |
| --- | --- | --- |
| | 2020 | 2021 |
| UCEM | 83.44% | 74.68% |
| Sector average | 78.41% | 73.00% |
| All providers average | 82.65% | 75.41% |
Whilst disappointing to see such a drop, we remained above average in our sector and very much on a par with other universities in terms of student satisfaction, demonstrating the ability of online providers to provide as satisfying a student experience as traditional, face-to-face institutions.
The two other positive themes emerging from the SES comments, in addition to our COVID-19 response, were the flexibility of our learning and the support of staff. With many of our students in full-time jobs, flexibility in our learning offer is essential, and it's pleasing to see the efforts of colleagues recognised in this way.
The counterpart question asking for comments on any negative aspects of studying with UCEM saw a few themes raised including the lack of a student community and issues relating to assessment feedback. Student community is a very difficult thing to create as an online university but we are working very hard on improving in this area with far greater representation of students, from involvement on the board of trustees to representatives on each programme. The comments on assessment have also been heard and, as ever, we will be doing out utmost to improve in the areas highlighted by our students.
'Cherry on top of the cake'
Our students' feedback on UCEM's approach since COVID-19 hit our shores was the highlight of the two recent surveys and validated the work we have done to serve them well during the pandemic. After the good news with regards to student success and the inspiring efforts by colleagues to pull together remotely, the feedback has been the cherry on top of the cake.
We are not back to normal life and the pandemic may change the way we live and work again but, at UCEM, we can move forward knowing that our provision will continue to benefit students unhindered and it is right that we take pride in that fact.
At UCEM, we are committed to contributing to a better built environment sector through excellence in online education. We deliver approved apprenticeship programmes, as well as undergraduate and postgraduate degrees. For more information take a look at our Study With UCEM page.
To keep up-to-date with the latest UCEM news and blogs, as well as more general updates from the built environment, make sure you're following us on Twitter, Facebook, Instagram, YouTube and LinkedIn.