In focus: Our welfare student ambassador, Paul Adeleye
Posted on: 10 November, 2020
We recently appointed our first four student ambassadors representing the following areas: diversity, sustainability, welfare, and student communities.
Our student ambassadors aim to inspire current and potential students at open events and webinars, and through networking. They also have a presence on social media and email communications where they answer questions about the student experience and give advice.
Over the next several weeks, we will be introducing you to our student ambassadors. We have introduced you to our diversity student ambassador, Ranikque Hayden-Best and communities student ambassador, James Doyle, and here, we introduce you to our welfare student ambassador, Paul Adeleye…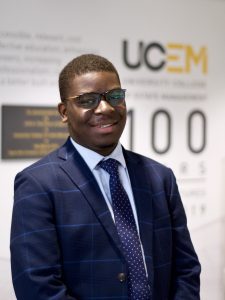 Career to date
When I finished secondary school, I began an apprenticeship in quantity surveying. I have quite a lot of family in different construction trades. My brother and some of my cousins are quantity surveyors. My uncle is a housebuilder. I have been in the industry for five years now.
I studied at Havering College where I did a BTEC in Construction and the Built Environment. I also completed an NVQ in Quantity Surveying. These qualifications enabled me to get onto UCEM's BSc (Hons) Quantity Surveying programme and I am currently halfway through my third year with another year to go.
It's been good so far [studying with UCEM]. I've completed the Level 4 and 5 modules, and I'm going onto the Level 6 ones now. In that time, I have been working as a quantity surveyor with Currie & Brown, formerly the Sweett Group [which was integrated by Currie & Brown in 2016].
I have worked within a variety of sectors with the main ones being retail and commercial. I have worked on projects with the Ministry of Justice on courts, parole offices and housing offices. I have tried to work on as wide a variety of projects as possible.
I also volunteer for a few different organisations in addition to the student ambassador role at UCEM.
Welfare student ambassador role
I've been in the ambassador role for a year and we are now really kicking on in our roles by starting to push more of the outreach we can offer.
The reason I got involved was that I received a lot of support from UCEM and I felt that my peers didn't know what support is available to them. I felt the support resources weren't as well-known as they could be.
My aim is to pass on the message about the wealth of support and welfare resources which are available to UCEM students. There's more to the support at UCEM than meets the eye. As an online university, you might think that there isn't as much support as there would be at a traditional university but there is, and there are so many teams available to help you through your studies.
Hopes for the role
I want to be a link between the students and UCEM, to help students access whatever support they need. I want to help students by directing them where to go to access the resources they need on the VLE [virtual learning environment].
I think this gives me the opportunity to help others by being approachable and proactive in the role.
Studying with UCEM
I think it's been going well. It's been a great study experience during the current pandemic. I have been well supported by UCEM and it has been easy to continue my studies.
I would say initially it was a bit tough as someone who didn't do their A levels in the normal way and didn't have a previous university experience, so I didn't know what to expect. Initially, it was difficult but once I understood what kind of support was accessible to me and how to manage my studies, it got better.
The support tutors have been very helpful in signposting me to useful information for my assignments. The VLE has been updated to make it as easy as possible to access useful resources. UCEM put a lot of time and effort into creating its support services.
The webinars are recorded so you can go back to them in your own time, there are drop-in sessions and you can discuss anything about the programme in the discussion forums. All the course materials are easily accessible. It can be a challenge studying online but I hope I can help new students get to grips with it.
Studying with UCEM during the pandemic
During the current situation with COVID, UCEM has shown its strength. No matter the situation, UCEM continues to teach its programmes online. Students at traditional universities have lost a large chunk of the experience they expected when signing up and they feel short-changed. At UCEM, I don't think anyone feels that way.
As an online university, you have everything you need online to be successful. It can be tough, you need to be self-motivated, but it's a good way to learn.
For more on our student ambassadors, go to the My Voice section on the VLE.