Principal Thoughts: Delivering for our students in a post-COVID world
Posted on: 21 December, 2020
Welcome to the latest edition of Ashley Wheaton's 'Principal Thoughts'. This month, Ashley picks out his two highlights of the past 12 months.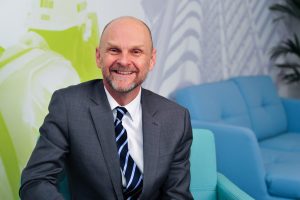 Is there any other higher education provider which saw its students achieve their highest success rates in 2020? Or its highest student satisfaction rate?
When I reflect upon 2020 as UCEM Principal, it is the best ever module success rate our students achieved in the spring and the National Student Survey (NSS) results in the summer which stand out for me.
In any normal year, this would be a fantastic achievement but, considering the year we have had, these scores are phenomenal and deserve even more scrutiny and praise for all involved.
Our best ever module success rates
The module success rates from autumn 2017 to spring 2020 have been steadily improving through a consistent and considered approach by our academic team, and the latest results, despite the pandemic, were the best yet. Our Head of Academic Studies, Alan Hill, gave a presentation to all staff detailing the efforts made by our academic team to best support our students as the wide-ranging effects of the COVID lockdown were felt from March, and I want to use this opportunity to share these externally.
Exams
The headline change during this period was the closure of exam centres, with take-home exams introduced. The introduction of take-home exams meant studies were uninterrupted and timetables unchanged which brought praise both from external examiners and the students themselves.
External examiners commented that UCEM coped well with the COVID situation and made appropriate adjustments, which were well thought-out for the benefit of not only the students, but staff also. Some external examiners even reflected that the take-home exam approach was more reflective of the type of task that students would face in industry.
Our student representatives praised staff support and availability, and the widening on rules around extensions to allow increased take-up during this period.
At postgraduate level, the module pass rate increased by 10%; at undergraduate level, it increased by nearly 5%. The average marks attained in the take-home exams also increased.
This adaptation of our assessment model facilitated the improved student success rates but creating a new means for our students to be assessed provided no correlation with the increased scores.
Proactive team effort
The best ever module pass rate was achieved through the proactive efforts of our academic team. The exam adjustment described above enabled our students to be assessed during the lockdown; allied to this has been a concerted effort over recent years to provide additional support to our students.
In addition to the excellent teaching and support offered by our programme leaders and tutors, we have invested in academic programme support tutors and academic facilitators. These teams are able to provide one-to-one support with our students to help them succeed.
Specific modules, with lower pass rates than others, have been targeted for extra attention and the rise in pass rates attributed to these early pilot projects is now spreading across the board.
Our online education department have also devised strategies to provide our students with a more active learning experience which will only increase the success rates attained.
All this has contributed to the best module pass rate seen yet and, with being in a unique position where our students' online learning was largely unaffected since March, this is a milestone I am hugely proud of which is testament to each member of staff involved in the teaching of our students.
Satisfied students
The module pass rate in spring is so cheering as the ultimate goal at UCEM is to help our students succeed. Just as important to us is the satisfaction of our students.
It follows that success and satisfaction are linked, and we certainly feel that if a student is happy with their experience with UCEM then the chance of them succeeding surely increases.
A disappointing satisfaction rate would somewhat dilute the pride felt in our students achieving success with us.
This is why the excellent satisfaction rate we received in the National Student Survey (NSS) is on an equal footing with the spring success rates.
Support teams
All the teams involved in boosting the success rates of our students will have had an impact in the excellent NSS score.
In addition to that, more pastoral support is offered through the likes of our disability and wellbeing team, careers service and student central hub on the virtual learning environment [VLE].
As with the increased efforts to support our students to succeed, we have placed greater emphasis on supporting our students in other ways. Our wide range of teams are there to help our students in any situation, and we have also made greater efforts to build a dynamic student community.
The excellent NSS score validated these efforts and hopefully we will see only an upward trajectory when judged by our students on how satisfied they are with us as a university.
Highlight of 2020
To have shown the resilience we have as an institution, thanks in no small part to the online model which has been in place and continually improved over many years, is my takeaway from 2020.
Not only have our students been able to continue their studies with us unhindered but they have done so achieving new heights and recording a better-than-ever satisfaction rate.
I couldn't be happier with that. In a rapidly changing world, our commitment to supporting students succeed in the built environment remains unchanged. Roll on 2021.
At UCEM, we are committed to contributing to a better built environment sector through excellence in online education. We deliver approved apprenticeship programmes, as well as undergraduate and postgraduate degrees. For more information take a look at our Study With UCEM page.
To keep up-to-date with the latest UCEM news and blogs, as well as more general updates from the built environment, make sure you're following us on Twitter, Facebook, Instagram, YouTube and LinkedIn.