Past and present Principals, Chairmen, Honorary Treasurers and Secretaries brought together for Centenary Lunch
Posted on: 13 September, 2019
Anecdotes were shared and glasses clinked as past and present Principals, Chairmen, Honorary Treasurers and Secretaries came together for a special Centenary Lunch today.
The key men and women, comprising more than 90 years' service between them to date, who have driven the institution's forward trajectory over the past half-century, were joined by their partners for the meal at UCEM's Reading-based Horizons HQ.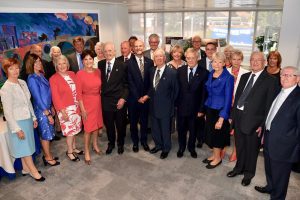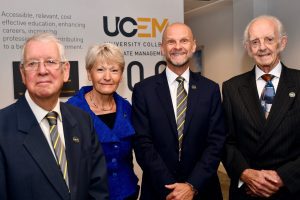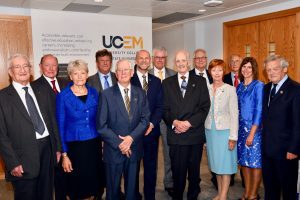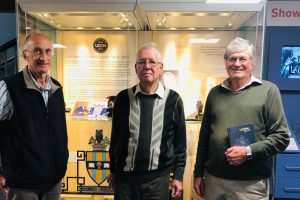 After lunch, the group made the short trip across to Reading Museum to take in UCEM's centenary exhibition which opened this week.
Below is the list of UCEM attendees with their title and years of service:
Principals
Peter Huntsman          1981-1992
Peter Goodacre          1992-2006
Ann Heywood             2007-2013
Ashley Wheaton          2013-present
Chairmen
James Offen               1985-1990
Delva Patman             2008-2014
Vice Chair (a new role)
Stephen Jackson        2019-present
Honorary Treasurers
Barry Woodman          2003-2010
Simon Kolesar            2010-2016
David Larkin                2016-2018
University College Secretaries
Dennis Tucker             1973-1990
Peter Galloway           1990-2003
Jane Fawkes               2016-present
UCEM Deputy Principal, Jane Fawkes, commented: "I was delighted that so many of the institution's leaders from the past 50 years were able to join us today to celebrate UCEM's centenary. The lunch truly was a moment in time and a chance to bring key figures from UCEM's past into the present and acknowledge their part in the institution's journey to 100 years.
''The history of the institution is one of which we should be very proud, as we now build on their legacy to deliver our new long-term vision to be the Centre of Excellence for Built Environment Education.''