First Honorary Degrees handed out at UCEM's Graduation ceremonies in Reading
Posted on: 12 December, 2019
Leaders in construction, real estate and sustainability received UCEM's first Honorary Degrees at Graduation ceremonies on Saturday (7 December).
The inaugural five degrees were handed out to Friends of the Earth CEO, Craig Bennett, Cast Founding Director and CEO, Mark Farmer, UK Ministry of Defence Director of Infrastructure, Sherin Aminossehe, Hong Kong Green Building Council Executive Director, Cary Chan, and CBRE UK & Ireland Divisional President, Advisory Services, Ciaran Bird.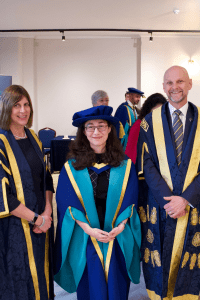 All five were recognized for their transformational influence in their respective Built Environment disciplines and joined UCEM's 252 graduates for the celebrations at Reading Town Hall.
A postgraduate ceremony was held in the morning and the undergraduate equivalent was hosted in the afternoon with nearly 800 guests in total attending the ceremonies.
In addition to the graduands from the UK and Ireland, UCEM's international student community was represented by a further 17 countries, including Hong Kong, Trinidad and Tobago and Nigeria.
UCEM Principal, Ashley Wheaton, addressed the graduands at both ceremonies with BRE Group Chief Executive, Gillian Charlesworth, the Guest Speaker in the morning and Craig Bennett the Guest Speaker in the afternoon, having received his Honorary Doctorate earlier in the day.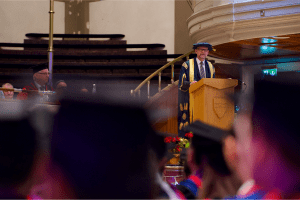 Ashley Wheaton congratulated the graduands, telling them: "You get out of life what you put in. You have put an extraordinary amount into your studies and you deserve everything you get out of your qualification.
"Enjoy the positive impact that your newly gained qualifications and skills will have on the Built Environment and perhaps, more importantly, on the lives of the people who live, work and play within it."
The Guest Speakers both concentrated on the environmental challenges facing our planet in their addresses to the graduands.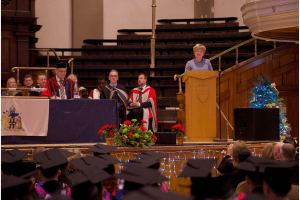 Gillian said: "As part of the Built Environment profession, you are taking on some of the greatest challenges of the 21st century, possibly of any century.
"You're going to be called on to achieve zero carbon in our buildings, to reduce the enormous amount of waste that is created by the construction sector and make sure that our tall buildings are safe."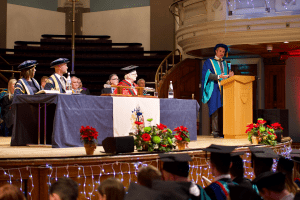 Craig told the graduands: "There will be changes to the Built Environment to ensure that it is fully sustainable. If the buildings we build are not zero-carbon, the towns we plan don't support a zero-carbon lifestyle and transport infrastructure, and if where we live is not close to nature, they will increasingly be seen as bad buildings and bad planning and bad developments.
"Whereas once a sustainable building was seen as a 'nice, niche' thing to do, now they are becoming the mainstream. Although this represents a challenge, it will lead to a much better world – one where active transport, renewable energy, a sharing economy, bringing nature into our cities and properly insulated buildings will lead to a healthier society as well as a healthier planet."
The sustainability theme was reflected in the first awarding of the UCEM Responsible Futures Prize – a dissertation prize which considers excellence in sustainability or social submissions.
MSc Quantity Surveying graduate, Laura Millican, and BSc (Hons) Quantity Surveying graduate, Jasmin Pearce, were the inaugural winners of this prize.
There were also four recipients of The Chapman Adkin Award which recognizes the performance of those who have shown special enterprise in completing one of UCEM's programmes.
Awards were also made to those who achieved the best overall performance in UCEM's undergraduate and postgraduate programmes.
For only the second time at a UCEM Graduation, Honorary Fellowships were awarded with the four recipients joining a prestigious group with Honorary Fellows first awarded in 1977.
An Honorary Fellowship is a highly prestigious award which UCEM can grant on an annual basis to distinguished individuals who have given service or made an exceptional contribution in support of the institution.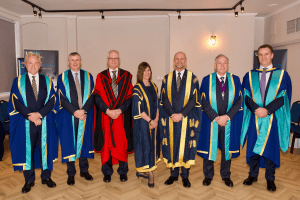 Prince's Foundation Senior Director and Stockbridge Land Director, Ben Bolgar, Taylor Wessing LLP Partner, Adam Marks, former RICS President and UCEM Trustee, Simon Kolesar, and Chase and Partners LLP Chairman, Graham Chase became UCEM's latest Honorary Fellows.
UCEM Deputy Principal, Jane Fawkes, commented: "Our Graduation ceremonies are such joyful occasions. It is a pleasure to have the opportunity to speak to so many of our graduates and hear their inspiring stories of succeeding on our online programmes whilst, often, juggling work, life and family commitments.
"Saturday was notable for bestowing prizes and awards to graduates, industry leaders and proponents of UCEM on a scale not seen before. It was great to be able to hand out our first Honorary Degrees to four champions of sustainability and the Built Environment, and to add four great supporters of UCEM to our list of Honorary Fellows.
"From a graduate point of view, I was delighted to see the first recipients of the UCEM Responsible Futures Prize which is likely to reflect the theme of future projects and dissertations as we seek solutions for the longevity of our planet, and I was humbled by the sacrifices made by our Chapman Adkin Award winners to complete their programmes in trying circumstances.
"Every graduate who joined us on Saturday, whether in Reading or remotely on our livestream, deserves their special day and the chance to reflect on their fantastic achievements. I hope all our graduates and their family and friends enjoyed celebrating the culmination of their studies with us."
Both ceremonies were live-streamed on our YouTube channel and are available to watch by visiting youtube.com/universitycollegeofestatemanagement