BSc (Hons) Construction Management
Programme overview
The BSc (Hons) Construction Management programme is delivered by supported online learning, and offers great flexibility as it can be studied in any location at any time, and you can earn while you learn.
The programme provides students with a rigorous understanding of the principles, practices and ethics involved in construction management in a worldwide context up to Bachelor's degree standard. It provides the academic underpinning necessary to prepare students for a career as a chartered builder or in other related professions and provides students with the opportunity to satisfy the academic requirements for Chartered Membership of the CIOB.
The programme is primarily designed for people employed in the construction industry, such as those working in large contracting organisations and commercial developers and local authority or armed forces personnel. Such employment is not mandatory, but is desirable.
Why study this programme?
Work as a construction site manager, site engineer, contracts surveyor, estimator, buyer or planner
Satisfy the academic requirements for Chartered Membership of the CIOB
Study the leading degree programme in this subject area that allows you to combine work and study through supported online learning
This programme is delivered by supported online learning and can be studied in any location.
Programme outline
You should also read the Programme Specification for the detailed information on the structure of your programme, the learning outcomes and details of assessment.
View the Programme Specification and Academic and General Regulations for this programme.
These are the modules included in this programme and the structure which they follow through the standard route.
Yr
October Semester
April Semester
1
Legal Studies
People & Organisational Management
Economics
Building, Environment, Technology & Simple Construction
2
Financial & Resource Management
Measurement & Quantification of Construction Work
Building, Environment, Technology & Framed Structures
Economics of Property & Construction
3
Contract Procedures
Construction Site Management
Building, Environment, Technology & Complex Projects
Building Structures
3/4
Project modules (choose one from)
Work Based Learning Project* – This elective module spans years 3 & 4 and can be started in either April or October semester or you can choose Project** module below
4
Integrated Management Project
Construction Project Management
Elective modules (choose one from):

---

Commercial Management in Construction
Construction Law
Commercial Property Management

Elective modules (choose one from):

---

Maintenance Management
International Construction

4.5
Project Modules (choose one from)
Project** – This is a six month elective module which will be started in either the April or October semester or you can choose the Work Based Learning Project* above
Either a Project or Work Based Learning Project are mandatory modules. For students studying the programme as part of the Apprenticeship programme, the Work Based Learning Project* is a compulsory module.
Commercial Management in Construction is a compulsory module for students seeking RICS membership.
The duration of the programme is 4 years as part of an Apprenticeship programme.
The elective modules shown above are generally provided each year.
Should you require further information about programme content please view the programme specification and the module information sheet. The programme specification sets out aims and intended learning outcomes, while the module information sheet provides further detail of the content and assessment method for each module.
UCEM has the right to revise and amend the programme in order to:
comply with external professional, accrediting or other regulatory body requirements
implement changes for the benefit of students as a consequence of evidence from programme monitoring
ensure the curriculum is current and relevant to intended learning outcomes and/or standards of any relevant professional, accrediting and/or regulatory bodies and/or requirements of employers
implement feedback and other recommendations from External Examiners
All changes to the programme will be implemented in  consultation with relevant students and other stakeholders, setting out the reasons for the proposed amendment(s), and compliance with the requirements of the UCEM Code of Practice on Programme Monitoring, Amendment, Review and Discontinuation. Should such an eventuality occur during the admissions and registration process, applicants will be informed immediately of any change and the alternative arrangements that have been put in place. Existing students will be informed of when the changes will be effective from, which will usually be the next academic year (commencing the 1st September)
Career & study progression
This programme is most suitable for those working in construction management with a view to moving into a more senior position.
There are a broad range of careers that this programme is designed for, which include; construction site manager, estimator, site engineer, contracts surveyor, buyer, planner, local authority surveyor, maintenance manager and SME building company owners/managers
Successful completion of the programme satisfies the academic requirements of the CIOB, therefore with enough experience you can apply for corporate membership of that institution. You will also be able to progress onto a Master's degree programme.
Entry requirements
You should have:
230 UCAS tariff points, which must include two A Level passes. National Certificates and National Diplomas will be considered but must have good merit and distinction profiles (excluding common skills). Any HNCs and HNDs will be considered.
Applicants with fewer than 230 UCAS tariff  points may be considered on merit*
Mathematics Grade C or above at GCSE or equivalent
And one of the following:

Grade C or above in English (Language or Literature) at GCSE or its equivalent
Grade 6.0 or above, with at least 5.5 in the reading and writing modules, in the International English Language Testing System (IELTS) test administered by the British Council in the Social Sciences academic module
79 or above in the Internet option, 213 or above in the computer-based option or 550 or above in the paper-based option, of the Teaching of English as a Foreign Language (TOEFL) test
Grade C or above in Use of English at A/S Level
* Mature student entry is available on this programme for those with sufficient experience within the construction industry at an appropriate level.
Evidence is required in the form of certificates or statements. You should send photocopies that have been certified by a Member or Fellow of the CIOB. Please do not send original documents.
Recognised qualifications having an equivalent level of attainment as those recognised by UCAS include: HND/HNCs, professional qualifications from recognised institutions, certain armed forces qualifications and partially completed degrees. There are also a wide range of international qualifications that are deemed to have UCAS point equivalent values.
Applications are assessed in accordance with the UCEM Admissions Policy.
Testimonials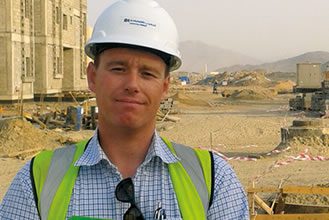 "Distance learning suited me as I work full-time and overseas; during the duration of the programme I've worked in the UK, Zambia and most recently Saudi Arabia.
No other programme offered such flexibility and affordability, while still being of the high academic calibre and providing CIOB accreditation. The broad scope of the BSc Construction Management allowed me to change job roles without the programme losing relevance – the BSc degrees offered by CEM are second to none."
Martin Brogan, BSc (Hons) Construction Management
Construction Consultant, Dimensions Information Technology, Saudi Arabia
Key information
This programme is delivered by supported online learning and can be studied in any location.
Award:
If you successfully complete all elements of the programme, you will be awarded the BSc Construction Management from The University College of Estate Management and will be entitled to use the designatory letters BSc. You will be entitled to denote Honours if applicable, i.e. BSc (Hons), which is a current requirement for Membership of CIOB.
Application and start dates:
Apply by 06 March to start 03 April 2017
Available routes:
Standard route:
Duration: 4.5 years
Time commitment: 15-20 hours of study a week for 42 weeks per annum
You will study two modules per six-month semester
Apprentice route:
Duration: 4 years, plus external end point assessment
Time commitment: 15-20 hours of study a week for 42 weeks per annum – typically one working day per week will be allocated to off the job study
You will study 2 modules per six month semester, plus a Work Based Learning Project over years 3 and

 4
Accelerated route:
Duration: 3 years
Time commitment: 25-30 hours of study a week for 42 weeks per annum
You will study 3 modules per six-month semester
This route is recommended only for those who are not in full-time employment
Examinations
Examinations will be held in August and February.
Expected workload and contact hours:
Each 20 credit module equates to a total of 200 study hours broken down between directed online learning self-directed learning and assessment. The breakdown between these three types of activity may vary between modules but on average is as follows:
Directed online learning (50%)
Self-directed reading (17%)
Assessment (33%)
Directed online learning is the term used to describe a range of learning activities which you access via the UCEM Virtual Learning Environment, as this is more appropriate for an online learning programme than the term "contact hours". As a guide it includes, for example, participating in web classes and online discussion forums, watching video material and voice-over PowerPoint presentations and undertaking exercises and quizzes linked to programme materials. Self-directed learning includes reading textbooks and study papers to develop your knowledge of the subject matter. Assessment includes all activity related to the summative assessment of the module such as planning and writing coursework, revising for examinations and taking the exams themselves.
Accreditation:
This programme is accredited by the Royal Institution of Chartered Surveyors (RICS)*, The Chartered Institute of Building (CIOB) and the Chartered Association of Building Engineers (CABE).
*Accreditation only available where a student chooses the Commercial Management in Construction elective



How the programme will be assessed:
Assessment consists of a mix of coursework and examinations. The module information sheet provides details of the assessment method for each module.
Fees:
£995 per module for students commencing in the 2016/17 academic year x 17 modules (usually students undertake 2 modules per semester).
Total programme fee £16,915
Student Loans:
This programme is designated for student finance and students in England and Wales may apply to Student Finance for a tuition fee loan. Eligible students can apply for funding for up to £6,000 each academic year.
Find out more here >
Your programme fees are fixed for the duration of your studies. This means that the fee you pay per module will not increase from one year to the next, as long as you remain registered on the same programme. Different fees may be applicable if you decided to transfer to a different programme.
You may be required to pay an additional retake fee if you are unable to pass a module at the first attempt, and are then offered a further attempt. The retake fee is 50% of the full module fee in each case.
UCEM provides examination centres all over the world in addition to the UK. You should expect to incur travel costs to attend your nearest examination centre, for those modules which contain examinations.
All learning resources required for successful completion of each module are provided as part of your fee. The core texts within each module will be provided via an e-book platform, hard copy books will only be supplied if the core text is not available as an e-book. Additional supplementary resources to support your studies are available through the UCEM e-library. It is a matter of individual choice whether you wish to buy your own hard copies of textbooks independently.