Property Awards
2022 Nominees and winners
Since 1987, UCEM has presented its annual Property Award to a person or organisation which has made an outstanding contribution to the property industry.
We introduced two extra awards in 2015 – the Alumni Award and Academic Excellence Award. The Alumni Award goes to a former student of UCEM who has made an outstanding contribution in their early career towards creating a better built environment, while the Academic Excellence Award recognises the academic excellence and quality of a recent student's research or dissertation submission.
Below are the Property Awards nominees for 2022, and the winners that were announced at the event held Thursday 13 October.
Read the full news article and view the gallery from the day.
Congratulations
to our winners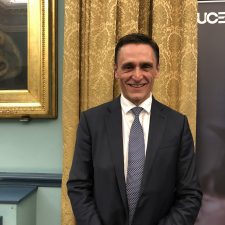 PROPERTY AWARD WINNER
Dan Labbad
Congratulations to Dan Labbad of The Crown Estate for winning the Property Award!
Dan's Property Award 2022 Winner Speech
Thank you to UCEM and the Board of Trustees for awarding me this honour. I am truly humbled to be recognised for areas particularly close to my heart: sustainability; and diversity, equity and inclusion.
I've been asked to reflect upon where this passion comes from and what my key drivers are. The first thing I want to highlight is that I am far from perfect.  Like the rest of you, I am simply trying to do my best to make a difference, acknowledging that there is so much work still to be done.
I grew up in Sydney.  My father was an immigrant from Egypt and came to Australia when he was about 20 years old.  In my youth, I watched him not realise his potential because of systems bias and the animosity towards him due to where he came from and the difference he represented.
While I had the privilege to never suffer such bias, this fuelled a huge passion and a great sense of social justice that centred around a belief that we should all have an equal opportunity to reach our potential.
This background and the passion it has instilled in me have driven my career and the things that I have pushed.  At their core, diversity and sustainability are all about ensuring that people today and into the future have this opportunity to reach their potential. In my mind that's what we are striving for.
Even though I gratefully accept this huge honour, it is essential to acknowledge that we've still got a long way to go to give our children a future in which their quality of life is not diminished. If we don't act fast and work together, that future is in jeopardy.
What I'm scared of more than anything else is that at the end of my career I will look back feeling that I have not done enough. That thought both concerns me and drives me. And as I've progressed through my career, it has been more important than ever to make sure I come back to these values.
All of us can make a difference – large or small – through our careers and our lives to create better outcomes for people. Whether that is through the way we use our positions of leadership; or the way we hold our employers to account; or the way our pensions are invested; or the way we talk to our children about how they can ensure that future – we have to use every opportunity we have to influence.
I want to recognise the wonderful work UCEM is doing to educate the young people of this country because ultimately it's them that will help shape – and save – our collective future.
And finally, more than anything else, I want to leave you with this.  Young people often ask me, 'How do you become a Chief Executive?'.  My answer is always the same, 'No doubt you need to be technically, strategically and commercially credible at what you do, but what's equally important for is to learn how to transcend difference.  To see and harness the beauty in difference.' Today, I believe that is what leadership is all about.
Thank you very much.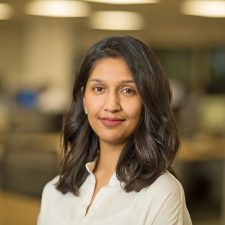 ALUMNI AWARD WINNER
Nisha Chavda
Congratulations to Nisha Chavda from Brown Girls Empowering for winning the Alumni Award!
Nisha said "I'd like to thank UCEM for the nomination and the recognition. It was a really nice opportunity to take a moment to look back at what I've done since graduating… It's been an amazing day!"
ACADEMIC EXCELLENCE AWARD WINNER
Peter Maxwell
Congratulations to Peter Maxwell for winning the Academic Excellence Award for his project 'Better living through Proptech – Sustainable homes that meet consumer needs?'
Alumni Award Nominees
Jason Ratcliffe
After studying with UCEM, Jason started work as a Trainee Surveyor and Marketing Manager with a firm in Cornwall.
He subsequently graduated his AssocRICS qualification and launched his own RICS surveying firm, Steren Surveyors, with his business partner in January 2021.
This business quickly grew and now has offices in Cornwall and Devon, with nationwide reach on newly launched commercial and park home services.
Steren Surveyors has become one of the top surveying firms in the Southwest and secured partnerships with various professional associations related to the industry nationwide.
Jason is now at the midpoint of his PhD studies, focusing on building physics and challenging thermal upgrades of period properties with the University of Plymouth.
As part of this work, he is collaborating with Cornwall Council's heritage department and carrying out never previously undertaken research using a newly designed climate chamber, which has secured significant funding from the Lottery Funding.
Laura Walker
Laura has been working at Bradley Hall for 11 years, starting as an Administrator and working her way up to Head of Property Management.
During her years there she also pursued her education, earning a BSc Honours Degree in Real Estate Management in 2020 and a RICS Chartered Qualification (MRICS) later that year.
In addition to her qualifications, Laura has previously sat as Co-Vice Chair for North East Matrics and 1947 Club NextGen, and remains on both committees.
Laura is an active and valuable member of the built environment industry, who is determined to continue to pursue her goals.
As winner of the RICS Matrics Young Surveyor of the Year for Asset and Facilities Management in 2021, Laura has been nothing short of impressive in her career and has not stopped there as she has been an active member of outreach projects around her.
Laura is an inspiration to the next generation of built environment professionals and a well deserving candidate for the UCEM Alumni Award 2022.
Mickola Hardy
A finalist for RICS Young Surveyor of the Year 2021, Mickola strives to understand her clients' needs and is recognised for her technical excellence.
As Commercial Lead at Faithful + Gould on HS2's CDC Framework, she devised a robust commercial governance structure ensuring resources were deployed across the programme seamlessly. Mickola demonstrates leadership skills beyond her years, playing a key role in the mobilisation of Europe's biggest infrastructure project. Her drive and her infectious enthusiasm directly contributed to improving cost certainty on the programme through a critical time for the project – all the while securing her MRICS!
Mickola sits on the Birmingham City Uni Industries Advisory Board, where she helped devise a project module.
As Transportation APC Lead, Mickola devised and manages structured training programmes for all QS candidates, with a particular focus on public sector and infrastructure.
Mickola tangibly improved the way F+G reinvests in early careers, naturally rising to the leadership role for maximising skills, education, and employment, working with clients to place 5 QS graduates on commercial rotation this year, with another 7 starting this September.
MItchell Spencer
Since graduating UCEM with 1st class honours, Mitchell has achieved membership of the RICS and secured a senior leadership role within his organisation.
He has played major roles in significant built environment projects including the BREEAM Excellent and RICS award winning i9 building in Wolverhampton – home to the first government department outside of London.
Mitchell played a major role in the letting of a former landfill site for development of the first inner City solar farm powering a hospital. He is now a RICS assessor, to focus on giving back to the profession and is a supervisor and counsellor supporting candidates on their journey to the pinnacle of the surveying profession.
Mitchell's ultimate goal is to return to UCEM as a lecturer, saying "the experience for me was truly transformative, as a person and for my career. This award would provide me with a platform to inspire and support others, championing UCEM as an industry leading route to building knowledge from base level to ultimately achieving membership to a professional body."
Nisha Chavda
As an architecture graduate during a difficult economy, Nisha wouldn't let a few set backs hold her back from entering the construction industry and looked at many different avenues in. One of which was undertaking work experience with a small developer which led her to fall in love with Project Management as a career.
As part of the struggle to move into the industry, even with an architecture degree, Nisha jumped at the chance when she came across multi-disciplinary practice Pick Everard and made the move to the midlands for a start in her journey into Project Management, where she started as an Assistant PM and is now a Senior PM and Account Lead for the firm's biggest luxury retail client.
Whilst studying part-time for an MSc with UCEM, Nisha had the chance to work on prestigious projects such as Richmond House for the Houses of Parliament, Selfridges&Co and private hospital Cleveland Clinic London in Belgravia.
Being a member of the RICS Matrics Board for Leicestershire & Rutland in 2017, a dissertation focused on the uptake of apprenticeships in constructions for her MSc, and mentoring a Masters student as part of an alumni programme for her former university, the thread of giving back to the next generation has been present throughout her career so far.
For South Asian professionals, Nisha is now looking at setting up a national quarterly event for students at Pick Everard raising the profile for lesser known careers available within construction and provide support for students that isn't usually available, bettering the link that the firm has with those entering the industry and creating a culture for colleagues at all levels to gain confidence in such important skills as presenting, conversation and networking.
Thomas Coulson
Graduating from UCEM in 2014, Tom is a champion of nature recovery and biodiversity within the built environment, having worked on many sustainability projects, most recently with Ground Control, a carbon neutral company with a goal to plant a million trees before 2025.
Examples of these ESG/CSR projects include tree-planting schemes with EQUANS (which, in 2021, planted over 3000 trees) and building bird boxes and bug hotels for World Bee Day with JLL, working with The Evergreen Fund via Ground Control.
Using his previous experience as a management surveyor, current projects include working together with multi-national Property Management and Facilities Management companies to create, maintain and sustain clear biodiversity value propositions helping towards targets and goals e.g. Carbon Neutrality and Net Zero.
Tom is a great example of UCEM's sustainability ethos, through his work on giving back to society and enhancing the built environment.
Academic Excellence Award Nominees
Jack Sumpter
An investigation into improving the Private Rented Sector in England
This piece takes an innovative look at providing a more effective and less iniquitous relationship, no longer clouded by misunderstanding and mistrust, between landlord and tenant by utilising Proptech – and more specifically the role ratings systems might play.
Jack's research showcases the positive benefits that could be garnered from a ratings system, particularly in respect of facilitating greater understanding and transparency in key areas of contention, simultaneously redressing current underlying power relations and lack of a tenant voice – but also identifies barriers and resistance and key areas for further research.
Ultimately, while on the surface concerned with the role ratings systems may play, at the heart of the project is a vision of a more considered, collaborative experience for all stakeholders involved in the private rented sector built on better communication.
Lauren Garre
The effects of the Covid-19 pandemic on the flexible office market, aimed at Small and Medium sized Enterprises (SMEs) in London. Is working from home (WFH) a temporary phenomenon or here to stay?
An extremely well written and timely submission, evidencing perfectly sequenced logical flow of ideas throughout – and exploring a suitably refined topic both geographically (London) and by sub-sectors (Flexible office space and SMEs). Lauren shows a clear understanding of the research terrain and the issues arising from COVID on the flexible office market are demonstrated throughout, benefitting from an ethnographic insider's deep knowledge, access to data and further expertise.
A robust and original set of data was deployed and subjected to rigorous evaluation. Interpretation of the data was nuanced, and new insights were provided that made clear and sustainable contributions to the field. This research has the potential to be turned into a publication.
Mike Lord
How effective is adaptive reuse to securing the future of redundant historic church buildings in the Church of England? 
An extremely impressive, well written and creative piece of cross case study research into the effectiveness of adaptive re-use of listed Church structures, with a particular focus on the under researched area of redundant, rather than 'open' Church buildings – decommissioned as formal places of worship but nevertheless historic 'sacred space'.
With a dexterous approach to research philosophy, methodology and analysis, Mike probes the robustness of current theories in relation to viability of accepted re-use strategies and offers new and insightful commentary on adapting these structures against a background of the competing needs of architectural heritage, sacred space and the nascent need to embrace community use.
The conclusions drawn illustrate an emerging change in strategy toward drawing on Heritage Lottery funding to salvage urban ecclesiastical architecture, and as a central part of this, the challenges of identifying community partners and ensuring sustainable community use and long-term financial viability. This insight and ensuing recommendations make an original sustainable contribution to knowledge and the work undoubtedly contains the basis of a publication with impact.
Peter Maxwell
Better living through Proptech – Sustainable Homes that meet consumer needs? A Thematic review of two case studies (HoUSe by Urban splash and Homeviews)
Peter's outstandingly well-crafted essay evidences an exceptional knowledge of not just the immediate research terrain, but a sophisticated understanding of ideas and theories that can be utilised to contextualise and interrogate the topic. The topic itself is current and the author is able to make a sustainable contribution to an understanding of why greater dialogue with consumers is desirable, identify where it has been successfully pioneered by innovative and disruptive operators, and indicate how this might be expanded given the opportunities offered by the nascent Proptech sector.
As part of his approach Peter creatively adapts and develops a number of innovative theoretical models to provide meaningful understanding of the forces in play.
Petya Nenkova
What are the challenges to achieving flexible and adaptable multi-product pharmaceutical manufacturing facilities in the United Kingdom? 
Integrating the influence of the product, process and Pharma4.0 integration on the design and planning of pharmaceutical manufacturing facilities
Emanating passion and focus, this submission whose loci was extremely specific and considerably off the beaten track, was very much deserving of the distinction awarded. The project's focus is on an extremely cutting-edge area – the application of the concept of Industry 4.0 to the Pharma sector, the notion of Pharma4.0 – and the implications this new method of manufacturing will have for the sites needed, and types of buildings that will have to be constructed, to underpin this approach.
A detailed critical evaluation of the implications of this development are explored and the conclusions drawn are both sustainable and make a clear contribution to the field.
Victoria Gunn
An analysis of how the UK construction industry can improve retention of professional women
An innovative approach to addressing the thorny question of the low representation of women in construction, specifically within professional roles, with a nuanced focus on retention rather than the more ubiquitous focus on attraction. In a creative twist the research pursues an understanding of not just why women are being lost to the sector but also their younger male counterparts, to identify common and divergent themes and barriers to retention.
Victoria's research offers sustainable solutions to the problem including providing a retention checklist for employers in the sectors.