MSc Quantity Surveying
Programme overview
The MSc Quantity Surveying is a postgraduate conversion programme which is designed to align your skills to the educational requirements of the industry's professional bodies. Delivered by supported online learning, the UCEM programme offers great flexibility as it can be studied in any location, at any time.
The programme gives you an informed view of the key areas of knowledge require to develop your quantity surveying (QS) skills including cost management, contract practice and procedures, procurement and building economics. There is also a research project which will provide an in-depth assessment of a topic of your choice.
This programme is delivered any location.
This programme is also registered with the Hong Kong Non-local Courses Registry (NCR registration number 252542). It is a matter of discretion for individual employers to recognise any qualification to which this programme may lead.
Why study this programme?
This is one of a suite of MSc conversion programmes that enable graduates from disciplines unrelated to Real Estate and Construction to obtain an RICS/CIOB accredited degree, giving access to professional membership.
Study an RICS accredited programme whilst working towards your APC (for those in relevant employment)
Allows entry to CIOB Chartered membership
Allows entry to CABE Chartered membership
Allows entry to ICES Chartered membership
Allows entry to HKICM membership
Enrich your CV with MSc designatory letters
Build your career by specialising in quantity surveying and contract cost management
MSc Quantity Surveying
Programme outline
The modules included in this programme, the assessment method for each module and the structure which they follow is available below, according to your start date.
Module information and structure for your start date:
Please note that from autumn 2020, UCEM will be making changes to its semester structure and module delivery as part of an ongoing commitment to provide an excellent student experience. If you enrol prior to autumn 2020, you will experience these changes as we move to a new structure and delivery model. You can find more information about the Transform Project here.
Should you require further information about programme content please view the programme specification, which sets out aims and intended learning outcomes.
UCEM has the right to revise and amend the programme in order to:
comply with external professional, accrediting or other regulatory body requirements
implement changes for the benefit of students as a consequence of evidence from programme monitoring
ensure the curriculum is current and relevant to intended learning outcomes and/or standards of any relevant professional, accrediting and/or regulatory bodies and/or requirements of employers
implementfeedback and other recommendations from External Examiners
All changes to the programme will be implemented in  consultation with relevant students and other stakeholders, setting out the reasons for the proposed amendment(s), and compliance with the requirements of the UCEM Code of Practice on Programme Monitoring, Amendment, Review and Discontinuation. Should such an eventuality occur during the admissions and registration process, applicants will be informed immediately of any change and the alternative arrangements that have been put in place. Existing students will be informed of when the changes will be effective from, which will usually be the next academic year (commencing the 1st September)
MSc Quantity Surveying
Career and study progression
This Programme equips students with the essential subject knowledge and postgraduate skills and expertise to enable them to work within the quantity surveying areas of practice in the built environment. The opportunities available are extensive and include diverse career specialisms for students to pursue after completing this programme. Students typically find employment in the private and public sector firms, contracting companies and developers. In addition, students have opportunities to work in an international environment.
The following provide a range of the types of work that students undertake whilst/after completing this programme; quantity surveying, cost consultancy, project management, contract administration, contractor surveying, commercial management of construction and facilities management.
MSc Quantity Surveying
Entry requirements:
Entrants to this programme are normally* required to have attained one of the following:
A bachelor's degree with honours at lower second standard (2:2), or equivalent
A bachelor's degree, or equivalent, plus experience in a relevant field
A Level 5 qualification as defined by the Framework for Higher Education Qualifications for England, Wales and Northern Ireland (FHEQ) plus five years' relevant experience
A professional qualification plus five years' relevant experience
And one of the following:
Grade C or above in English (Language or Literature) at GCSE or its equivalent
Grade 6.0 or above, with at least 6.5 in the reading and writing modules, in the International English Language Testing System (IELTS) test administered by the British Council in the academic test
88 or above in the Internet option, 230 or above in the computer-based option or 570 or above in the paper-based option, of the Test of English as a Foreign Language (TOEFL)
Grade C or above in Use of English at A/S Level
Note: applicants with a Bachelor's degree that has been taught and examined in the English medium can be considered for entry in the absence of the qualifications detailed above.
*Applicants who do not meet the requirements stated above, but who wish to be considered for this programme should refer to the UCEM Code of Practice: Admissions and Recognition of Prior Learning for the policy on non-standard admission.
MSc Quantity Surveying
Testimonials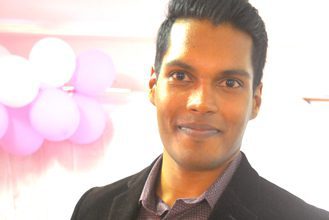 "I chose UCEM because the institution is one of the best online learning providers and has competitive programme fees.
The supported online education model was amazingly well organised and prepared, and was more efficient than conventional teaching. The Tutors are experienced and induce students to think more critically.
My studies have enabled me to enhance my knowledge of contract administration and gain a competitive edge in dealing with contractual matters and risks in construction projects.
What stood out for me was the prestige of the University College, the consistency of the teaching materials and the exposure to international trends and practice."
Yashwant Tohooloo 
MSc Quantity Surveying
Proposal Executive 
Forges Tardieu Ltd, Mauritius
Award:
MSc Quantity Surveying.
This programme is delivered by supported online learning and can be studied in any location.
MSc Quantity Surveying
Key information
Application and start dates
Autumn 2019 (2019/20 academic year):
Apply by 5 August to start 2 September 2019
Spring 2020 (2019/20 academic year):
Apply by 13 January to start 24 February 2020
Fees
2019/20 academic year:
£1,125 per module x 8 modules (usually students undertake 2 modules per semester).
Total programme fee £9,000
This programme is designated for Student Finance and students in England and Wales may apply for a Postgraduate Loan. Eligible students can apply for funding for up to £5,304.50 each academic year. The loan is then paid in three instalments throughout the academic year.
This programme is now registered with the Skills Funding Agency for Professional and Career Development Loans.
Find out more here >
Find out more about our payment options here
Your programme fees are fixed for the duration of your studies. This means that the fee you pay per module will not increase from one year to the next, as long as you remain registered on the same programme. Different fees may be applicable if you decided to transfer to a different programme.
You may be required to pay an additional retake fee if you are unable to pass a module at the first attempt, and are then offered a further attempt. The retake fee is 50% of the full module fee in each case.
UCEM provides examination centres all over the world in addition to the UK. You should expect to incur travel costs to attend your nearest examination centre, for those modules which contain examinations.
All learning resources required for successful completion of each module are provided as part of your fee. The core texts within each module will be provided via an e-book platform, hard copy books will only be supplied if the core text is not available as an e-book. Additional supplementary resources to support your studies are available through the UCEM e-library. It is a matter of individual choice whether you wish to buy your own hard copies of textbooks independently.
Accreditation
Route & duration
Duration: 2 years
Time commitment: 15-20 hours of study a week for 42 weeks per annum
You will study two modules per six-month semester
Changes from Autumn 2020: Transform Project
From autumn 2020, UCEM will be making changes to its semester structure and module delivery as part of an ongoing commitment to provide an excellent student experience. If you enrol prior to autumn 2020, you will experience these changes as we move to a new structure and delivery model. You can find more information about the Transform Project here.
The changes you can expect to see will include:
A simpler, more focused semester structure, where modules will be studied one at a time, in 9-week blocks
More down-time from study
A shift away from traditional methods of examination, towards online assessment in line with industry practice
Visibility of assessment results prior to starting the next module, and the availability of in-year re-sits
Improvements to how our modules are designed using the latest online learning approaches
Single start and re-registration dates across all our programmes, and automatic re-enrolment for continuing students
Exactly how you will be affected by the changes will depend on where you are in your studies by autumn 2020. As you progress through your programme, we will provide you with more information about how the changes will work for you and your particular situation, and how you will be supported during the transition to the new semester structure.
Expected workload and contact hours
Each 20 credit module equates to a total of 200 study hours broken down between directed online learning self-directed learning and assessment. The breakdown between these three types of activity may vary between modules but on average is as follows:
Directed online learning (50%)
Self-directed reading (17%)
Assessment (33%).
Directed online learning is the term used to describe a range of learning activities which you access via the UCEM Virtual Learning Environment, as this is more appropriate for an online learning programme than the term "contact hours". As a guide it includes, for example, participating in web classes and online discussion forums, watching video material and voice-over PowerPoint presentations and undertaking exercises and quizzes linked to programme materials. Self-directed learning includes reading textbooks and study papers to develop your knowledge of the subject matter. Assessment includes all activity related to the summative assessment of the module such as planning and writing coursework, revising for examinations and taking the exams themselves.
How the programme will be assessed
Assessment consists of a mix of coursework (e.g. assignments) and examinations. The module information sheet provides details of the assessment method for each module.