UCEM on board with government's new vision for HE: UCEM Principal, Ashley Wheaton, responds to Universities Minister, Michelle Donelan's speech at THE Campus Live
Posted on: 1 December, 2021
Lifelong learning, flexible studies, part-time options, good student retention and outcomes, and schools' outreach.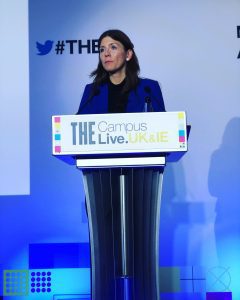 Michelle Donelan delivering her speech at THE Campus Live
These are the new priorities in UK higher education (HE), as laid out by Universities Minister, Michelle Donelan, in her keynote speech at Times Higher Education's (THE) Campus Live event last week.
They read like a checklist of what our priorities are at UCEM and, as such, this new path for HE is one I warmly welcome.
Lifelong learning
Taking centre stage was the Lifelong Loan Entitlement (LLE), described as a 'revolutionary change' by Michelle. The LLE gives individuals the equivalent of a four-year student loan to go towards higher level study across their lifetime and can be used flexibly on full-time or part-time courses, either on individual modules or in one go.
Michelle said: "We need to enable you [universities] to better facilitate upskilling and reskilling and open up higher education to an entire section of society who have felt it was out of reach for them."
We are firm advocates of lifelong learning at UCEM, with the average age of our students around 30 years old and learning options available to students at different stages of their built environment careers.
Our degree programmes and apprenticeships encompass learning at level 4 all the way up to level 7, with students on our MBA Construction and Real Estate programme typically nudging the older end of the spectrum with applicants predominantly having senior leadership experience. In addition to this, we offer single module study at undergraduate and postgraduate levels, as well as qualifications which are not as lengthy as a degree such as our Certificate of Higher Education Built Environment Studies, not to mention the many CPD short courses available on our Online Academy.
Students come to us to upskill in their area of expertise or reskill from another sector by enrolling on one of our undergraduate programmes or MSc conversion programmes.
UCEM is well-equipped to support the lifelong learning revolution which is being funded to the tune of £30m by government.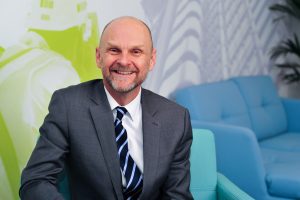 UCEM Principal, Ashley Wheaton
Part-time options
Part-time study options were cited as a key component of this focus on lifelong, flexible learning with Michelle referring to a Universities UK survey which found that around 24% of the population had considered part-time higher education in the last 10 years but had not enrolled.
The suggestion, therefore, was that there is a sizeable, latent group of students ready to take advantage of part-time higher study options.
The majority of students at UCEM are part-time, studying with us around their work and other commitments. If it's higher study, part-time programmes in the built environment you are wanting, we have you covered.
Student retention and outcomes
Michelle made the excellent point that getting students onto university programmes is one thing, but ensuring they succeed and go on to good careers is the true benchmark of success.
As such, universities' widening participation plans will have to be rewritten to reflect this expectation.
When it comes to graduate outcomes, the majority of our students go on to highly skilled, well-paid jobs within the sector. Of course, this is helped by the fact that many are already in such jobs though studying with us helps them progress to the next stage of their careers.
Strong graduate outcomes tie in to the government's levelling up agenda which requires more skilled workers across the UK to provide the backbone of the economy. All our programmes are vocational and directly link students to the workplace so we are supporting the government with its aims on this front.
We are fully focused on student retention, and this is something we have been actively working on improving over the past few years. Key to student retention, particularly with part-time students, is ensuring successful progress through their first year of study, and this is something we are dedicated to helping our students achieve, knowing that it dramatically increases their chances of completing their full programme. We are a long way down the line with our student retention work, and this will be easily incorporated into our rewritten access and participation plan.
Schools' outreach
Lastly, Michelle extended the lifelong learning theme to include schools' outreach. The thinking behind this is that those who perform better at school will cope better with HE study. The greater exposure to the learning and subjects offered at HE level, the greater chance pupils will make the most of the HE experience.
As a university representing a sector often hidden from the schools' experience, considerable effort has been made to expand our reach in this way to make school students aware of the many excellent career paths in the built environment. A couple of recent examples of this are the schools' competition we ran for students to share their ideas on the future use of Reading Prison and the real estate workshop held at a secondary school led by our tutors.
We will redouble our outreach efforts in response to the new government directive.
'Hitting the right notes'
Michelle's speech hit the right notes and, at UCEM, we are already delivering upon much of what is being asked of us by the government. We are committed to sharpening our focus elsewhere to ensure we are a model university of the future.