September 2021 UCEM Graduation: Chair's speech
Posted on: 10 September, 2021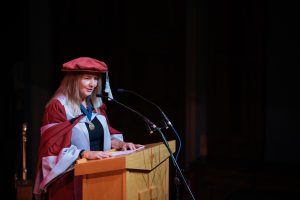 It is such a huge privilege to be standing here in front of all of you and to finally be sharing such a special day together in recognising all these great academic achievements in the built environment, along with your family and friends, who I am sure are incredibly proud to be here and to be sharing this significant milestone in your lives.
After the last 18 months, in particular, it's great to be here as Chair of Trustees, along with the academic staff, to be able to finally celebrate all your achievements.
Now, with over 35 years in this sector, I look back to the moments I achieved my Bachelor's and Master's degrees with a huge sense of pride, as I am sure you will too.
I feel incredibly lucky that I came into the sector more by luck than judgement, but finding something you truly love means you will be good at it, and still, every day, I can honestly say I enjoy what I do.
I am conscious I am speaking to you at what is still very much the start of your career and, in many ways, I must say I envy you because there has never been such a great demand for people with your skills and qualifications to help shape the world around us as there is today.
Urbanisation remains one of the most significant trends around the world. In 1950, 30% of the world's population lived in urban areas. Today it's 54% and by 2050 the UN [United Nations] predicts we will be an almost exclusively urban species with 80-90% of people living in cities.
In 1970, there were two mega cities – Tokyo and New York. Today, there are 28 and by 2025, there will 49 – six in India, 19 in China, with China also building a conglomerate of cities equating to 100 million people: Jing-Jin-Ji.
With cities like Shanghai, with a population of 26 million, literally taking on nations like Australia or Austria in terms of size, and with countries like India building a city the size of Chicago (2.7 million people) every year for the next 26 years, there is huge demand for what we all do and for what we can bring to help shape the 3Ps of people, place and property for future generations.
By 2030, the OECD [Organisation for Economic Co-operation and Development] predicts that the global middle class will double in size to 4.9 billion people demanding more homes, cars, travel and consumer goods.  All of which is driving a global imperative to 'build, build, build' where it is recognised that every £1 spent on construction generates a flat return of £2.84 in total economic activity, with infrastructure the key enabler.
Those future generations are flooding to our cities at the rate, according to the UN, of three million people every week, but these people now have a greater social conscience, thereby making a fourth P, for planet, which increasingly now has to be our priority as we look at the sustainability agenda, especially given that 40% of carbon emissions come from our buildings.
We need to be doing more, especially with COP-26 [2021 UN Climate Change Conference] on the horizon, when you also consider that for every six houses built in the UK, the equivalent of one house ends up as waste materials in landfill. We have to be doing more when there is an ambition in this country to increase house production to build 250,000 homes per annum.
To do this, we need to change our thinking and we need minds like yours, where diversity of thought, new ideas and an ability to question the status quo will drive us to the much-needed improvements in this sector, through modern methods of construction, and by doing things differently.
Embracing technology and data is also hugely important for our sector. Looking at new ways of working, modern methods of construction, understanding the data analytics of the operation and use of our buildings to provide instantaneous data-driven decision-making.
With geographic mobility increasing, 4.72 billion people (60% of the world's population) have internet access today and mobile phone use is increasing from 2.2 billion in 2012 to 5.7 billion this year (of which 1.6 billion will be in China and 1.5 billion in India) providing accessibility to an information infrastructure, and data, like never before.
Data is, and will become, increasingly significant as the digital oil. 90%, or half, of the world's data was created last year alone and only 0.8% of it was analysed.
Technology is simply not just a 'nice to have' – it is an essential part of modern day living and working.
What you bring is technical knowledge, new ideas, and leadership, but perhaps more importantly in today's society, where trust and ethics are high on the agenda, you can bring softer skills of leadership, such as authenticity, approachability and kindness to the workplace and to society as a whole.
The built environment, and by that I include all the professions that serve it, is one of the most dynamic and exciting sectors we have.
Look around and you will see the physical product of our labours everywhere.
For those of you graduating today, the built environment is yours to help shape and I hope in the coming years it will give you as much satisfaction as it has given me.
Many of you will now take a step as you transition from an academic life to a more professional one. I encourage you all to trust and build on all you have learnt and in having the confidence to be strong professionals that will truly help and shape a better working world – through the physicality of what we can create together in our cities, developments and buildings, but also in creating a better workplace environment so that everyone can feel comfortable to bring themselves to work every day and to perform at their best.
Whilst there is probably a huge sense of relief today that this chapter has been indeed successful, I encourage you to continue developing yourself, and your learning, to continue to be relevant in what remains a rapidly changing world.
There is an old Chinese proverb that says: 'Learning is a treasure that will follow its owner everywhere' – so please keep learning and developing yourselves and our sector.
Leadership is one of those elusive qualities that is hard, if not impossible, to teach, and usually develops from the example set by others. Seek wise counsel and be prepared to always stand tall.
Our sector seeks out the best. People like you, successful graduates. You are our future. You will become our leaders of the future.
You are now 'built for life' and 'built for the future'. Our courses put sustainability, security and the wellbeing of communities at the heart of everything and equip you – our graduates – to build better, with people in mind.
Finally, I congratulate you all on your achievements. Savour the moment and, above all, to you, your families and friends, enjoy your day.