UCEM's class of 2020 celebrated at Reading Town Hall
Posted on: 7 September, 2021
Graduates donned mortar boards and gowns at a UCEM graduation on Saturday ­– the first such event held by UCEM since 2019.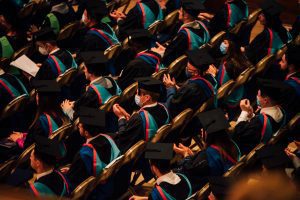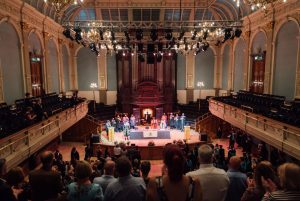 More than 170 graduates from the class of 2020 were joined by friends and family at Reading Town Hall to celebrate their academic achievements.
A postgraduate ceremony was held in the morning and the undergraduate equivalent was hosted in the afternoon with more than 300 guests in total attending the ceremonies.
Attendees wore masks and graduates doffed their caps when called on stage in lieu of the traditional handshake with UCEM Principal, Ashley Wheaton, with the modifications made to make the event COVID-safe.
Ashley addressed the graduands at both ceremonies with the Chair of the UCEM board of trustees, Amanda Clack, the guest speaker.
Several awards were announced with graduates recognised for their perseverance in completing their studies despite personal challenges, excellence in dissertation-writing themed on sustainability and attaining the highest score in their individual programmes, respectively.
Two honorary fellowships – a highly prestigious award which goes to distinguished individuals who have given service or made an exceptional contribution in support of the institution – were awarded. Graham Hough, who served as an academic at UCEM for 20 years, and Peter McCrea, who is Chair of RICS Lionheart and a member of the Upper Tribunal (Lands Chamber) and studied with UCEM, were the new inductees.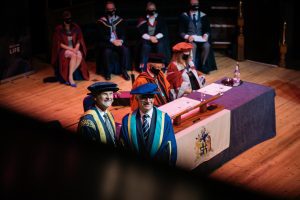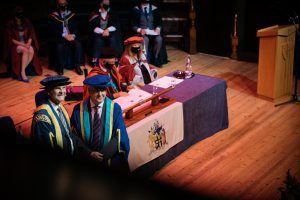 (L-R) UCEM Principal, Ashley Wheaton with Graham Hough and Peter McCrea
Sir James Wates CBE, a former trustee and Chairman of the Wates Group, was awarded an honorary fellowship in absentia.
An honorary degree – which goes to people who have had a transformational influence on the built environment – was awarded to former Savills Chairman, Victoria Mitchell. BRE Group Chief Executive, Gillian Charlesworth, was the second honorary degree recipient in absentia.
UCEM Deputy Principal and University College Secretary, Jane Fawkes, commented: "It was wonderful to be at Reading Town Hall for a graduation ceremony and celebrate with our graduates and their guests again.
"The past 18 months have been incredibly difficult due to the COVID-19 pandemic and I am thrilled that we have been able to put on an event for those graduates whose ceremonies were postponed last year. Ideally, this would have been held at a time when our overseas graduates could also join us but hopefully this can occur at the graduation planned for December 2021.
"I am always amazed at the fortitude of our graduates in completing their studies with us, often whilst in full-time employment and with family and other commitments too, and I would like to pay particular tribute to the class of 2020 for being the first cohort to have done this with the additional challenge posed by the COVID-19 pandemic. Their resilience and commitment to their profession is truly inspiring."