September 2021 UCEM Graduation: Principal's speech
Posted on: 9 September, 2021
We were delighted to host our first graduation ceremony in nearly two years for the class of 2020. UCEM Principal, Ashley Wheaton, delivered an address to the graduands and here, for those who missed out or wish to relive it, is his speech in full…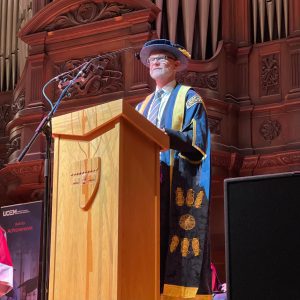 I would like to add my own very, very warm welcome to everyone here today.
It's a little difficult to start with anything other to say – congratulations!
What an incredible group of people you are, particularly as you have succeeded against the backdrop of the pandemic. I have to tell you all that I am humbled, massively proud, delighted and, most of all, extremely impressed by your collective achievements.
Through hard work and determination, all of you have achieved something remarkable (noting that virtually all of you graduated whilst combining your studies with work), and today, you and your families and friends have the opportunity to celebrate and reflect on those achievements. I am sure you will agree with me that typically in life, you only ever get out what you put in and in all of your cases, you have each put in a huge amount and richly deserve everything that you get out!
As part of that, I also want you to look forward and consider the future and the positive impact which your newly gained qualifications and skills can have on the built environment and, even more importantly, on the lives of the people who live, work and play within it.
Let us be in absolutely no doubt – more than ever, the world needs a better, safer and more sustainable built environment. Global citizens surely have, as a minimum, a right to expect that? The challenges, of course, are now greater and more complex than ever: fast-growing populations; rapid urbanisation; climate change leading to the need for more resilient buildings; smart cities and buildings coupled with the general pace of technological change; off-site (and on-site) manufacturing techniques including 3D-printing; infrastructure and transport solutions on a scale never seen before… the list goes on and it certainly is extensive.
Now that you are all qualified, I'd like you to consider it your professional responsibility to be the guardians of our substantial, precious and highly intricate built environment – whether it relates to future builds and newly constructed buildings, those buildings which are being restored, preserved or regenerated, those being maintained and updated, or just simply being used.
We need solutions which are creative, innovative and which will serve future generations. We need people now who understand a long-term, human-centric approach to the built environment, who are sensitive to and appreciative of the natural environment within which our buildings sit, and people who (most importantly) are unerring in upholding the highest professional standards and quality.
The sector needs you more than ever and I feel confident and more relaxed knowing that UCEM graduates will continue to be at the centre of exceptional solutions for the built environment.
Equally, as a result, UCEM's role is more important than ever. You'll be aware that UCEM celebrated its centenary year in 2019, and from our humble beginnings in 1919 following the institution's foundation by Sir William Wells to meet the post-war demand for new building and construction, it has grown to become the largest provider of higher education to the built environment professions with more than 4,000 students studying in more than 115 countries. The reasons we are here and why we exist are clear in our Royal Charter. UCEM's mission is emphasised in the six tenets of our core purpose: to provide truly accessible, relevant and cost-effective education, enabling students to enhance careers, increase professionalism and contribute to a better built environment.
Our job – in fact, my job – is straightforward: to fully support our students' education ambitions, wherever they are and at whatever level, whether they wish to go slow or fast, regardless of age, start-point or background, without unnecessary barriers. We want to make sure we are equipping each and every possible UCEM student today with the necessary skills to ensure the built environment of tomorrow is an exceptional one.
That is what makes UCEM different, makes us special and, I firmly believe, makes us better.
Please be UCEM ambassadors for the great work we do as you join the 150,000+ alumni from this great institution. Better still, tell your family, tell your friends and your colleagues!
Before I finish, I would like to pause and take a moment to thank our UCEM trustees (who all give their time voluntarily) for their continued support and oversight and, in particular, Amanda Clack, Chair of the Board for speaking today and to Dr Stephen Jackson, Vice Chair of the Board, for guiding us through today's proceedings.
I'd also like to recognise the exceptional work done by these people behind me and in fact all members of staff at the University College, whose dedication and commitment is essential in providing such high-quality programmes each and every year.
In closing, and most importantly, please reflect on your achievements. Celebrate with your families and friends who have supported you. Thank them for their valued support and sacrifices which were an integral part of your studies, and make them even more proud of you as you develop your careers and help to make a better built environment.