National Apprenticeship Week visit round-up
Posted on: 14 February, 2020
Many of our Apprenticeship Outcomes Officers (AOOs) went to visit apprentices and their employers to mark National Apprenticeship Week last week.
We published a summary of the visits and AOO, David Meilhan's interview with our Chartered Surveyor apprentice, Bayezid Ahmed at the end of the week.
Here are three more accounts from Thursday's visits featuring apprentices from JLL, Havant Council and Woburn Safari Park…
Sarah Olliver met Poppy Taylor and Suba Shanmugavel at JLL: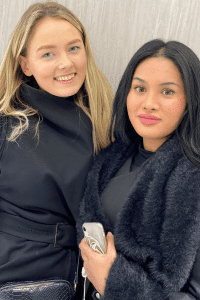 Poppy Taylor and Suba Shanmugavel
I had a fabulous day, shadowing Poppy and Suba as they showed potential clients around a commercial property in Mayfair, London. Here's what they both had to say about their apprenticeship journey so far…
Poppy: "After I finished Sixth Form, I wasn't entirely certain what I wanted to do. I always wanted to go to university but was unsure what I wanted to study. Inevitably, I picked the subject I found most interesting, which was Psychology.
"I received an offer from all my university choices which gave me the green light to start my degree. Still, I kept questioning why I was going to spend three years studying a subject that I was reluctant to go into as a profession.
"Consequently, I took a gap year. Eventually I found myself in a full-time job at a bank earning an income. Earning a full-time salary, I struggled to get my head around the idea of no longer having money. I had responsibilities and going to university full time wouldn't have allowed me to fulfil these responsibilities.
"This is when I considered doing an apprenticeship. I applied to JLL, a global property firm, where I was given the opportunity to sit in the Central London Office Agency team as an Administration Assistant. During my first year, my eyes were opened to a whole new career path that I didn't know existed.
"I started helping the Surveyors complete tasks and eventually stayed on as a Surveying Assistant. I knew this was a career that I could see myself doing so, with the support of my team, I applied to start university. In October 2018, I started my degree with UCEM.
"Doing an apprenticeship just worked for me. It allows me to be in the working world whilst also getting the education that I require to achieve my goal of becoming a Chartered Surveyor. My study hours are flexible and are all managed by me. I am in control of my degree and ultimately my career."
Suba: "I wanted to pursue an opportunity that would allow me to work and study for a valuable qualification at the same time, so an apprenticeship was ideal for me. I joined the scheme in September 2018, and since then, I have learnt a lot both academically and professionally. The modules I have studied have all helped me get a better understanding of the property world and experience at work has significantly helped improve my confidence and professionalism."
Jenny Curtis met Tom Clark at Havant Borough Council:
For National Apprenticeship week, I took the opportunity to visit one of my apprentices, Tom Clark and conducted a face-to-face Progress Review. I have worked with Tom and Martyn [Fenwick – Tom's line manager] for the last three years but I have not had the opportunity to meet them before. National Apprenticeship Week enabled me to do this.
Tom is just about to complete his degree at the end of this month. He has been studying on the Real Estate – Commercial Property Practice Pathway on the Chartered Surveyor Degree Apprenticeship.
I was able to document in the review that he is making excellent progress with his APC, along with the support of Martyn and APC councillor, Jeremy. Martyn was present at this review and shared with me about how the council operates and how Tom is an integral part of the team at Havant Borough Council.
In preparation for this review, I typed up three questions for Tom to answer and three questions for Martyn as I was keen to get an employee's perspective of the apprenticeship, as well as an apprentice's.
Tom
What made you choose to do an apprenticeship?
The opportunity was offered to me by my place of work. I viewed the apprenticeship as an excellent opportunity to obtain a degree and worked towards being professionally qualified, with support from my place of work and University College of Estate Management. The apprenticeship offered the opportunity of obtaining a qualification debt-free.
Why the Chartered Surveyor apprenticeship?
The profession is interesting, varied and wide-ranging. The profession is also well respected.
How do you feel the apprenticeship has developed since you started in 2016?
The apprenticeship has hugely improved my knowledge in many areas such as law, property management, economics and management.
Also, the apprenticeship has given me more confidence in work and the ability to take on many more work tasks.
Martyn
As an employer/line manager, what benefits do you see in taking on apprentices?
It ticks the CSR box and demonstrates that employers are taking corporate social responsibility seriously.
It enables senior management to concentrate on value added work but also provides vital experience to apprentices on the job.
You get increased loyalty from apprentices. Funding can be obtained thereby reducing the direct cost to the employer.
And… it's nice to train/help younger people achieve their goals and fulfill their academic potential.
What measures are in place to train and introduce an apprentice to the workplace?
Learning on the job to enable the apprentice to put university theory into practice. Apprentices have regular one-to-ones with their line manager to enable regular feedback, answer queries, discuss career progression, etc.
We also share in-house expertise from other professionals within the team.
Would you recommend an apprenticeship?
Yes, for the reasons outlined above. Whilst hard work, I think Tom has really enjoyed his studies. Furthermore, it enables him to apply the theory learned at university with the day-to-day realities of working in the property industry.
Leoni Percy met Kevin Firth at Woburn Safari Park: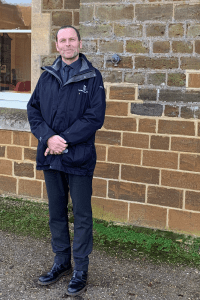 It was a pleasure to meet Kevin at Woburn Safari Park for the apprenticeship day. He has been a Supervisor on the Maintenance Team there for five years. Now, as Maintenance Surveyor, he also looks after more than 300 properties owned by the Bedford Estate.
Still involved in the safari park, his projects range from kitchen refits in void properties to new automated gates in the carnivore section at the safari park, safety fencing for the wallaby and lemur enclosures, rounding up meerkats and making their environment safe. Kevin has an incredibly varied and exciting job which he loves doing so much that his young son is now set on becoming an architect!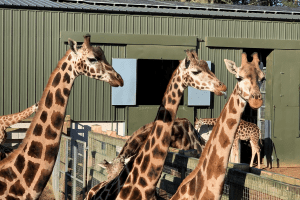 Head to the Becoming an Apprentice webpage to find out more about the apprenticeship programmes we run, and to find out how you too can become an apprentice.