APC success: get advice from a former chartered surveying apprentice
Posted on: 18 July, 2023
We last caught up with Sadaqat Hussain in 2020 when he had made it on to the list of EMpower's 100 Ethnic Minority Future Leaders. Sadaqat started his apprenticeship with UCEM in 2018, studying towards our BSc (Hons) Real Estate programme. Five years on and he's now one of the newest Chartered Surveyors in the sector after passing his APC.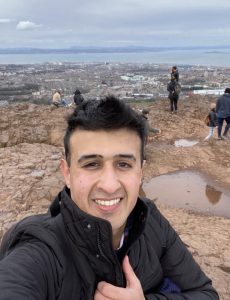 Congratulations on passing your APC! What does it feel like after all this time?
Thank you! Its feels quite surreal and hasn't really sunken in yet. It was an amazing feeling to reach the milestone and I was really proud to achieving MRICS. I wouldn't have passed without the support of my manager and colleagues at Cushman & Wakefield, UCEM and my family and friends.
What were the main drivers in you passing your APC first time? What advice would you give to others that will go on to take it over the next few years?
It requires a lot of effort and discipline to succeed. There was never a day where I wasn't thinking about it. I spent many early mornings, weekends and bank holidays in revision mode to make sure I was giving it my best go. One tip I would give candidates for their submission is to choose a case study and experience for your submission that you know well. This is a practical exam and you want to take the assessors through what you did and how you did it, applying the technical knowledge behind it. My manager and APC trainer told me to record myself presenting the case study to perfect my presentation skills. This enabled me to work on areas that required improvement.
A final tip is to make sure you give yourself time to relax and to take part in hobbies. I wouldn't study after 7pm to make sure I was rested and I got a good night sleep, ready and energised for the next day.
It's important to communicate regularly with your APC counsellors. Use your network and colleagues to review your submission. Undertake Q&As for valuable advice and practice. It's not an easy process – you do go through an emotional journey – but that's a good thing. It means you care about it and appreciate that it's an important milestone within your career.
We've spoken to you at various times over the five years you've been studying with UCEM. What have been some highlights over that time (at university and at work)?
There have been several highlights. One is being able to lead cultural events in the office to educate colleagues about the diverse range of backgrounds at the company. I was able to take ownership and to drive initiatives within the firm to raise awareness. I enabled others not to censor themselves and bring their authentic selves into the workplace. It gave me confidence to put myself in situations I would usually find uncomfortable. Cushman & Wakefield have always been supportive of new ideas. They have given me a platform to create an impact.
I was fortunate to take part in a shadowing opportunity with our then Global CEO, John Forrester, last year. He spent his time explaining the key functions of the business from operations to people and clients, how a global business makes decisions and his view on the property market and where he saw growth and opportunities. He was a kind and generous individual and I greatly appreciated the advice he gave me. I carry it through my day to day role.
UCEM has provided that same level of support and Jenny Curtis, my Apprenticeship Outcomes Officer, who has walked along with me throughout this journey, has been fantastic. She cares about her students and is always on the other end of the phone. I never thought I would have a strong relationship with someone I had never met in person until graduation day. An absolute credit to the University College of Estate Management.
Learn more: Is an apprenticeship right for me?
What's been your biggest professional challenge?
The pandemic had a huge impact in both my professional and personal life. It was a challenging period (as it was for many). It made me consider on what was really important in my life. It changed my perspective on what I thought were my priorities. I was able to refocus, and in that period, became kinder to myself and resilient. As I reflect, it's a time that made me grow as an individual as well as a professional.
What does the future hold for you?
I look forward to continuing and growing in my role at Cushman & Wakefield. I want to use my time to work on projects which I am passionate about, particularly around EDI and charity work. I have become an uncle for the first time and look forward to building my relationship with my adorable niece, teaching her all the things her parent wouldn't want her to be doing! I want to be a good role model for her and support her as she navigates through her life albeit right now, she is a baby!
I am really excited for what the future holds. As I close a door on a big chapter in my life, another has already begun. In true Cushman & Wakefield spirit I am ready to embrace it and say life is what YOU make it.
Interested in learning more about apprenticeships? Head to our become an apprentice page.