Making it onto EMpower's 100 Ethnic Minority Future Leaders list: Guest blog by our Chartered Surveyor apprentice, Sadaqat Hussain
Posted on: 14 September, 2020
Sadaqat Hussain, an Apprentice Surveyor for Cushman & Wakefield who studies on our Chartered Surveyor apprenticeship (Commercial Real Estate pathway), has made it on to the list of EMpower's 100 Ethnic Minority Future Leaders.
The list showcases business leaders who are breaking down barriers at work and doing all they can to smash the ceiling for ethnic minorities in Europe and North America.
Here, Sadaqat writes about what his inclusion in the EMpower list means to him…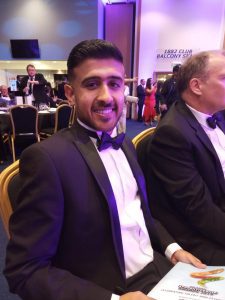 I am absolutely shocked and incredibly honoured to have been included in this year's prestigious international EMpower Ethnic Minority Future Leaders list alongside so many amazing individuals whose contributions I have since read and admired.
I am very fortunate to work at Cushman & Wakefield where I have been provided with a fantastic support network, giving me the opportunity to learn from colleagues and contribute to work on the D&I [Diversity and Inclusion] programme 'Inspire' centring around ethnicity and culture. It has given me the chance to work in a group on something which resonates with us – raising cultural awareness and bringing a collective difference to the working culture of the firm where everyone can be themselves. I am also grateful for the opportunities, guidance and mentorship from friends and professionals within the wider industry through the CREation Property Network, the RICS Birmingham Matrics, BAME in Property and UCEM.
I am currently in the middle of my Chartered Surveyor apprenticeship and hope to complete the scheme and my studies with UCEM. My main ambition is to love and enjoy the work I do, and have a positive impact, but also to take ownership and make a change in the industry. Representation from ethnic minorities is really low within the property industry and it is something Cushman & Wakefield and other property companies are trying to change. I have being supporting them through school outreach visits on apprenticeships to inspire young BAME students into the profession who are less likely to have family or friend connections within the sector. I continue to do this and even more!
There is still a long way to go but there are structural and cultural barriers that need to be addressed and it's really important for businesses to listen to their BAME colleagues. BAME colleagues should be encouraged to voice their opinions and share the experiences they have faced in their careers for companies to act upon and mitigate these issues in order to improve ethnic representation across all levels, as well as ensuring everyone is respected, treated fairly and given the same opportunities. I strongly believe non-BAME employee who are in position of influence have a responsibility to act as allies into removing barriers where everyone should make an effort to listen and reach out to people different to them so they can educate and expose themselves to different views and thought processes to remove those inequalities. It creates an acceptance where you bring the authentic you into work.
Inspiring stuff – thanks for sharing, Sadaqat! If you'd like to read more about UCEM's widening participation objectives, take a look at our Vision and Strategy brochure.