UCEM's e-Library (accessed through the Virtual Learning Environment) is a comprehensive and valuable online resource, enabling students to access a wealth of subject-specific and credible information to support them throughout their studies.
UCEM e-library video transcript (opens in new window)
The sections that make up the e-Library: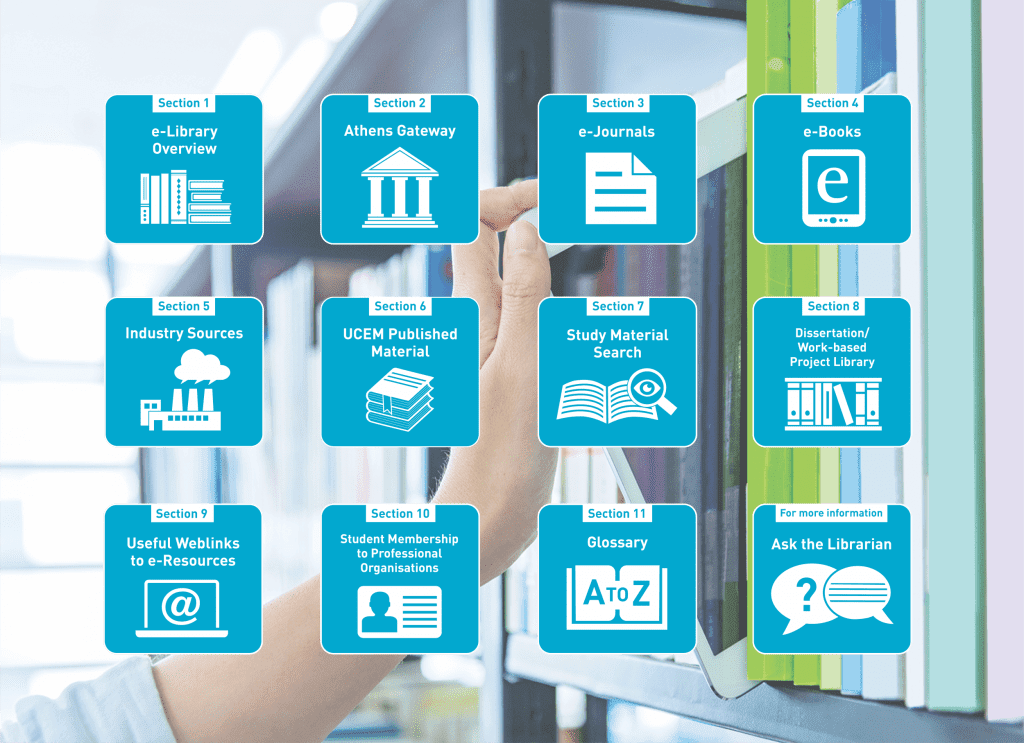 © UCEM 2020
Some key facts and figures about our e-Library
Students have access to:
Over 5000 Full-Text Journal Titles
Over 2500 useful web links to e-Resources
Online searchable databases from 25 key industry-specific & educational sources
A discovery service to allow students and staff to search for all the UCEM Library services and e-Resources in one place
Athens gateway – access and identity management system
A direct link to UCEM's entire library of study material
UCEM Published material that includes: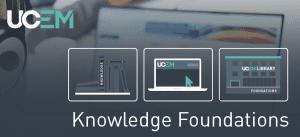 Dissertation and Work-Based Project Library and Archive
Abstracts and indexes of external databases
Reading lists, bibliographies and literature reviews
UCEM e-Library enquiry service
An enquiry service is available for any library-related enquiry to be sent directly to an information specialist.
A Virtual Tour, entitled 'Getting started with the UCEM e-Library' is also available and provides a short video presentation of the vast array of resources available and is designed to show students how to make the best use of this vital education tool and valuable support service.
"Demonstrating to UCEM students what their e-Library can do for them remains a key priority of mine."
Lucy Roper, Information Governance Manager

16 key industry specific & educational sources (available as of 2020-21 Academic Year) include:
VLeBooks (the VLE e-Library reference e-Book platform)
EBSCO Business Source Premier database (containing Academic Journals, Newspapers, Magazines, Trade Publications, and Product Reviews)
Emerald Insight database (containing Academic Journals.  Note: UCEM students have access to around 150 e-Journals and the entire 'Property Management and Built Environment' specialist collection (current and archived backfiles).  In addition to this staff and students also have access to the latest 'Emerging Markets Case Study' collection and around 2500 eBook titles.
IHS Information Services (containing the Construction Information Service (CIS) including technical guidance, standards legislation, research reports and eBooks)
Ingenta Connect (containing scholarly publications).  Note: UCEM subscribes to the full Management collection of Henry Stewart Publications via this platform and include, 'Journal of Building Survey, Appraisal and Valuation', 'Corporate Real Estate', 'Journal of Urban Regeneration and Renewal', and more.
JustisOne (containing an online legal research platform that helps you find leading authorities and establish the current status of the law)
Taylor&Francis Online (containing high quality, rigorously peer-reviewed academic journals and open access (OA) research across all disciplines).  UCEM subscribes to 3 key academic journals and include 'Construction Management and Economics', 'Building Research and Information', and 'Journal of Property Research'.
WestlawUK (containing a library of legal information).
There are further resources available via the VLE e-Library and include Industry Information Sources found in section 5. These resources include access to the (9) British Library, (10) CIOB Library, and (11) Open University UK catalogues and the following subscription services:
Building Cost Information Service (BCIS), an online database containing elemental cost analyses for over 20,000 project across the UK.
ISURV, the online information service and containing published material from the Royal Institution of Chartered Surveyors.
Building Services Research and Information Association (BSRIA), a test, instrumentation, research and consultancy organisation, providing specialist services in construction and building services.
NEC Academia – A series of tools and support covering the 'New Engineering Contract'.
Estates Gazette journal and EGi (Estates Gazette Interactive) providing access to comprehensive, independently research property data, coverage and interpretation on recent change in property law, and breaking property news.