UCEM celebrate outstanding industry contributions and academic excellence at 36th Property Awards
Posted on: 13 October, 2023
On Thursday, 12 October, UCEM hosted its 36th Property Awards at The Institute of Directors in St. James's, London.
UCEM have hosted the ceremony annually since 1987, when the Property Award was first given to recognise a person or organisation that has made an outstanding contribution to the property industry.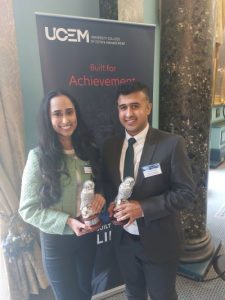 In 2015, two extra awards were added to the event – the Alumni Award, for a former UCEM student that has made a significant contribution early in their career, and the Academic Excellence Award, which recognises the quality of a recent student's research or dissertation submission.
The event began at 11.45, where Nominees and their guests, along with the Principal, Trustees and Executives, met in the reception gallery.
The rest of the attendees joined proceedings from 12.15, before all guests were invited to move to the main dining hall where Amanda Clack gave a welcome speech. Lunch then commenced at 13.10.
At 14.00, Principal Ashley Wheaton delivered a short speech, where he touched on UCEM's vision and ambitions for the future as a centre of excellence for built environment education.
"As an institution, we remain as committed to delivering on our vision to be the centre of excellence for built environment education as the day we launched it nearly five years ago now. I still believe it is the most exciting and compelling vision anywhere in Higher Education, one that is focussed on increasing skills and access to education that will ensure the industries we serve remain fit for purpose well into the future."
Alumni Award Winner – Sadaqat Hussain
After Ashley's speech, the first two awards were presented, with the Alumni Award going to Sadaqat Hussain – Portfolio Manager at Cushman and Wakefield (C&W).
Sadaqat graduated from the BSc Real Estate Degree apprenticeship programme in 2022. Since then, he's already progressed from Apprentice Surveyor to Estate Surveyor and now Portfolio Manager with C&W. As the lead for C&W's 'Inspire' diversity and inclusion initiative, Sadaqat has worked hard to showcase ethnic minority leaders that are breaking down barriers in the built environment. During his time at UCEM, he was included in the Empower list of 100 Ethnic Minority Future Leaders.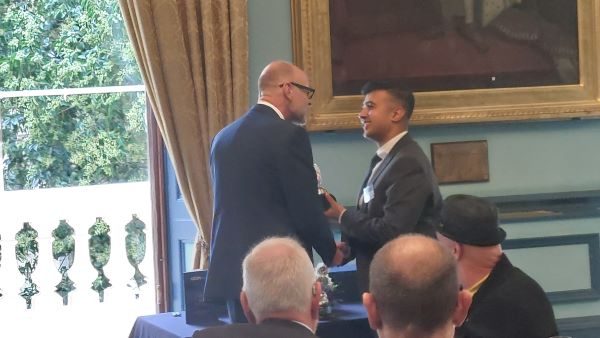 As Ashley noted before presenting the award to Sadaqat:
"I'm certain we will hear a lot more of him in the future – he is clearly an excellent advocate for the sector and a role model for the next generation."
Academic Excellence Award Winner – Esha Bhasin
Esha Bhasin, MRICS Chartered Surveyor at JLL, was the recipient of the Academic Excellence Award.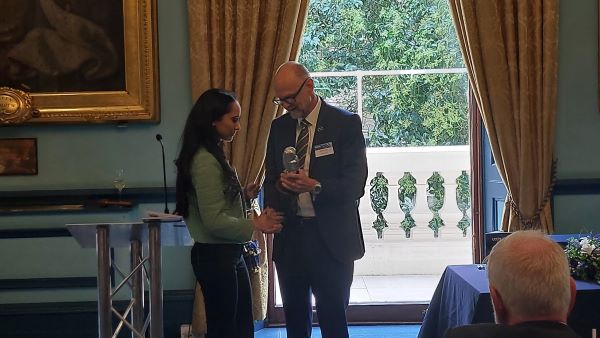 After a short time as a Digital Transformation Consultant, Esha decided to pursue a career in real estate, and was seconded to work for the COP26 United Nations High Level Climate Champions Built Environment Team during her UCEM studies. Esha's passion and determination to drive sustainability and enact change shines through her work. Her research dissertation, 'An investigation into the relevance of BREEAM accreditations for office buildings in Central London amongst net zero carbon emissions and the coinciding investor understanding of BREEAM as an assessment tool', was deemed 'exceptional' by Ashley and received a distinction overall:
"Written in a post COP26 climate, it was both original and accomplished, providing valuable insight into what is required if we are going to turn aspirations into effective actions."
Property Award Winner – Helen Gordon
The final award saw Helen Gordon, CEO of Grainger PLC, become the 36th recipient of the UCEM Property Award. The award was presented by Amanda Clack, who congratulated her 'true friend' and 'incredible role model' who 'has built a simply formidable reputation in the built environment sector'.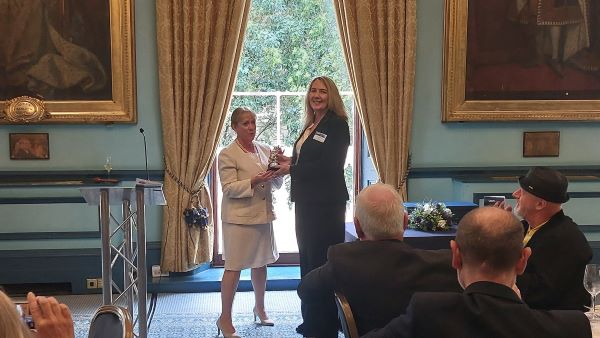 Helen started out as a Charted Surveyor, with her list of previous employers including John Laing Developments, Railtrack, Legal and General, RBS, and now Grainger Plc, for whom she has delivered some incredible results for some seven years, including through the pandemic. As a champion of diversity, Helen has inspired many in the built environment, and having spent nine years as a CEM/UCEM trustee, her influence has been particularly felt within our institution.
In the words of one of those who nominated her for this award:
"She has probably done more for the private rented sector than anyone else in the industry."
We will be following up this event with more comments and views from our award winners. To keep up-to-date with the build-up to this year's Property Awards, follow us on X, LinkedIn, Facebook and Instagram.