UCEM in the running for apprenticeship top training provider accolade
Posted on: 7 August, 2020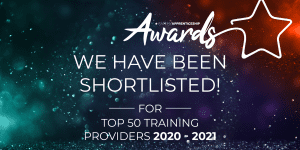 UCEM is on the shortlist for the RateMyApprenticeship Top Training Provider 2020-21.
The institution is among the top 50 training providers for apprenticeships in the UK based on 5,500 apprentice reviews left on the RateMyApprenticeship website.
The training provider which achieves the highest scoring reviews will be announced at the RateMyApprenticeship Awards virtual ceremony on Thursday, 20 August, 2020.
John Pratt, UCEM's Director of Apprenticeships, comments: "I'm delighted that we have been shortlisted for these awards. A huge amount of work has gone into our apprenticeship programmes but it all means nothing if our apprentices are not progressing and enjoying their learning. Being included in a shortlist based on apprentice feedback, therefore, is a wonderful endorsement of our efforts in creating successful apprenticeship programmes.
"The shortlisting is a tribute to the various teams who make our apprenticeship programmes work – from the Business Development Team who engage with employers to the Apprenticeship Outcomes Officers who support our apprentices on a one-to-one basis and the Tutors who deliver the learning. My thanks go to everyone who works on our apprenticeships and has helped to create a learning experience appreciated by our apprentices."
UCEM provides apprenticeships at levels 6 and 7 in disciplines spanning the Built Environment. Head to our Becoming an Apprentice webpage to find out more.