Students and staff collaborate on renewing UCEM's NUS Responsible Futures accreditation
Posted on: 13 September, 2019
UCEM kickstarted the process for renewing its National Union of Students (NUS) Responsible Futures accreditation with the help of three of its students last week.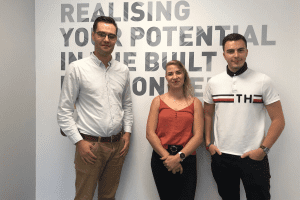 (Left to right) Jason Ratcliffe, Victoria Grimshaw and Callum Brown
MSc Real Estate student, Jason Ratcliffe, and BSc (Hons) Real Estate Management students, Victoria Grimshaw and Callum Brown, visited UCEM's HQ in Reading for the first time as they participated in the institution's Responsible Futures Working Group.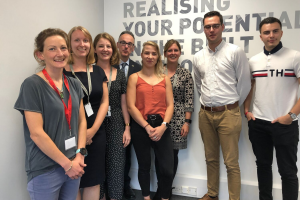 The three students also have the option to audit UCEM next March and joined several members of staff and Meg Baker – NUS's Senior Project Officer – Education for Sustainable Development – for an afternoon workshop appraising the institution's sustainability credentials.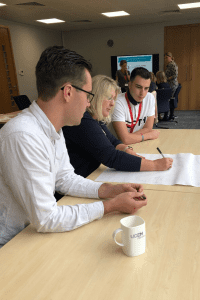 Attendees heard the students' perceptions of UCEM's sustainability output, staff members outlined what the institution does and Meg devised team activities where sustainability aspirations, for both students and staff, were discussed. 
Victoria, who is an Agency Negotiator for Alder King Property Consultants, commented: "I am passionate about sustainability in my personal life and I came here today not knowing what to expect. I knew it was the audit and accreditation but didn't know much more than that. It was great to see the commitment UCEM has to obtain this accreditation and how much further it can be pushed. 
"UCEM has a passion for sustainability and my own passion for it came through UCEM and the course which helped me realise that I could incorporate this into my career." 
Callum, a Trainee Business Valuer at Pinders, added: "Personally, I was quite astounded by the ambitions, progress and everything UCEM does towards sustainability. I was not expecting to see that they do as much as they do. I was shocked (in a good way!) to be honest. 
"It's impressive how UCEM is taking its commitment to sustainability one step further. I do try and enforce good sustainability practice at my workplace through sending articles to colleagues, for example. It's good to broadcast these messages. 
"I was amazed by how much UCEM does for sustainability. It's really impressive." 
Jason, who is a Marketing Manager at Cockrams Surveyors Limited, reflected: "I came along today with an open mind. I didn't really have any expectations but it's been really enlightening. It's brought to light how UCEM is pushing forward with sustainability and consciously challenging existing practices. 
"UCEM is one of the leaders of sustainability in the Built Environment. I look forward to seeing where it leads." 
UCEM gained its NUS Responsible Futures accreditation last year, becoming the first online institution to achieve the feat. The accreditation is valid for two years up until March 2020 with yesterday's workshop the first step towards gaining renewal and developing UCEM's sustainability initiatives. 
UCEM's Director of Research, Innovation and Partnerships, Aled Williams, is leading on the renewal and commented: "It was a pleasure hosting the students and Meg for the first leg of our journey towards the audit in March 2020. Meg organised some great activities and I feel all present, both students and staff, learned a great deal about what can be done and is achievable from a sustainability perspective. 
"It was positive to gain such good feedback from the students and Meg about what we are doing already, and the teams came up with some really fantastic ideas about where we can go next, both internally and with our students. I am confident we can improve upon the good progress we have made and, with the support from NUS Responsible Futures, embed sustainability more deeply across UCEM." 
To find out more about UCEM's commitment to sustainability, head to the Sustainability page on our website.