Send in your nominations for UCEM's Alumni of the Year 2021!
Posted on: 5 July, 2021
UCEM is calling on its community of former students and employer partners to nominate deserving alumni for recognition at this year's Property Awards.
The institution is on the lookout to find only the seventh recipient of its Alumni of the Year Award, since the prize's inauguration at the ceremony in 2015, and needs your nominations!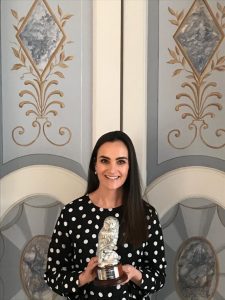 UCEM Alumni of the Year 2020 winner, Jodie Ronan, with the award
To be eligible, the nominee must have graduated from UCEM between 2013-2021 and made an impact in the built environment, whether executing a high-profile deal or led an inspirational campaign, for example.
UCEM's head of marketing, communications and brand, Donna Rourke-Houguez, commented: "The UCEM Property Awards is a prestigious event and this award offers a fantastic opportunity to mark the achievements of our alumni.
"We are proud of the impact our alumni go on to make in the sector and this is your chance to recognise that impact and sing either your own praises or those of someone else you know.
"I am looking forward to reading through the nominations and being inspired by the stories of our recent graduates who more often than not go on to achieve great things in their career."
The voting form will remain open until 6 August, 2021. Head to the SurveyMonkey form to add your nomination.
For more on the Property Awards, head to our news story from last year's event.