Built Environment innovation celebrated at UCEM's first online Property Awards event
Posted on: 15 October, 2020
Outstanding innovation and contributions within the Built Environment were recognised at the 33rd UCEM Property Awards.
Held online, due to restrictions enforced by COVID-19, a series of posts were published on UCEM's social media channels to announce the winners of the awards and share their reaction.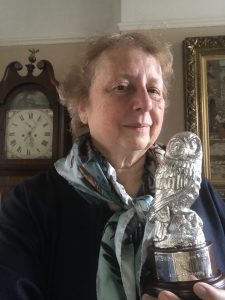 Annie Hampson OBE with her Property Award
Annie Hampson OBE became the 33rd recipient of the illustrious UCEM Property Award, which recognises an organisation's or individual's outstanding contribution to the property industry.
Annie worked for over 40 years in the planning industry, with 25 years as Planning Services and Development Director for the City of London Corporation which was followed by a further six years as the governing body's Chief Planning Officer.
During her time in the role, Annie presided over iconic projects such as Millennium Bridge, The Gherkin and Paternoster Square, with innovations including the introduction of the UK's first 'wind guidelines' and the award-winning delivery of green roofs.
A key part of Annie's role at the City of London Corporation was safeguarding the historic environment, and she received her OBE in 2017 for services to planning in London.
During her acceptance speech, Annie said: "It is a huge honour to be the 2020 UCEM Property Award winner. I am particularly thrilled as a planner as we don't always get the best press coverage. I hope we can be recognised as a force for good and positive change.
"It's always wonderful to be recognised for doing something which was stimulating and, for the most part, a pleasure."
Earlier in the day, the sixth recipients of the Alumni of the Year and Academic Excellence Awards were revealed.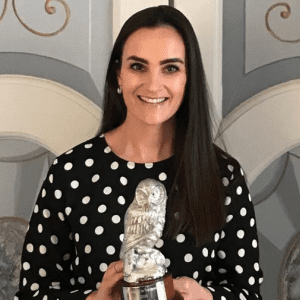 Jodie Ronan with her Alumni of the Year Award
UCEM Chair Designate, Amanda Clack, announced Ronan Group Real Estate Chief Operating Officer, Jodie Ronan, as this year's Alumni of the Year.
Jodie was awarded a Distinction from UCEM's MSc Surveying – Real Estate programme, having obtained a First in her Bachelor of Business and Law at University College Dublin and completed an MSc in Finance at Smurfit Business School Dublin, for which she was awarded a scholarship.
In addition to this, Jodie completed Harvard Business School's Real Estate Management Executive Programme and since becoming Chief Operating Officer in 2012, has overseen the development of prime sites in Dublin which have transformed the city.
Amanda concluded her announcement: "She's an ambassador for learning whilst working, she's a very high-profile alumna and we're incredibly proud of you."
Reacting to winning the Award, Jodie commented: "It is a great honour and privilege to be chosen as UCEM Alumni of the Year 2020. I am hugely grateful. Thank you to UCEM for running an excellent programme that has been instrumental in my achievements."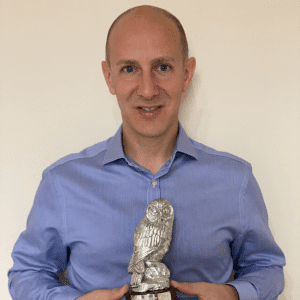 Philip Goldstone with his Academic Excellence Award
UCEM MSc Quantity Surveying alumnus, Philip Goldstone won this year's Academic Excellence Award for his final dissertation on how ethics can be effectively embedded into construction projects.
UCEM Vice Chair, Dr Stephen Jackson, announced Philip's win, sharing the comments of the judging panel: "Philip provides a thought-provoking study that delivers clear, current, sustainable solutions and has undoubted potential to be developed further as a publication."
He added: "I am sure you will want to join me in congratulating Philip and wishing him the best in his future career."
Philip commented: "It feels great to have won the 2020 UCEM Academic Excellence Award and I am very proud of this achievement.
"I am very grateful to my wife and children for their full support, allowing me the space and time to dedicate to my studies. I would also like to thank the administrative staff and Academic faculty on the MSc in Quantity Surveying for their support."
The Award announcements extended to the second recipients of the Harold Samuel Research Prize – an award of up to £15,000 going towards a research project with the ability to transform the Built Environment.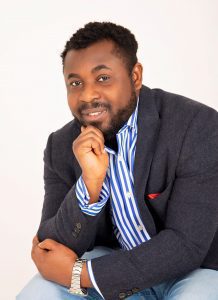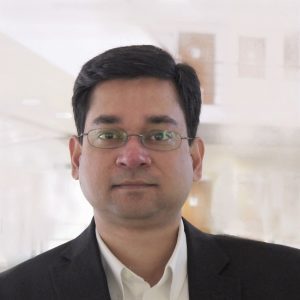 (L-R) Harold Samuel Research Prize recipients, Dr Olayiwola Oladiran and Professor Anupam Nanda
This year's recipients were Dr Olayiwola Oladiran – a Lecturer at Leeds Beckett University – and Professor Anupam Nanda – a Professor at the University of Manchester. Together, they will author a research report developing an integration framework for Proptech education.
Dr Oladiran commented: "I am elated to be a recipient of the second UCEM Harold Samuel Research Prize. It is indeed an honour that the research project proposed by Professor Anupam Nanda and I was selected and will be funded.
"This feat transcends us – it goes to the future of real estate operations and practice as we seek to further enhance the application of digital and technological systems to real estate through the incorporation of Proptech education in Higher Education. We, therefore, accept the prize with a huge sense of responsibility and passion to carry on with the task."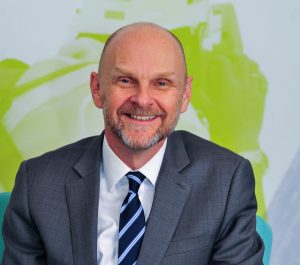 UCEM Principal, Ashley Wheaton
UCEM Principal, Ashley Wheaton, began the day's proceedings with a video introduction and ended the event congratulating the winners and nominees, and thanking the Board of Trustees and UCEM's staff for their work over the past year.
Ashley picked out the 83.4% UCEM achieved in the National Student Survey (NSS) as a particular highlight over the past 12 months and commented on the institution's strength during the current pandemic. "I think UCEM has responded extraordinarily well to what have been a challenging set of circumstances this year," he said.
"I think that the hard work we have put into our online delivery model over the last few years to ensure that our online delivery model is right at the forefront of the very best flexible delivery in Higher Education is now really coming to the fore, and our students, by and large, have had an uninterrupted period of study with us through the pandemic."
In closing, Ashley remarked how he hopes that next year the UCEM Property Awards will be able to take place in person.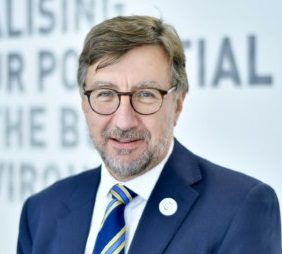 UCEM Chairman, John Gellatly
The pandemic was also mentioned by UCEM Chairman, John Gellatly, who delivered the announcement of this year's Property Award winner.
Sharing Ashley's sentiment, John lamented the fact that the virus had prevented him from fulfilling his final public function as UCEM Chairman in person before he hands over to Amanda Clack in the new year.
Reflecting on his time in the role, John commented: "I have thoroughly enjoyed the role, for which I have been exceptionally proud to represent the university."