City University of Hong Kong students awarded scholarships by UCEM
Posted on: 25 March, 2021
Four high-achieving City University (CityU) of Hong Kong students were awarded scholarships by UCEM last week.
Building Services Engineering student, Shek Kai Nam, Construction Engineering and Management student, Fung Sho Lung, and Surveying students, Fong Yiu Sang and Li Cheuk Man, were this year's recipients of the awards, which go to those with an excellent academic record to encourage them to carry on with their built environment studies.
The students' achievements were marked with a small ceremony at CityU attended by UCEM's Hong Kong ambassador, Gabriel Lee, education consultant, Dione Tse, and admin officer, Melinda Cheung, as well as CityU representatives.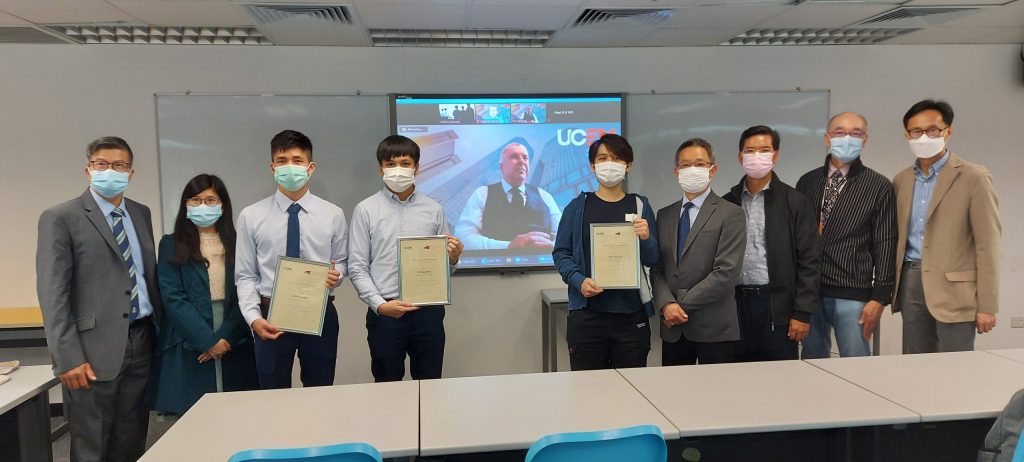 UCEM's dean of school (international), Tim Bennett, and director of commercial and business development, Stephen Bartle, attended via Zoom, with Tim Bennett delivering a speech congratulating the recipients.
Framed certificates marking the scholarship award were presented to the three recipients who attended, with Shek Kai Nam sending their apologies.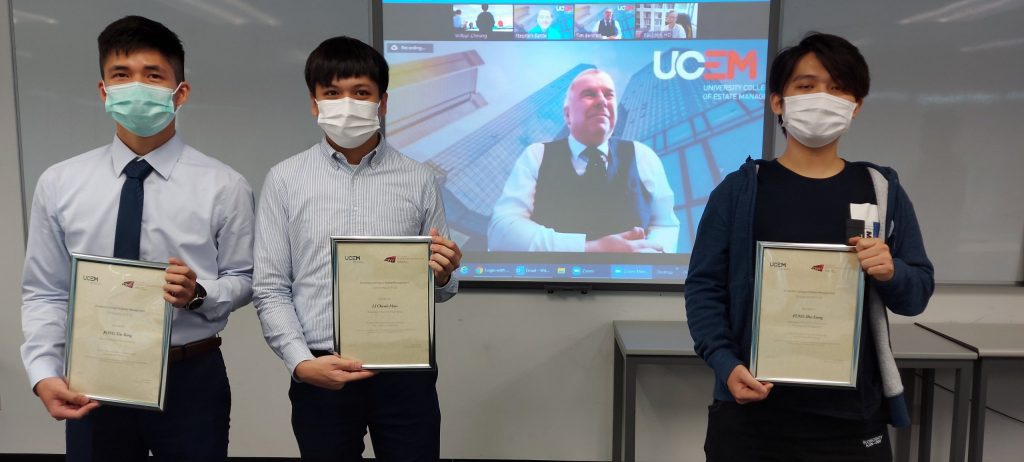 Each student wrote a letter of thanks to UCEM for the HK$10,000 scholarship award.
Fung Sho Lung wrote: 'Your generosity has inspired me to help others and give back to the community. I hope one day I will be able to help students achieve their goals just as you have helped me.'
Li Cheuk Man wrote: 'I will never forget the kindness and support of UCEM', Fong Yiu Sang wrote: 'I can concentrate on my studies as the financial burden of my family has been greatly reduced', and Shek Kai Nam wrote: 'I promise I will make good use of the scholarship in supporting my academic studies'.
The scholarships go to final-year students of CityU's Division of Building Science and Technology who have achieved outstanding academic results and demonstrate good personal qualities, such as involvement in community initiatives.
Tim Bennett commented: "Since awarding the scholarships for the first time in 2017, this activity has turned into an annual highlight. The calibre of recipients is very high and each student is hugely deserving of their scholarship. It's a great honour to award these scholarships to students who will surely make a positive difference in the built environment in future."