Winning the UCEM Alumni Award
Posted on: 22 July, 2022
Nominations are open for this year's UCEM Alumni Award, which goes to a former student of ours who has made an outstanding contribution in their early career towards creating a better built environment.
For a better understanding of the impact of winning this prize, we asked 2018 Alumni Award recipient, Nicola Dixon-Brown, about her experience…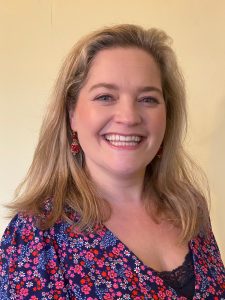 What are your memories of becoming the 2018 Alumni Award winner?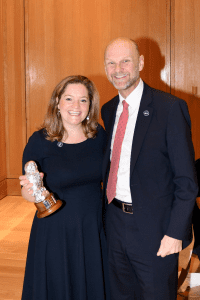 To be selected for such a prestigious award was an amazing feeling. I was absolutely delighted and surprised that I had somehow impressed the judges!
Looking back on it, the Alumni Award came at a good time – I was feeling the pressures of motherhood and a full-time job. With my husband working abroad every week, I was juggling a lot with two kids and feeling overwhelmed.
The Award gave me the confidence boost I needed to believe in myself and drive my career forwards.
What impact did the award win have on your career?
Winning the Alumni Award has helped me both professionally and personally. There was definitely the bonus of elevating my personal brand!
The following year UCEM nominated me as one of the first 12 Associate Fellows. Through the social events that come with winning both the Alumni Award and being an Associate Fellow, I have been able to meet new people and extend my professional network, opening up many new opportunities.
Winning the Alumni Award has been amazing, but everything originates from my time at UCEM. I completed the Postgraduate Diploma in Surveying whilst working full-time back in 2009. Even 14 years ago, UCEM was streaks ahead of other universities with its online platform, and the support provided by each individual lecturer was tremendous. I would not be where I am today without the solid building blocks that UCEM provided.
What have you gone on to achieve since?
Since winning the Alumni Award, I have enjoyed conducting an ambassadorial role as an Associate Fellow with UCEM. Recently, my main focus has been on mentoring – both inside and outside of work.
Having received great support from RICS Matrics during my early career, I am fortunate to now be in a position give something back, and I take great pleasure in helping to motivate and encourage others.
I continue my work on the RICS Property Journal Editorial Advisory Group and have recently assisted Revo [Retail Evolution – a non-profit professional body and membership organisation in the UK serving the retail property and placemaking industry] with redesigning its retail awards programme. In the last six months, I moved from CBRE to The Crown Estate where I am very happily overseeing the Regional Portfolio.
Thanks for your reflections, Nicola! If you would like to nominate yourself or someone else for the 2022 Alumni Award, head to our SurveyMonkey form for further details and to add your nomination. The deadline for nominations is 8 August, 2022.