Why studying online can be more accessible to those with disabilities and neurodiversity
Posted on: 11 February, 2021
Traditional, face-to-face teaching is not for everyone. Online learning can be a preferable studying experience for some, and an experience which has become more essential over the past year. Students with disabilities, or neurodiversity – those who have variations of the human brain such as ADHD and autism, can benefit from studying online.
Here, our Disability and Wellbeing Adviser, Richard Higgins, selects nine reasons why studying online can be more accessible to those with disabilities and neurodiversity, including how studying online with UCEM can be a good option for disabled or neurodiverse people wishing to start or boost their careers in the built environment: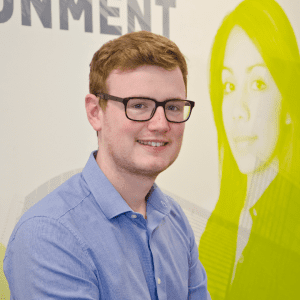 Students can study in their own time. Everything on our virtual learning environment (VLE) is recorded and can be accessed 24/7 so students can study in a way that fits their schedule and learning style. Students can also go back over the resources as many times as they need.
The flexibility of the course can make it less stressful. Students can also study anywhere, so if they struggle in more formal settings such as classrooms or libraries they can easily work somewhere better suited to their needs.
We have removed all exams which are a primary source of stress and accessibility issues for students.
Students can find engaging with others online easier and more accessible than in face-to-face settings. There is often is less pressure from other students online which can reduce fear of failure or judgment. Online learners also have easy access to all the resources they need.
Travel to and around campuses and university buildings can provide barriers to disabled or neurodiverse students. This, of course, isn't an issue with online learning.
Students with disabilities and neurodiversity often require fewer adjustments to their course when it is online as opposed to campus-based.
Online study can feel isolating at times but we have a large network of support teams from our student ambassadors and reps who facilitate a supportive community to our many other support teams, all available to contact through our VLE.
Study with UCEM is flexible. Students are encouraged to manage their own workload and utilise processes such as the mitigating circumstances or deferral procedures if needed.
Just like face-to-face university students, our UK-based, non-apprentice students can access DSA (Disabled Students' Allowance) to support them with the extra costs associated with studying with their disability.
Sources:
https://ablemagazine.co.uk/distancelearning/
https://www.onlineuniversities.com/articles/students/the-benefits-of-online-ed-for-disabled-students/
https://www.aoc.co.uk/exploring-online-learning-and-student-mental-health
For more on the support available to you at UCEM, take a look at our Disability and wellbeing support webpage.