UCEM's first apprentices: A year on
Posted on: 6 February, 2020
Not only does UCEM provide the educational training for apprenticeships, but the institution hires apprentices too. History was made in September 2018 when Georgia Haines and Nicole Hatton became the first employees to complete their apprenticeships at UCEM.
Over a year later, both Georgia and Nicole are still working for the institution and UCEM now has two new apprentices at the start of their journeys. We spoke to Georgia, Nicole and our new apprentices to find out how they are all getting on…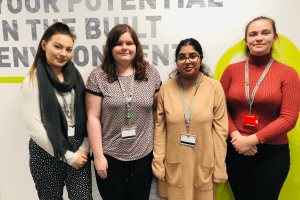 Georgia started her Level 4 Project Management apprenticeship with QA Apprenticeships a month-and-a-half after completing her Level 3 Business Administration apprenticeship with the same education provider. Georgia is still working for UCEM as a Student Experience Administrator.
Q: How do you reflect on completing your first apprenticeship?
GH: I help with other teams and have knowledge across the department. The apprenticeship was good to get experience and exposure from other areas and implement those skills.
The apprenticeship was good for helping me to understand why certain things are in place for the good of UCEM. It's good to gain a broad overview of how everything links together.
How are you getting on with your Project Management apprenticeship?
GH: I'm due to finish the Level 4 apprenticeship this summer. It's all gone really well. I've learnt lots which can be applied in work, not just within a project management environment. There are things you can even tie into your personal life too, such as budgeting and time management. I am learning lots of life skills. Some of the skills I learned in the first apprenticeship can be applied to the second one.
I have always wanted to go into project management and I'd like to go into it full-time at some point. I'm thankful to UCEM for supporting me with my apprenticeships.
Nicole has been in full-time employment with UCEM since completing her apprenticeship and is now an Operations Administrator for the institution.
What have you been getting up to since completing your apprenticeship?
NH: I've worked with lots of different teams. I've worked within the Admissions, Assessment, SITS, Timetabling and Operations, Academic Registry and Apprenticeship Teams.
I have used a lot of the skills I gained from the apprenticeship within my new role. Each team I've worked with has a different system. There are bits which are similar in every team. I've been helping with the processes in each team so they are working better.
It's a little different to going straight into a full-time job. Now I am fully qualified, I have implemented the knowledge and behaviours gained from the apprenticeship.
How do you reflect on the apprenticeship?
I'm very glad I did the apprenticeship. It got my foot in the door and got my qualifications. Having started at the same time, Georgia and I are now really good friends too.
Going forward, I'd like to do an online degree in events management and progress in that profession.
How does it feel to see the next crop of apprentices starting their journey?
GH: We know how much the apprenticeship will benefit them so I'm really happy for them.
NH: It's nice to know that apprenticeships are being carried on at UCEM. We've helped them out at times. Being the first to do the apprenticeship, we didn't have the luxury of asking others who had done it for help but I'm glad we've been able to pass on our experience to them.
Our Apprentice Administrator – Assessment Team, Abigail Flach, and Apprentice Administrator – Admissions and Student Registration, Myra Sultan, joined UCEM in August 2019. Like Georgia and Nicole, Abigail and Myra are doing the Level 3 Business Administration apprenticeship, though, this time, with Henley College.
Abigail Flach (left) and Myra Sultan (right)
How did you find out about the role?
AF: I found the job on indeed.com. Having gone to university, I decided I didn't want to stay at university anymore and looked at my options. I thought it would be good to get some 'real world' experience while also learning. University is like a safety net before going out into the real world and I thought it would be a good idea to do an apprenticeship and combine work with studies rather than being thrown into the deep end straight from university.
MS: I also found it on indeed.com. I was straight out of Sixth Form. I didn't want to go to university but I did want to do an apprenticeship. When I found out about the Business Administration apprenticeship, I researched it a bit more and decided to apply.
How are you finding it so far?
AF: It's been really good so far. My team at UCEM has been really supportive. Nicole helped by being an invigilator for one of my assessments.
MS: It's been great. Everyone is very supportive. I ask a lot of questions and everyone is really friendly and helps me when I need it.
What do you hope to do next in your career?
AF: For now, I'm just concentrating on getting the apprenticeship done!
MS: If I pass, I would like to go on to the Level 4 Business Administration apprenticeship and gain more responsibility in the workplace.
If you are interested in hiring an apprentice, head to the 'Develop talent for your business' webpage. If you are interested in becoming an apprentice, head to our apprentice-focused webpage.