UCEM Property Awards 2019: Interview with the 2018 Alumni of the Year Award winner
Posted on: 9 October, 2019
We will be welcoming guests to Haberdashers' Hall in London for the 32nd edition of the UCEM Property Awards tomorrow. Three attendees will leave the event clutching our distinctive Oswald the Owl trophies – the Property Award winner, which goes to someone who has made an outstanding contribution to the property industry, the Academic Excellence Award winner from our list of six nominees and the Alumni of the Year Award winner from our five selected nominees.
What can tomorrow's Property Award winners expect from the day and the impact of gaining the accolade? To give them a clue, we spoke to 2018 Alumni of the Year Award winner, Nicola Dixon-Brown – a Director at CBRE Property Management – about her recollections of last year's event and how the following 12 months have been for her…
What are your recollections of last year's event?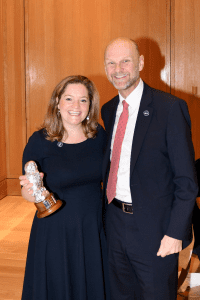 "I was totally overwhelmed by the calibre of people attending the event last year. It was a great environment in which to meet new and exiting professionals.
"In terms of the actual Award, as I was sitting down at lunch reading over the bios of those shortlisted. I couldn't quite believe I had been chosen to sit amongst these truly exceptional surveyors. I thought to myself: 'well I don't stand a chance' but I was happy I had even been considered.
"As Ashley Wheaton [UCEM Principal] started to read out a summary of the winner of the Alumni Award, I recall Amanda Clack [CBRE Head of Strategic Advisory and UCEM Trustee] who I was sitting next to nudging me and saying – 'it's you!' After a few seconds it dawned on me that it was indeed me….. from then on whatever was said is all a blur!  I think I burst into tears and then composed myself when I realised I had to get out of my seat.
"I am proud of my achievements within the profession over the last 10 years and working hard to support the RICS."
What impact did winning the award have on you?
"Since winning the Award I have become a UCEM Associate Fellow and gained my FRICS status.
"My recognition and exposure within the profession has increased, which has helped my own self-belief and at work has had a positive effect with my colleagues and clients, at all levels."
What have you been getting up to over the past year?
"I am quite ambitious and every year I seem to set myself some objectives – some more achievable than others!
"It has been a busy year – I've just had my third child so we are getting used to a busy family of five, I have become an Associate Fellow of UCEM and gained my FRICS.
"I now plan to enjoy my maternity leave before hitting the ground running again from summer 2020."
What are your future plans in the sector?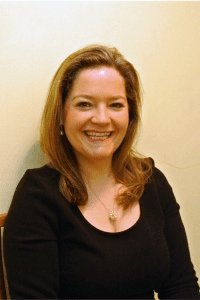 "When I get back to work I'm looking forward to exploring more ways in which I can make a difference to those around me, alongside supporting increased diversity within the profession.
"I aim to continue as a Next Generation Assessor at CBRE and help with the 'Return to Work Scheme' which launched in 2019. Encouraging both new recruits at the start of their career, alongside helping those who have taken an extended career break get back into work, is very important to me. I'm also keen to explore the area of mentoring and careers advisory."
Thanks for your time, Nicola! To keep up-to-date with all the coverage of this year's awards ceremony, keep an eye out on our Facebook, LinkedIn, Instagram and Twitter channels.