UCEM Property Awards 2018: Five things we learnt
Posted on: 24 October, 2018
The 31st UCEM Property Awards proved to be another stunning occasion to take stock of activity in the Built Environment and celebrate those who are making a positive difference within the sector.
Speeches were given by UCEM Chairman, John Gellatly, our Principal, Ashley Wheaton, and newly crowned Property Award winner, Alison Nimmo CBE, to an attentive audience, including other award-winners and nominees, UCEM staff and representatives from industry.
For those who weren't at the event, we have picked out some of the key takeaways from the day for your consideration…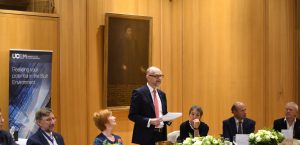 UCEM Principal, Ashley Wheaton, addressing guests at the Property Awards
1. The Harold Samuel Research Prize launched
With a broad selection of guests present from across the Built Environment, the Property Awards provided a great opportunity for UCEM Principal, Ashley Wheaton to launch a new research prize for the sector – The Harold Samuel Research Prize.
Named after the man who studied with the institution before going on to found real estate firm, Land Securities, the Prize will award up to £15,000 annually for a research project on a matter of significance to the Built Environment.
A panel of independent professional experts will be established by UCEM to manage the prize and determine the winner each year.
Applicants will be required to send written submissions which will be judged against a defined set of criteria with winners having their work published by UCEM, with the institution retaining the intellectual property of the research.
Ashley commented: "UCEM is truly delighted at the outcome of the project and the potential impact it affords our sector."
More details will follow in the new year so keep your eyes peeled for this!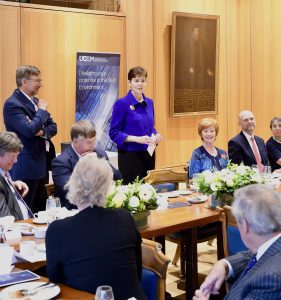 2018 Property Award winner, Alison Nimmo CBE, during her speech
2. Call for memory box submissions
Next year is notable for UCEM turning 100 years old and plans to celebrate our centenary are well underway but telling our story would mean nothing without contributions from the mainstays of this period – we're looking at you, students!!
Whether trivial or full of meaning, we are calling upon all alumni to share your memories with us to become part of our Centenary Memory Box. We would be delighted to hear from you and see how UCEM has played a role, however small, in your life.
Leading the call for memory box submissions was our Property Awards winner, Alison Nimmo, who recalled being part of the 'Class of '91' and attending evening classes with her peers in London as they charted their careers in the sector.
Speaking as a proud alumna and Honorary Fellow of UCEM, Alison encouraged the attendees to add their own anecdotes to the Box. Details of how to provide submissions are available here.
3. Project Transform coming along nicely
As part of his address to the guests, Ashley commented on the progress of Project Transform – a project implementing further enhancements to our academic provision which is centred on delivering an even better student experience and will be fully launched in September 2020.
Current students and prospective applicants are being kept updated about how this project will affect them and Ashley had the following to say during his speech on it:
"Rest assured that we will be launching something in two years' time which will be the envy of the higher education sector, and will provide an improved and even higher-quality experience for our students irrespective of location and give them the maximum flexibility to study when and where they wish."
Exciting times ahead! To read more about the project, click here.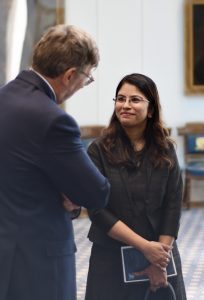 Alumni of the Year nominee, Sobha Rani, with UCEM Chairman, John Gellatly
4. Vibrant international student community represented
Five out of the 12 nominees for the Academic Excellence and Alumni of the Year awards were based outside of the UK and flew the flag for our international students who make up roughly 35% of our student population at any one time.
Brunei-based, Mohamed Humdhan Nahuman Batcha, unfortunately, was unable to attend the ceremony, but nominee representation at the event in London came from Lebanon, India, Sri Lanka and Trinidad and Tobago in the form of Manal Abdo, Sobha Rani, JM Ruvindu Ruvan Bandara and Nicholas Hosam, respectively.
We were delighted you could join us on the day and hoped you enjoyed your trips from Asia and North America to our little island!
The international flavour added to the event (and Ruvindu's gifts of Sri Lankan tea were gratefully received!) and the stories of all our nominees within, and outside of, the UK are worth a read. Click here to learn more about our Academic Excellence nominees and here to find out more about shortlisted alumni.
5. Leading on apprenticeships
Ashley's address also touched upon his recent attendance at a Parliamentary Enquiry into degree apprenticeships. UCEM's Principal read out a selection of facts evidencing the institution's strong support of the apprenticeship agenda, a few of which are listed below:
UCEM is the largest provider of degree apprenticeships in Built Environment subjects and one of the largest providers of degree apprenticeships across the whole higher education sector;
UCEM is the only provider of the Level 3 Surveying Technician apprenticeship in England;
In the three years UCEM has delivered apprenticeships, it has generated high levels of employer satisfaction (88% of employers would recommend UCEM [above benchmark] – ESFA 2018 Employer Survey) from the 190+ employers it works with across England.
Ashley reflected: "These are all fitting endorsements and evidence of our continued success as an institution."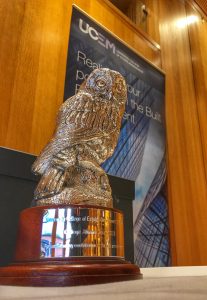 The Oswald Alumni of the Year trophy
Spotted: Oswald the Owl
The eagle-eyed among you will have spotted that this blog promised 'five' things we learnt from the Property Awards but we thought we couldn't end this blog without a mention of the awards themselves so consider this a bonus ball!
A UCEM alumnus was overheard saying: 'ah – there's Oswald!' when looking at the trophies for our award-winners. Our photographer, Ben, took a great shot of one of the trophies which shows an owl perched resplendently on its shallow plinth. The owl's name is Oswald and each award-winner took an Oswald home.
Who, you might ask, is Oswald? Plenty of alumni will have heard of him and we have a feeling that those who haven't heard of him will know all about him during our centenary year. Watch this space…