UCEM INSPIRE: experts define built environment sustainability leadership
Posted on: 25 August, 2023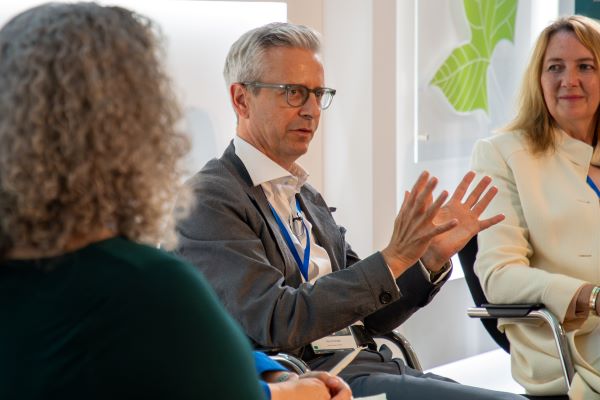 In mid-July 2023, in line with the 'Who We Influence' strand of our Sustainability Strategy 2023, UCEM held the second of its INSPIRE events focused on the need for effective leadership in the quest for a more sustainable built environment.
UCEM's INSPIRE events are themed sessions that enable collaboration between influential stakeholders to consider the various challenges facing the industry, bringing together INfluence for Skills, Productivity, Industry, Research and Education and offering collaboration that is integral to the future of the built environment sector.
The event was supported by the Construction Industry Council (CIC) and the Construction Leadership Council (CLC). It was run in partnership with the Edge, a built environment think-tank.
This in-person event brought together sustainability leaders and experts from leading organisations in the built and natural environment sector, including property owners, developers, designers, consultants, contractors and managers.
Attendees heard from a series of speakers and panellists, this article summarises one of the event's panels, titled 'Defining Sustainability Leadership' which saw panellists discuss what it takes to drive beneficial change for sustainability as an organisational leader.
The Panel comprised: 
Amanda Clack, UCEM Chair of the Board of Trustees and Regional CEO, EMEA, HKA, Former RICS President, [Chair]
Dr Kayla Friedman, Course Director, Cambridge Institute for Sustainability Leadership (CISL)
Guy Grainger, Global Head of Sustainability Services & ESG, JLL
Ruth Voigt, Environmental Sustainability Leader (Europe), Laing O'Rourke
Leadership for Sustainability: An All-Round Affair
"
Every single individual needs to lead built environment sustainability, every role needs to embed it into their work."
Discussions began by focusing on the role of organisational leaders in the fight against climate change. Guy expressed his perspective on leadership as being action-oriented and applicable to all roles, not just senior positions. He argued that leadership is not limited to top-level executives; instead, it is a quality that should be present at all levels of an organisation and that companies with strong leadership can go faster than others. For Guy, the focus of leadership should be empowering everyone to take tangible action against climate change. He noted that facing up to the climate emergency requires systematic change, especially to behaviours in the industry, while still working within the capitalist system.
Echoing the importance of the whole team approach, Ruth outlined Laing O'Rourke's efforts to tackle the climate emergency and emphasised that everyone has a role to play in environmental sustainability. For Ruth, breaking down traditional hierarchies amongst those involved in projects, especially between 'suits and boots' and building broad alliances are crucial in combatting the built environment's negative effects on climate change. She noted that mitigating these is not just about large-scale environmental issues, but also about paying attention to issues such as biodiversity, water scarcity and other location-specific challenges that often fall by the wayside. This was often because more junior staff, who are closer to these 'on-the-ground' issues, are not given enough influence over, or encouraged to take an interest in, the sustainability aspects of the projects.
"
A project charter ensures there is a shared vision across the project team to deliver a highly sustainable building."
Kayla expanded on this idea, suggesting that sustainability leadership should be present throughout a project's life cycle, from the inception of a design to the eventual recycling of a building. She used the example of the CISL's new headquarters, the Entopia Building in Cambridge, to demonstrate how a project charter can create a shared vision of sustainability across an entire project team.
Ruth brought attention to the emergence of collaborative contracts, which are becoming increasingly prevalent in public sector projects. These contracts are a means of ensuring that every party is incentivised and mandated, legally, to reach the same sustainability goal, e.g. for the long-term environmental performance of a project. In Ruth's experience, this type of agreement forces a collaborative approach throughout the project's lifecycle and prioritised sustainability very effectively.
Sources of Leadership
Amanda thought Kayla's and Ruth's points about a shared vision could be conceptualised as a 'green thread' that should run through projects and questions where in the project team this 'thread' should begin. Although reiterating the points above about sustainability being an 'all round affair', panellists agreed that the initial impetus for a project to be as sustainable as possible (i.e. the start of the green thread) must originate from the organisational leaders, irrespective of whether these organisations were designers, clients, consultants, contractors or investors.
Kayla thought that professional bodies in the sector should show leadership by exerting more pressure on their members to adopt sustainable working practices and make continued memberships or chartership contingent upon being able to supply evidence of how these practices are being utilised in professional practice.
"Principal contractors have to be aware of sustainability, with long terms plans for what they can do to help achieve a just transition."
Ruth also realised that principal contractors certainly had a leadership role, as they were the stakeholders with the most 'hands-on' influence on how the built environment could be constructed more sustainably. She talked about Laing O'Rourke's efforts in this regard, referencing things such as switching to alternative fuels, such as hydrotreated vegetable oil, or decarbonising cement.
Driving

C

hange as a

L

eader
Guy outlined strategies for influencing change within an organisation. Foremost among these is knowing how to balance the setting of rules with a proverbial "iron rod" from the centre, for example, minimum environmental performance criteria on projects or assets, which often acted as a constraint on your staff's discretion and when to empower those below you to use their skills to maximise sustainability as they see fit.
For meaningful change to occur, Guy advocated for leaders to incorporate the risks of climate impact into business models, even if this meant confronting short-term losses for the sake of long-term sustainability, as these were the kind of decisions only those in senior roles could make. He also noted how he was trying to drive targets around JLL's sustainability goals into every single staff member's objectives so that the attainment of these would influence their remuneration, which he saw as a means of driving behavioural change.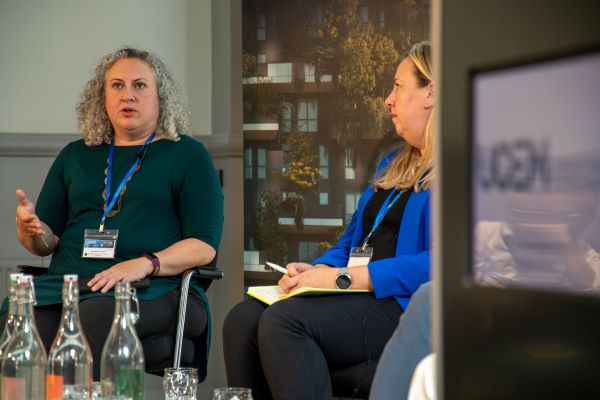 Kayla suggested that leaders could drive change by facilitating communication within a project team or organisation to bridge the divide between specialists, who are often trained so differently that they cannot understand their respective terminologies or the constraints to which others would be subject. She thought this issue was most acute between consultants and those involved in financing projects. Consultants often lack knowledge of a project's financing or budget, which meant they could not suggest viable sustainability adaptations and, similarly, clients/financiers lacked the technical capability to know what to request in terms of sustainability targets, let alone applicable building or design methodologies.  
An opportunity to drive change, Kayla ventured, was for leaders to reflect on whether recently completed projects were as sustainable as they could have been and identify means to improve this in future work. 
Kayla also encouraged employees to ask themselves similar questions about the work they were doing. If they felt that their organisation was not engaging with the built environment sustainability agenda, then push for this internally and, if that was unsuccessful, consider moving to another employer who would help you create a more sustainable built environment.
Sustainability Leadership Education
The importance of embedding sustainability in built environment education was another key theme of the discussion. Amanda stressed the need for sustainability to be a part of the curricula used to teach future built environment professionals. This would be required across all levels of training, education and assessment, whether via apprenticeship standards, the content of academic qualifications or the professional competencies and CPD mandated by regulators/professional bodies.  
As Chair of Trustees, Amanda was proud that UCEM had launched specific postgraduate courses around innovation and how individuals can become change agents for sustainability in their organisation.  
Find out more about UCEM's MSc Innovation in Sustainable Built Environment 
Kayla agreed with Amanda's points, also calling on academics and researchers to lead those in industry by developing more sustainable technologies or working practices, as these would be vital in lessening the sector's environmental footprint.
Conclusion

: Defining Sustainability Leadership
"
"Sustainability isn't scary and hard: it's purposeful and enjoyable. However, organisations do have to be prepared to make sacrifices that create short-term headwinds for long-term gains."
Amanda, Kayla, Guy and Ruth all provided illuminating insights into the many dimensions of sustainability leadership. Their discussions outlined some defining behaviours for a sustainability leader; establishing an organisational imperative for sustainability, facilitating cross-functional collaboration, possessing the 'grit and determination' to enforce rules and, above all, fostering an environment whereby members of an organisation, at all levels, are empowered to act. 
Future UCEM articles will cover the other contributions to the INSPIRE event. These looked in more detail at what sectoral leaders need to do to propel our collective journey towards a sustainable future, examining both the setting of environmental targets and how to ensure these are adhered to and achieved over the long term.  
Read our second article from the event here: Setting meaningful built environment sustainability targets
You can also read more about UCEM's first INSPIRE event which asked what reforms are required to enable successful built environment apprenticeships