A blueprint for successful built environment professional apprenticeships
Posted on: 18 July, 2023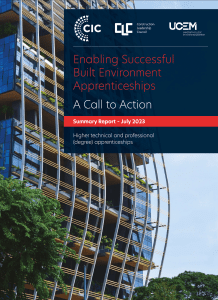 UCEM, in partnership with the Construction Industry Council (CIC) and the Construction Leadership Council (CLC), has published a report titled 'Enabling Successful Built Environment Apprenticeships'. The report proposes reforms to increase retention, continuation and success of built environment apprenticeships, especially at higher technical and professional levels.
Making apprenticeships better
The report captures the insightful discussions from UCEM's inaugural 'INSPIRE' event. Senior representatives from employers and academia were joined by experts from organisations such as:
The Royal Institution of Chartered Surveyors (RICS)

Chartered Institute of Building (CIOB)

Institution of Civil Engineers (ICE)

Council of the Heads of Built Environment (CHOBE)
They discussed the barriers to effective apprenticeships and proposed potential solutions.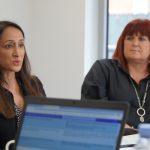 The event started with explaining the impact that UCEM has had as early adopters of apprenticeships.
Jill Nicholls, Head of Construction & the Built Environment, Transport & Logistics at The Institute for Apprenticeship & Technical Education (IfATE) then spoke. According to IfATE's data, over the past 12 months, whilst apprentice starts have reduced by 17% across the construction and built environment sector, higher and degree-level apprenticeship starts have increased by 5%, with 21,000 of the 146,000 starts recorded in these occupations. Despite this success, IfATE acknowledges:
There are opportunities to recognise a broader range of positive outcomes from apprenticeships
Engaging a broader range of government departments and ministers can align approaches to better define success.
 Clare Johnson MBE, Deputy Head of Profession at the Valuation Office Agency (VOA), presented an employer's view on the current apprenticeship system. Since technical and professional apprenticeships have been available, the VOA has moved further away from hiring graduates. This is to address skills needs whilst diversifying its workforce and enabling social mobility. For VOA to sustain the level of apprenticeship intake, the organisation is aiming to grow its community of mentors so that they can retain apprentices.
Two workshops followed.
Problems, issues and challenges facing apprenticeships in the construction and built environment sector 

 

How do we move beyond these barriers to define and deliver successful apprenticeships?

 
Solutions needed to achieve successful apprenticeships

 

Ensuring high-quality apprenticeships and the collective achievement of positive outcomes for all stakeholders.
Enabling successful built environment apprenticeships
Following feedback from the workshops, all agreed that apprenticeships are key to bringing people into technical and professional roles in the built environment. Employers are committed to training apprentices at higher levels and supporting them right through to their professional registration with the relevant professional body.
However, the discussions identified some barriers to these types of apprenticeships which need to be overcome if we are to prepare the built environment professionals of tomorrow with the competencies that will deliver enhanced building safety standards, net-zero, sustainability and digital transformation.
The report's key recommendations aim to help overcome these barriers and include:
Better-informed careers information, advice and guidance

 

 
To communicate the technical and professional career opportunities offered by apprenticeships 

 

How these routes differ from alternative paths into the sector.

 
Making apprenticeships more responsive to sectoral skills requirements:

 
Speed up the processes which develop and update apprenticeship standards

 

This should be informed by enhanced collaboration between government, apprenticeship providers, professional bodies and employers.  

 
Simplified and transparent apprenticeship funding system:

 
Use apprenticeship levy contributions effectively, 

 

Increase in the apprenticeship funding bands

 

Streamline administrative processes. 

 
Without this, higher technical and professional apprenticeships could become unviable due to rising delivery and assessment costs.
Expand apprenticeship success measures:

 

 
'achievement' or 'completion' of apprenticeship endpoint assessments are:

 

Blunt

 

Limited

 

Overly punitive for apprenticeship providers. 

Broader success criteria could include:

 

Progression to more advanced learning

 

Job promotions 

 

Improved workforce diversity.

 
A unified industry voice:

 

To raise awareness of the value of apprenticeships 

 

Ensure their ongoing success

 
Resulting in the development of competent professionals who can address skill shortages. 

 
The report also highlights how sectoral collaboration and partnerships are critical to attracting and retaining the right people in construction and the built environment via: 
The right apprenticeships 
The right training providers and end point assessment processes 
At the right time. 
The full Enabling Successful Built Environment Apprenticeships report is available now. 
Welcoming the report, Ashley Wheaton, UCEM Principal, said "UCEM hopes this report will catalyse change in the apprenticeship landscape. The existing funding constraints, complexity of apprenticeship rules and burdensome regulation hinder the ability of apprenticeship providers and employers alike to provide the highest quality training to meet the evolving needs of the built environment sector. By embracing the report's recommendations, we can pave the way for a more agile apprenticeship system that empowers our workforce to tackle challenges such as net-zero and digital transformation whilst ensuring professionalism and technical excellence." 
Mark Reynolds, CLC Co-Chair and Group Chairman and Chief Executive, Mace, added, "This is an extremely insightful and helpful report for the industry. Apprenticeships are vital to our future success, and we must all support them to grow and improve our much-needed capacity, capability and productivity as we transition to a modern, efficient and green economy. I look forward to engaging with ministers and government officials to discuss the report, but in the meantime, I urge everyone to engage to either help develop the curriculum or simply employ an Apprentice to give them a rewarding career in one of the most exciting industries."   
Graham Watts OBE, CIC Chief Executive, noted, "CIC support the recommendations in this report and would like to see government and the built environment sector work collectively to create a more coherent and responsive apprenticeship system. We must ensure that our apprenticeship system supports the diverse needs of our workforce, promotes professional recognition and delivers the competencies required for a sustainable and safe built environment." 
UCEM's 'INSPIRE' events are a series of themed sessions that convene influential stakeholders to consider the various challenges facing the industry. They bring together INfluence for Skills, Productivity, Industry, Research and Education and serve as opportunities for collaboration, something that is integral to the built environment sector.