Our students in focus: Debunking the myths surrounding online education
Posted on: 11 April, 2018
Everything is online now. You want to catch up with the latest news? Go online. You want to buy your weekly shopping? Order it online. You want to set up a business? Register it online.
The world as we know it is almost unrecognisable from the one which preceded the creation of the World Wide Web in 1989 and, yet, despite the acceptance of the shift to online we see today, stigmas exist around certain industries' leap into this sphere.
University education, for example, is still primarily delivered face-to-face with online degrees greeted with scepticism in some quarters.
UCEM has been providing its learning materials online since the early 2000s to the point now where its undergraduate and postgraduate degrees are taught wholly online.
Every module is assigned a Tutor and UCEM has a team to deal with every step of the student journey from tentative enquiries to the institution's Alumni Association and Careers Service.
UCEM has a significant number of employees in its Online Education Department completely devoted to providing a variety of learning resources and ensuring its Virtual Learning Environment (VLE) is up-to-date.
Resources are put into making sure studying with UCEM is the very best it can be for students and that the support functions are no different to that of a traditional redbrick university.
Kara Tomes-Meek enrolled on a Foundation degree with UCEM and took a little while to get to grips with the format of study.
She says: "I found my first semester quite tough. I hadn't studied since school which was around 10 years ago. After a few webinars I found connections to lots of students who were all going through the same as me.
"After that, I joined a WhatsApp study group of many students who gave me stability in the world of academia! It became so much easier having likeminded people around me, albeit virtually, but that's what UCEM is all about. Once you understand that concept, you will never feel like you're studying alone!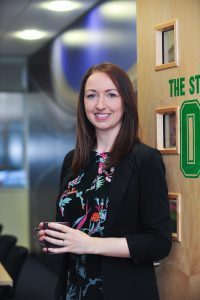 'Online learning is great': UCEM student, Kara Tomes-Meek
"The Tutors are very helpful and have a great sense of humour. They make studying fun and are always there for a motivational pep talk if needed! I am really enjoying studying with UCEM. The flexibility means I am able to work full-time and enjoy my hobbies.
"I think online learning is great. Each week, we post on forums which are then commented on by our Tutors. This is different to classroom-based learning where only a few people may be able to contribute during lessons.
"Webinars are also great to catch up with your Tutor and discuss assignments and exams. Having them recorded is excellent for me as I'm not always able to join them live if they are during working hours.
"The best thing for me about studying with UCEM is the flexibility of study hours. I can study late at night and at weekends which suits my lifestyle. I've also really enjoyed connecting with people all over the world and learning different practices in other countries. I returned to UCEM from a six-month study break and have been able to pick up where I left off."
Since studying with UCEM, Kara has progressed twice with Red Kite Community Housing and is on track to move on to one of UCEM's undergraduate programmes.
Gary Worthington is a National Store Development Manager for Screwfix Ltd and was looking for a qualification to cement the knowledge he had gained during his working life.
Aged 52, the prospect of studying an online degree was daunting but he enrolled onto UCEM's BSc (Hons) Construction Management programme and never looked back.
He explains: "I researched online and read the various comments and feedback from other students in my position. Factoring in returning to study after 30 years, the fact the programmes are online and fitting in around a very demanding job role, I was keen to hear how others had found studying with UCEM.
"I was impressed with the various testimonials provided by current students and alumni. The links that UCEM has with industry and current thinking was also a key factor. The building surveying company we use also recommended UCEM.
"It was really key to take time to complete all the induction material and become comfortable with the VLE as the building blocks for further study. Time management is key and the fact that I can study at night in a hotel on business or weekends really helps fit around my job and family life.
"The use of e-books works really well, along with the variety of study materials to suit learning styles. I was surprised how connected I feel with both Tutors and other students through webinars and discussion forums.
"It's a real positive to be able to plan in your study time to fit your circumstances. It demands self-discipline, however, that's what you would expect from anyone studying at this level!
"I have to say that everyone I have contacted through both written and verbal communication at UCEM has been really helpful from the student support teams to Tutors.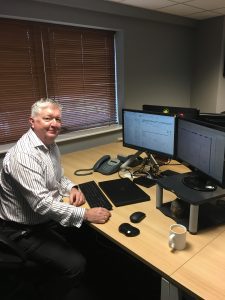 'A really positive experience for me': UCEM student, Gary Worthington
"Each module being broken down into weekly blocks of study provides a helpful structure and study plan. I have been really impressed that the Tutors and Module Leaders have a very current understanding of their topic. The relevant industry experience they have is a positive factor.
"The webinars have been very productive, especially in pulling together each week of learning. The Programme Leader has also been motivational and encouraging around assignments and exams reinforcing the need to learn in bite-sized chunks!
"I have really enjoyed all the modules. Some material has been new which is exciting whilst other material has been a refresher. I am able to truly apply the learning to my everyday job. It is already helping me understand and appreciate the roles of legal workers, designers and quantity surveyors who I interact with. In addition, I am challenging more from myself in my job role, in a positive way through reflection on material.
"Given my background, age and the demanding role I am in, studying with UCEM has been a really positive experience for me. Any concerns I first had about being supported through my studies and understanding material were taken away within weeks. Like most things in life, you get out what you put in.
"Getting involved in discussion forums and using the weekly structure of material along with webinars and Tutor support will provide all you need to achieve success in assignments and exams. The wide variety of experience of other students and, indeed the Tutors on the programme is a real benefit."
Are you also considering a return to education in an online environment to fit around your lifestyle? Then why not why not check out our range of undergraduate or postgraduate programmes for more information about how we can help you realise your potential within the Built Environment.