Student stories: How studying with UCEM changed Sara's life
Posted on: 12 April, 2019
This month's 'Student stories' blog comes from a recent graduate of ours, Sara Kelleher, who studied on our BSc (Hons) Real Estate Management programme from 2013-2018. She tells us her story about how she decided to change career and move into surveying, and the role UCEM played in that journey…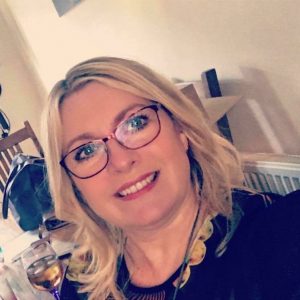 My name is Sara and I live and work in Norfolk.
I joined JLL in 2000 as a Credit Controller and at the time was studying at night school learning to become an Accountant. I was self-funding an AAT (Association of Accounting Technicians) qualification. After working in the Accounts Team for a year, it was clear that I wasn't going to be able to progress. Feeling a bit down about it, I started looking at the careers vacancies in the company and a role came up as a Surveying Executive in the Surveying team. I had an 'off-the-record chat' with the Lead Director in the Retail Management Team and decided to apply for the role. I was lucky enough to get the role and was encouraged by my colleagues in the team to think about studying for a degree.
I was recommended by several people within JLL to look at UCEM as they had studied with the institution and considered UCEM to be the 'go-to' place for property-related degrees.
As a mature student who has never studied at degree level before, the first challenge was how to do an assignment! Thankfully there were so many helpful articles on the VLE so I didn't have to struggle for long and the discussion forums on the VLE were very helpful, especially when I discovered I wasn't the only one struggling!
All of a sudden, I had a whole network of fellow students and lecturers I could ask for help and before I knew it, I was joining in on debates on the forums. The next challenge was the thought of taking an exam at degree level. Again, there was no need to worry. Lots of advice and past papers to help me through this.
Another challenge for me was working full-time, running a home and trying to study. The only way I overcame this was by being organised and making sure I put aside time (mainly at the weekends) to study. Time management is crucial and not leaving everything until the last minute was key.
At the time of studying, I was a Retail Property Manager for JLL with responsibility for assisting a qualified Surveyor with the management of three shopping centres. The course was extremely relevant for what I was doing. It helped massively with my day-to-day job and gave me the confidence to speak up in meetings with clients, tenants and others.
I submitted my dissertation in August 2017 and by October 2017, I was promoted to Surveyor in the Business Space Team managing a portfolio with a combined rent roll of just over £25m. I can say that without my qualification from UCEM this would not have been possible.
The advice I would give to someone starting out their journey would be:
Make a plan – Always plan your time. It will help with time management and ensure you are not rushing and leaving everything until the last minute.
Get involved – Whether it is on the forums or like me, becoming a Student Representative on the Academic Board. It makes you feel part of the university.
Pause – Always take a moment to stop and think about whatever it is you are doing. Can I find the answer myself? What would happen if I put this in front of my client now? Should I go and get a coffee and come back to this later?!
Going forward with my journey, my next step is to pass my APC. I am currently keeping my diary and plan to sit in 2020. After that, I would like to look at promotion and hope to make Associate Director before I retire. I would also like to give something back to UCEM. I met and was inspired by some of the best people in the business during my studies with UCEM and one day I would like a student to say that I inspired them with their career.
P.S. I found out this week that UCEM's Board of Trustees had nominated me to become an Associate Fellow of the institution. This is a huge honour for me, especially in UCEM's centenary year and I look forward to continuing to keep in touch with the institution and spread the word about how good it is to others making their way in the sector!
Inspired by Sara's story? Why not check out our range of undergraduate programmes and see if one could be right for you to take your first steps in the Built Environment.
Next month, we will hear from our BSc (Hons) Building Surveying student, Leslie James about his experience of being an international student.
If you are a current student and would like to tell your story, email press@ucem.ac.uk with your idea and our team will get back to you.