Q&A with our new Board of Trustees apprentices
Posted on: 21 December, 2021
To find out more about why they went for the role, what the process was like and what they hope to achieve, we asked Laura Bell and Becky five questions, and you can read their answers below…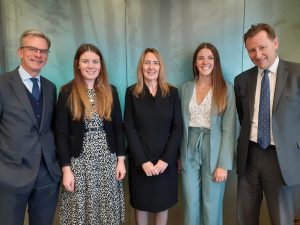 Why did you decide to apply for the role?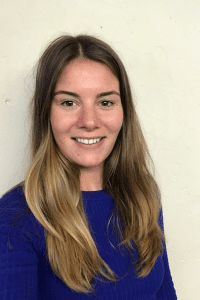 Laura Bell: I wanted to apply for the Board Apprentice role for a variety of reasons.
Firstly, I really loved my time studying with UCEM. It enabled me to pursue a career I now love, and I graduated feeling really inspired and motivated. I remember being taught by one tutor/lecturer in particular and thinking: 'wow, she's absolutely killing it' – in my eyes, having enough knowledge and experience to be involved with UCEM and help train and influence the next generation of surveyors and property industry processionals seemed like a career pinnacle.
Ever since then I've wanted to be involved with UCEM. In addition, I've always been really interested in education and learning, and am passionate about supporting others to find their way into the property industry and support them in their careers.
I'm an APC assessor and councillor, and support the grads in our office, but to have the opportunity to be involved at a higher level was too good to pass up. In a more professional capacity, I wanted to apply for the role for the chance to develop my business acumen and executive skills – I am involved in a family property investment business and therefore gaining experience of having senior managerial responsibilities and an understanding of how organisations operate at the highest level, all while receiving professional and expert mentorship, will be really beneficial to my career.
Becky: I spotted the Board Apprentice role in an alumni email, and made the decision to apply for a number of reasons.
The first was the uniqueness of the role. I'd never seen a board apprentice position advertised before, and I thought it was an incredible opportunity to gain board experience, especially as I have always worked for large corporations where my exposure to board conversations has been limited.
I also thoroughly enjoyed my time studying with UCEM, and I loved the idea of being part of UCEM's future, feeding into discussions that could impact the next generation of surveyors.
The final reason was the mentoring aspect; both Laura and I have been allocated a trustee as a mentor for the year, and I could really see the value of this as well.
What did the application process involve?
LB: The application process was quite lengthy and, firstly, involved sending off my CV and a cover letter. I then had an initial interview with Jane Fawkes [UCEM Deputy Principal and University College Secretary] and Lyndsay Hughes [UCEM Executive Assistant] where I was questioned on what I understood about the board and its responsibilities, and UCEM's vision 'to be the centre of excellence for built environment education'.
Following this, there was a second interview, this time with Jane, the Principal, Ashley Wheaton, and the Chair of the Board, Amanda Clack, for which I had to prepare a presentation on what I could bring to the position based on UCEM's strategy of influence and impact. After this, there were some further questions on my motivation to apply for the role.
I was shocked when Jane called me to let me know I'd been successful as I was aware I was up against some stiff competition. Since then, it's been a bit of a whirlwind with a lot of information to take in, although Jane and Lyndsay were excellent and arranged a formal induction for myself and Becky to run us through everything which was very helpful.
We've also now attended the first board meeting in London which was an amazing experience, meeting everyone and getting involved in discussions.
BP: I was asked some great questions in both interviews and actually really enjoyed the interview process. I was very pleased to find out I had been successful!
Why do you think you were chosen?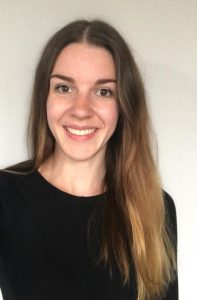 BP: That is a hard question, I wonder if I should point you in the direction of the interview panel!
I hoped they could see my genuine passion for UCEM, and that I wouldn't be afraid to join in the conversations and have a voice within the board. Equally, I hope I made it clear that I also wanted to spend time listening to the existing conversations and learning from the experience and the other trustees.
LBM: I think I was chosen as I believe my passion and excitement shone through – I was genuinely really excited about the prospect of the role and the potential to be involved in the board of the institution I respect so much, and to have an influence at such a high level.
I also made sure I took the time to prepare properly for the interviews and presentation, to demonstrate what I could bring to the board while showing a good understanding of UCEM's strategy and vision, and appreciating the importance of this.
I think the panel could also see the benefit that the role would bring to me in terms of my career.
What do you hope to achieve in the role?
BP: I hope to be able to engage and add value to the discussions by sharing my experiences from studying and also working in industry, to continue to help make UCEM be the best place to study if you're looking for a career in the built environment.
I would also love to be able to get involved with a subcommittee to widen my knowledge further if that becomes a possibility as the year progresses.
LBM: Having studied at UCEM and been through the APC process to be established as a young professional, I hope to bring an alumni perspective to board discussions, while championing small firms and family businesses across the UK.
There are many UCEM students who won't work for large property consultancies, and I think more can be done to build and strengthen relationships with the smaller companies, involving them more widely in the industry.
I would also like to be involved in discussions to promote diversity within the property industry, and to help encourage firms within the industry take more urgent action on climate change and achieving net zero through educating the workforce via UCEM.
What impact do you think the role will have on your career?
LBM: I hope that the role will provide me with a greater understanding of the process of making important business decisions and the logistics and legalities of large firms operating at the highest level.
I also want to gain experience of having executive responsibilities, and how to drive decisions and ideas into action.
Finally, I hope to make some important contacts and develop my business network, in the hope that I can continue to be involved in, and influence, the built environment education sector in the future.
BP: I think it will be an incredibly valuable experience for my career. The board is full of knowledgeable and passionate trustees with such a breadth of experience and, even after just one board meeting, I feel I have already learnt so much.
I hope one day I will reach a level in my career where I may be able to mentor one of UCEM's future alumni!