UCEM appoints first Board of Trustees apprentices
Posted on: 26 November, 2021
Two UCEM alumni have become the first appointments to the Board of Trustees through its apprentice scheme.
Becky Powley and Laura Bell McMillan were successful in their application from a strong group of 11 applicants to join the board through the new scheme.
Becky and Laura Bell join the board for a one-year term which will enable them to gain an insight into strategic, compliance and governance matters and use their experience as alumni to inform the board.
They joined the board for its quarterly meeting yesterday in London where they were able to introduce themselves and gain their first taste of what it all entails.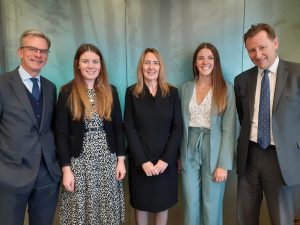 (L-R) UCEM Independent Trustee, Andrew Hynard, Laura Bell McMillan, UCEM Chair of the Board of Trustees, Amanda Clack, Becky Powley and UCEM Independent Trustee, Alastair Martin
UCEM Chair of the Board of Trustees, Amanda Clack, commented: "I am proud that UCEM has launched its Board Apprentice Scheme and am delighted we are able to welcome Becky and Laura to our board.
"With two such outstanding people appointed, I know they will bring a valuable perspective to our deliberations as a board, and I hope we can support them to fulfil their own ambitious career aspirations through the scheme giving them unique insight into how we operate as a board, our governance and our strategy for the future."
Becky is senior estates manager at Entain and graduated from UCEM's MSc Real Estate programme in 2018. She said: "I'm really excited to have been selected as one of the first two UCEM board apprentices.
"I really enjoyed my time studying with UCEM from 2016-2018, and I'm keen to call upon that experience, as well as working in corporate real estate over the past seven years to contribute to the board discussions with the aim of helping UCEM reach their vision to be 'the centre of excellence for built environment education'.
"The appointment will also give me the opportunity to learn valuable skills around board procedures, and the types of strategic discussions and decisions that are made, which I can then take forwards into my future career in property."
Laura Bell is a commercial valuation surveyor for Allied Surveyors Scotland and also graduated from UCEM's MSc Real Estate programme in 2018. She commented: "I feel incredibly honoured to have been selected as a board apprentice and to have the opportunity to sit on the Board of Trustees alongside such distinguished and knowledgeable board members.
"I hope I can make a valuable contribution by bringing an alumni perspective to discussions and championing small firms and family businesses across the UK, while developing my own business acumen and gaining experience of how organisations operate at the highest level."
As part of the scheme, Becky and Laura Bell will be mentored by an experienced board member.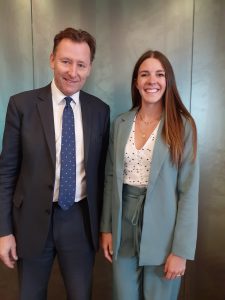 Alastair Martin, who is secretary and keeper of the records at The Duchy of Cornwall and an independent trustee at UCEM, will mentor Becky. He said: "I am pleased to be working with Becky and introducing her to the board.
"I hope I can help Becky turn her obvious talents to contributing to board discussions, drawing from her experiences both as a recent student of UCEM and also as a recently qualified chartered surveyor."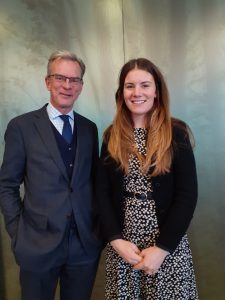 Andrew Hynard, also an independent trustee at UCEM with a wealth of experience in the property industry gained as chief executive of The Howard de Walden Estate and many years at Jones Lang LaSalle (JLL), will mentor Laura Bell.
He commented: "I am delighted to be partnering with Laura Bell and introducing her to the board. Hopefully, I shall be able to help introduce her to the way in which the board operates and how she can make a great contribution. Equally, I am already benefiting from her perspectives as a recent graduate of UCEM, so it is a two-way street!"