Profile: Our 2021 honorary doctorate recipient, Andrew Baum
Posted on: 1 December, 2021
We are revealing the latest recipients of a UCEM honorary doctorate all this week as we build up to our autumn graduation ceremonies on Friday and Saturday.
Having revealed the first recipient, Sadie Morgan, yesterday, here, we share details of our second honorary doctorate recipient, Andrew Baum, including his reflections on his achievements in real estate and academia…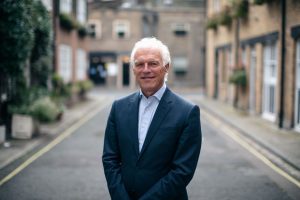 Andrew Baum is emeritus professor at the Saïd Business School, University of Oxford, where he launched and led the Future of Real Estate Initiative, and is emeritus professor at the University of Reading. He is chairman of Newcore Capital Management, a real estate investment manager specialising in social infrastructure strategies across the UK, and advisor to several property organisations.
He holds BSc, MPhil and PhD degrees from the University of Reading, and is a graduate of the London Business School investment management programme. Andrew is a Chartered Surveyor and a qualified member of the CFA institute (ASIP). He has held senior positions with Grosvenor, Nuveen, CBRE Global Investors and others.
Andrew's 'PropTech 3.0: The Future of Real Estate' was the most downloaded Saïd Business School report in 2017, and the most downloaded PropTech report on Infabode.  He also was winner of the UK PropTech Association Special Achievement Award for 2019 and won the International Real Estate Society Achievement Award in 2020.
Andrew's new book with David Hartzell – 'Real Estate Investment: Strategies, Structures, Decisions' (Wiley Finance) – was published in January 2021. A fourth edition of 'Property Investment Appraisal' (with Neil Crosby and Steven Devaney) was published by Wiley Blackwell in 2021. 'The Income Approach to Property Valuation' (seventh edition), with David Mackmin and Nick Nunnington, was published by Routledge in 2018. A fourth edition of 'Real Estate Investment: A Strategic Approach' will be published by Routledge in 2022.
Q&A
How does it feel to be awarded an honorary degree from UCEM?
I feel extremely fortunate and appreciative of the UCEM people who put me forward for this honour. Initially, I was slightly shocked – it was completely unexpected.
How do you reflect on your career so far?
I am very lucky to have had a very satisfying career which has covered academic life, innovation, entrepreneurship and working in senior positions for big companies, but always with movement, growth and change being the drivers. I am also incredibly lucky to have shared my life with someone who made it possible for me to do all of this while raising a great family. My first PhD was very hard work for both of us – this one is for Karen.
How did you become interested in real estate and PropTech?
I arrived at Oxford and was asked to teach MBA students and executives. To begin with, I thought that my work in valuation and investment was valuable and interesting, especially in the context of the global financial crisis (GFC). Then I realised that the GFC had changed the world for good, and that new generations were ready for change. MBA students wanted to futureproof their careers, and executives wanted to futureproof their businesses and organisations.
So, what were and are the forces of change? Technology was the key in 2015, and environmental, social and governance (ESG) was the key in 2020. PropTech is a vital force of change, and our best chance of improving environmental performance and delivering and measuring impact. I had to go out and learn about it – and researching, writing and teaching is the best way of learning, so that is what I did.
What inspires you to share your knowledge with students and through your books?
I have always enjoyed learning. It is a true privilege to be asked (or even paid) to find things out and share the findings and my opinions about them with groups of interested people – what could be better?
What advice would you give to others starting out their career in the real estate industry?
Always remember that your clients are likely to be relatively privileged individuals or powerful organisations, and that not everyone is as fortunate. Always be professional, and protect your reputation, reliability and integrity as your most valuable assets.
Work with people you respect and who complement your skills (and lack of them). Be curious – learn to listen. And do what you can to help to save the planet.
Thanks for the advice, Andrew, and congratulations on the honorary doctorate! To keep up to date with our further honorary doctorate announcements, look out for posts on our Twitter, LinkedIn, Instagram and Facebook channels!