Profile: Our 2020 Honorary Doctorate recipient, Gillian Charlesworth
Posted on: 2 December, 2020
Having handed out our first set of Honorary Degrees at last year's December Graduation ceremony, we were due to do the same at this year's ceremony.
Unfortunately, we have not been able to host our usual ceremonies this year but, like our graduates with Graduate Celebration Week, that doesn't mean that we shouldn't celebrate this year's recipients.
Yesterday, we announced the first of our two Honorary Degree recipients, Gillian Charlesworth, who has been awarded an Honorary Doctorate and, here, we share more about Gillian's career so far and her thoughts on the achievement and more…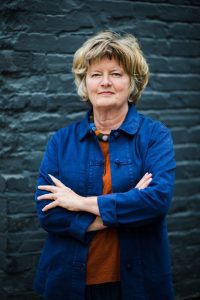 As BRE Group's Chief Executive, Gillian is responsible for the organisation's strategy, culture and performance. She is passionate about the importance and potential of the built environment in supporting sustainable, vibrant and productive life on the planet. She aims to be a responsible leader, choosing to work in purpose-led organisations, and has held roles in the UK civil service and various professional bodies, including RICS where she held a number of standards-based roles over 15 years.
Listed in the Kind Leadership 50 Leading Lights UK 2018, Gillian believes that leading with kindness – by which she means respect, honesty, empathy, inclusivity and fairness – motivates people to do their best every day and strive for results, producing long-term success for both organisations and individuals. In addition to leading BRE, she mentors a wide range of women in the construction industry, as her contribution to achieving a more diverse, and therefore successful, industry.
We caught up with Gillian to find out what the Honorary Doctorate means to her and a for a discussion on her career and the sector in general
How does it feel to be the recipient of a UCEM Honorary Doctorate?
"I'm incredibly honoured to have been awarded a UCEM Honorary Doctorate. I greatly admire what [UCEM Principal] Ashley Wheaton, his team and the UCEM Trustees have achieved in recent years and look forward to helping promote the excellent courses and qualifications UCEM offers, at a time when professional credentials and expertise in the built environment have never been more crucial.
"The award of the Honorary Doctorate is certainly a highlight of my career."
How do you reflect on your career so far?
"I've had a varied and interesting career and worked with a number of different sectors, but always with a strong link to standards, professionalism and effective regulation which enables both public confidence and innovation to flourish.
"I was delighted to become CEO of BRE last year, giving me an opportunity to implement my ideas and aspirations for responsible leadership. In recent years I've been promoting the urgent need for greater diversity – a crucial success factor for our sector and one on which progress has been far too slow during my career."
What do you most enjoy about working in the built environment?
"The built environment is a fundamental for us all and we all have needs and opinions on how to improve it – that's what makes it so fascinating and important. Everyone in our sector has a responsibility and a role to play in making buildings safe, achieving net zero and ensuring we deliver a quality environment in which to work, run businesses, pursue leisure and enjoy our lives."
What advice would you give to our graduates and indeed, any student beginning their journey to becoming chartered?
"I see a real opportunity for professionalism and professionals to lead the way in terms of both competence and ethics – we need more of both. These days, professional competence and ethical practice doesn't just mean passing the exam, it means being open to new ideas, being able to solve problems, provide sound advice and make judgements. It also means being influential and responsible, guiding clients on what's right as part of meeting their brief."
What are your hopes for the sector moving forward?
"I believe we will see a great deal of innovation, new business models and revolutionary new ways of doing things and many new entrants from outside the traditional sector. I hope our sector rises to the challenge – the opportunities are exciting and we can make a huge difference to people's lives and life on planet earth if we work together and embrace new ideas. I don't think that is an overstatement of the opportunity for built environment professionals."
Thanks for sharing your thoughts, Gillian, and congratulations on the Honorary Doctorate!
Keep an eye out on our social channels for news of our second 2020 Honorary Degree recipient.