Congratulations, UCEM 2020 graduates!

#UCEMGraduateCelebration
Graduate Celebration Week – 7-11 December, 2020
Were you due to graduate with us in Reading this year? Or were you unable to make a previous Graduation ceremony?
Graduate Celebration Week is for you! From Monday 7 December to Friday 11 December, we flooded our social media channels with your success stories!
We are still working hard to organise our usual ceremonies for next year but, in the meantime, this offered an opportunity to celebrate your achievements!
The December Graduate Celebration Week followed the first one we held between 7-11 September, primarily for those who would have been invited to our June Graduation ceremony. Our second online celebration was primarily for those who would have been invited to our December Graduation ceremony, though those who missed September's celebration week or missed their cohort's ceremony were encouraged to get involved too.
Staff and student messages were added to the ones we published in September to create a page dedicated to all our 2020 graduates!

Our December 2020 cohort
For an overview of what programmes our June 2020 cohort completed, and where in the world they completed them from, take a look at our interactive map (a larger version on a new tab is also available).

Our June 2020 cohort
For an overview of what programmes our June 2020 cohort completed, and where in the world they completed them from, take a look at our interactive map (a larger version on a new tab is also available).


UCEM Principal, Ashley Wheaton
Deputy Principal, Jane Fawkes
Director of Commercial and Business Development, Stephen Bartle
Associate Dean of the School of the Built Environment, Cathy Higgs
Director of Development, Ruth Grindey
Quantity Surveying programme leader, Amanda Milambo
Real Estate programme leader, David Hourihan
MBA Construction and Real Estate programme leader, Marios Konstantinidis
Construction Management programme leader, Dr Afolabi Dania
Research Assistant – Education & Sustainability, Dr Renuka Thakore
Tutor, Natasha Collins
Safeguarding & Personal Development Manager, Lucy Kazandjian
Tutor, Hazel Lobo
Tutor, Janet Hontoir
Tutor, Rose Chetwood
Academic Support Tutor, Deb Davies
Academic Support Tutor, Jacqui Thijm

Tips for celebrating 
Whether you wish to reflect on your student experience, praise those who inspired you to keep going or take the opportunity to reward yourself during Graduate Celebration Week, we encouraged you to get involved and celebrate your achievement!
Reflection
Do you remember your first week as a UCEM student? How were you feeling? Apprehensive? Excited? Nervous? Did the VLE appear daunting?
Now, fast-forward to the present day. How far have you come since that first week?
Inspiration
Who or what inspired you during your studies? Below are some questions you could answer.
Favourite module?
Favourite tutor?
Best place to study?
Best supporting role (the person who best supported you through your studies)?
Best reason to motivate yourself when times got tough?
Favourite moment from your studies?
Celebration
We encouraged you to use Graduate Celebration Week to reward yourself however you feel appropriate. See below for a few examples of how you could celebrate.
Meal with family/friends
Listen to the #UCEMGraduateCelebration playlist
Video call with family/friends
Cake!
A glass of bubbly
Watch your favourite film/TV programme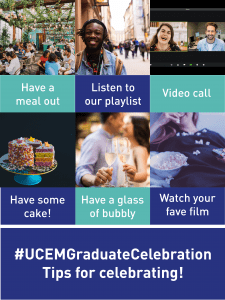 Don't forget to tag us on social media whatever you decide to do so we can widen the celebrations to our graduate community!

#UCEMGraduateCelebration playlist
What songs kept you going through your studies? Is there a particular song which reminds you of the years you were a UCEM student? Whatever the reason, this is your chance to contribute to your bespoke #UCEMGraduateCelebration playlist! Simply email press@ucem.ac.uk with the song/s which mean something to you and we will add them to the Spotify playlist made up of songs purely selected by the Class of 2020 (plus one or two selected by the team here)!
Here's what we have so far:

Our graduates
This is your section! Read our graduates' success stories below.
Phoebe Farrell, BSc (Hons) Real Estate Management, UK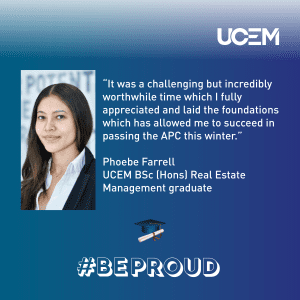 "I am over the moon to have completed my studies in spring. It was a challenging but incredibly worthwhile time which I fully appreciated and laid the foundations which has allowed me to succeed in passing the APC this winter.
"I equally am thrilled that it allowed me the opportunity to be a Student Trustee and the Lead Student Representative for UCEM. Thank you UCEM!"
Ella Campbell, MSc Quantity Surveying, UK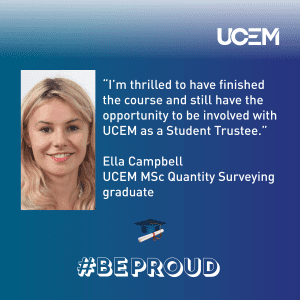 "Despite changing jobs, moving across the country, buying a house, the global pandemic and working a full-time job, UCEM's MSc Quantity Surveying programme has never felt too overwhelming. The flexibility of the course and support from the team at UCEM has ensured that the experience fits easily around my other responsibilities. I'm thrilled to have finished the course and still have the opportunity to be involved with UCEM as a Student Trustee."
Prabodini Siriwardhana, MSc Construction Management, Sri Lanka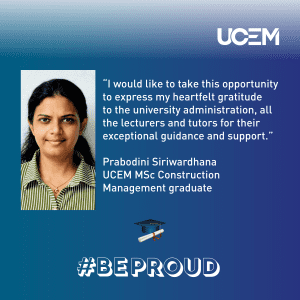 "I am extremely grateful to the University College of Estate Management as I could accomplish one of my dreams through online learning with a Distinction.
"I would like to take this opportunity to express my heartfelt gratitude to the university administration, all the lecturers and tutors for their exceptional guidance and support. Effective and efficient communication with prompt responses, all the resources including well-structured modules, webinars, study materials, discussion forums and the e-Library facility with its ease of access have provided a clear direction towards my goal.
"In this precious moment, I am really proud to look back at all the hardships, as well as the bright moments throughout the journey. It was not easy to accomplish this success with family commitments and working. So, my special thanks are afforded to my family and friends for their sacrifices and every encouraging word.
"Finally, my heartiest congratulations to all my friends who are celebrating their success with me this week!!"
Kirsten Devine, MSc Real Estate, Ireland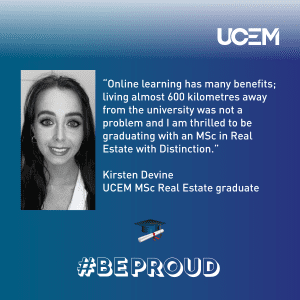 "Forever indebted to the lecturers, tutors and wider academic staff at UCEM for providing me with the knowledge and confidence to complete my studies, and to apply my learning to real life practices. The course is designed and delivered in a manner that recognises the demands of one's own personal commitments, making the programme particularly rewarding for people in full-time employment.
"It is evident that the staff at UCEM will go above and beyond to guide, assist and encourage students throughout the course of their studies. Completing this course not only equipped me with the knowledge and skills relevant to my chosen career path, but it further 'pre-equipped' me for the new 'virtual' reality of life in the midst of a global pandemic.
"Online learning has many benefits; living almost 600 kilometres away from the university was not a problem and I am thrilled to be graduating with an MSc in Real Estate with Distinction."
Ranikqué Hayden-Best, BSc (Hons) Quantity Surveying, UK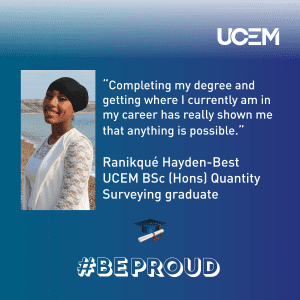 "I am a graduate?! Me?… A graduate?! It has definitely been a journey full of valuable lessons, and I still find it hard to believe I have completed my studies with no student debt and a few years' experience as a quantity surveyor.
"Completing my studies with UCEM means I have pushed myself beyond what I ever thought I was capable of and stuck with it, even if it meant sleepless nights. It has really allowed me to realise that I am capable of achieving anything I put my mind to. I feel like I have developed the right mindset and acquired enough knowledge to kickstart my career in the built environment.
"Now that I have completed my studies, I feel excited about the future – I am so keen to continue to learn new things, acquire new skills and become the best quantity surveyor and top performer. Completing my degree and getting where I currently am in my career has really shown me that anything is possible."
Buddika Jayasinghe, MSc Real Estate, Sri Lanka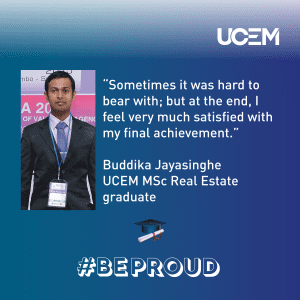 "As I look back at the time spent on this course, it is a different period of time in which I had to balance my job, family life, and studies. As everybody knows globally we are experiencing a difficult time with the COVID-19 pandemic. With all those things, I can say sometimes it was hard to bear with; but at the end, I feel very much satisfied with my final achievement. It also helps in strengthening my professional career as a government valuer at the department of valuation in Sri Lanka.
"I take this as an opportunity to thank all my module leaders, tutors, discussion forum colleagues, UCEM staff, and all other parties, including my family, who stand behind my success."
Nicki Robinson, Surveying Technician Diploma, UK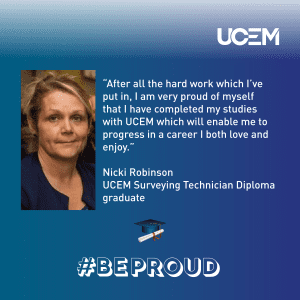 "After all the hard work which I've put in, I am very proud of myself that I have completed my studies with UCEM which will enable me to progress in a career I both love and enjoy.
"I learnt new skills on a daily basis with the apprenticeship and sometimes this put me out my comfort zone, but so did the learning throughout my diploma. UCEM staff members made my journey more comfortable and helped me to progress to make the accomplishment possible."
Uthra Jagadeesh, MSc Construction Management, United Arab Emirates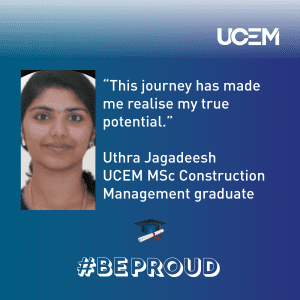 "I am extremely delighted to share my success story of graduating from UCEM. The Master's was a three-year journey of learning with the utmost support from the module tutors.
"I am grateful to all my tutors and peers for sharing their knowledge and for helping to steer me onto the right path. This course has given me an in-depth understanding of the core subjects.
"This journey has made me realise my full potential. It has brought out my multitasking ability, patience and a lot more. Pursuing a Master's with two small kids was not an easy task but, now, I am happy to realise the benefits of my hard work.
"Behind my success stands my beloved husband. He deserves all the credit for motivating me through the hard times. My parents, sister and mother-in-law also deserve a special mention. Without my family, success would have been even harder to come by.
"Finally, I am a Master's graduate – a 'dream come true' moment. Thank you, all."
Indika Rasaputhra, MSc Real Estate, Sri Lanka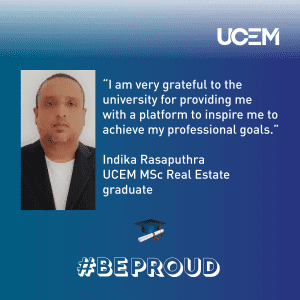 "It gives me great pleasure to have enrolled and completed my Master's degree with UCEM. It is a remarkable milestone in my academic career in real estate management.
"I felt blessed as it is one of best online learning universities in the UK. The VLE [virtual learning environment] is very user-friendly and it helped me to do the online learning without any disturbance to my office work and family life.
"The university has moulded my personality and clarified my vision of the future to professionally enlighten my career. I am very grateful to the university for providing me with a platform to inspire me to achieve my professional goals.
"I would like to take this opportunity to thank my module leaders, tutors and UCEM staff for the support provided to me to successfully complete my Master's degree asthis has put me on the path to achieve my chartered valuer dream with the RICS.
"If you have ever dreamt of being a well-recognised professional in the field of real estate, I would recommend studying with UCEM."
Laura Walker, BSc (Hons) Real Estate Management, UK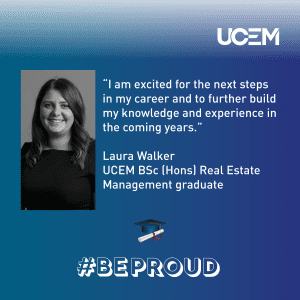 "I am delighted that after commencing my degree studies in 2015, I have been able to complete my degree and become a chartered member of the RICS within the same year.
"Studying whilst working full time has taken a lot of self-discipline and determination but has provided an in-depth experience and assisted me in my current role and developed my knowledge for future projects.
"I am excited for the next steps in my career and to further build my knowledge and experience in the coming years."
Jodi Ming, MSc Real Estate, Bermuda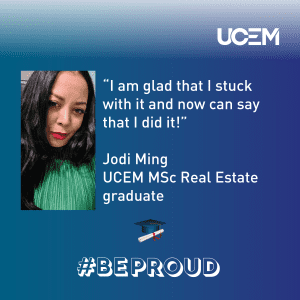 "It is finally over!
"I must say that this journey has been one of the most trying in my life. The course of this degree has not been easy as I was faced with challenge after challenge – deaths, sickness, etc. – which made me feel like giving up on numerous occasions. I am glad that I stuck with it and now can say that I did it!
"Thank you to all the teachers and tutors who helped along the way. Special shout out to my family and friends who always had my back, front and sides. Working a full-time job while being a full-time student was a challenge within itself, but I appreciate my boss and company, RSIR Bermuda, for all the help and pushes along the way.
"I am sad that I won't get meet some of the amazing students I have interacted with along the way at an actual ceremony but this is the new way of life.
"Again, I am happy it's over!!!! I did it… 🙂 now, on to the next!!!"
Jessica-Autumn Dawes, MSc Real Estate, UK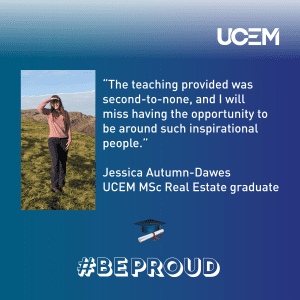 "I remember how daunted I felt two years ago, at the start of my studies, so it feels overwhelming to be here today, with my MSc in Real Estate complete!
"I would like to thank the tutors and support staff at UCEM who turned my fear into excitement, and I must say that I am a little sad that my time as a student is over. The teaching provided was second-to-none, and I will miss having the opportunity to be around such inspirational people.
"I am keener than ever to complete my APC, in the hope that one day I can be half as knowledgeable in my field as they are in theirs!
"Thank you to everyone who has helped me along the way."
Rolan Orquiola, MSc Quantity Surveying, United Arab Emirates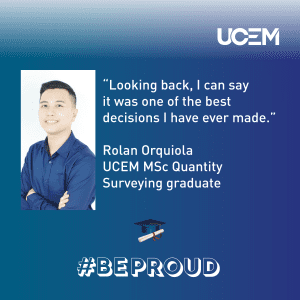 "The road to completing my Master's programme was a challenging one! Whilst balancing commitments, work and my RICS APC, many countless evenings were spent on reading coursework, researching for assignments, and studying for examinations; however, looking back, I can say it was one of the best decisions I have ever made.
"Not only did I gain a well-respected qualification accredited by globally renowned professional bodies, I further enhanced my industry knowledge as a quantity surveyor. I also developed my skills in perseverance, planning, and time management which are highly beneficial to both my professional career and personal life.
"The years have passed by so quickly that I cannot believe it is already done! As I am sure my fellow former students can relate, it is an extreme joy to have finally finished our studies and have achieved this milestone.
"Thank you for the support and many congratulations to all the graduates!"
Laura Witherford, MSc Real Estate, UK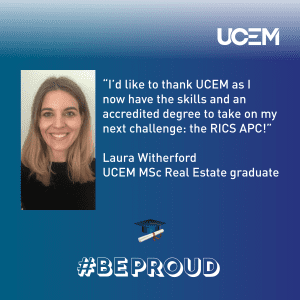 "The past two years studying for my Real Estate MSc have been both incredibly rewarding and challenging. Working full-time whilst doing my Master's did provide its own set of challenges (including regularly testing my time management skills!), however, the experience has played a huge part in my professional development and has given me the confidence to apply the knowledge and skills acquired to real life professional situations. For these reasons alone, I honestly cannot recommend the course enough.
"I'm obviously feeling immensely proud to have achieved my Master's, but it has not been achieved without the continued support of UCEM who consistently overcame the barriers of online learning and were there to help whenever needed. So, I'd like to thank UCEM as I now have the skills and an accredited degree to take on my next challenge: the RICS APC!"
Ooi Bok Thian, MSc Quantity Surveying, Malaysia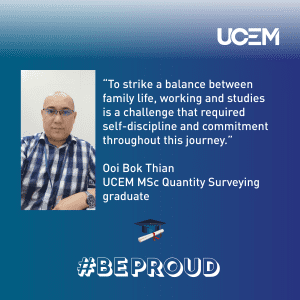 "Hi all, I was in a dilemma as to whether or not I should pursue my further studies with a Master's degree two years ago as I was fully aware that it was not going to be easy to combine studying with a full-time job at the same time. Finally, I decided to take the challenge and study on UCEM's MSc Quantity Surveying programme.
"UCEM provided me a good platform to pursue my studies in a very flexible way. The VLE [virtual learning environment] is a fantastic platform for me to log in at anytime and anywhere as long as there is an internet connection.
"To strike a balance between family life, working and studies is a challenge that required self-discipline and commitment throughout this journey. Finally, I have no regrets with graduating with an MSc in Quantity Surveying from UCEM.
"Thank you to all of you that made my dream come true."
Lucy Gaitskell, MBA Construction and Real Estate, UK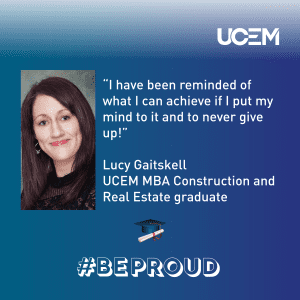 "I finished my MBA in Construction and Real Estate in July 2020 and was very excited to have a Christmas Graduation… however, I'm still incredibly proud to have completed my MBA and look forward to a Graduation in 2021.
"I had a huge variety of challenges throughout my study including a relocation, two miscarriages and losing one of my close friends, Marcus Franks, to cancer. Despite these, I have learnt and grown so much… learning how to do a residual calculation for an exam will be a lasting memory for sure! I have been reminded what I can achieve if I put my mind to it and to never give up!
"I've learnt and developed a vast range of skills that I don't believe I would have learnt had I not completed this study, from marketing, strategic management, planning and finance…this course has covered it all.
"The support I have had from family, friends, UCEM and colleagues has been incredible and cannot even be put into words. I am grateful for every single person who helped me along my journey.
"I am excited about the next chapter, as I work in setting up my own property business."
Bulathgama Wedage Supun Nirman Chathuranga, BSc (Hons) Quantity Surveying, Sri Lanka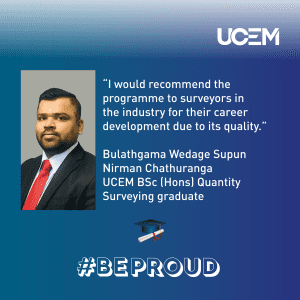 "This is an incredible journey which began with being inaugurated as an Engineering Draughtsman student at the Technical College – Kegalle in Sri Lanka in 2005. Since then, my career path exposure to a vast construction industry saw me follow my ambition to progress in quantity surveying. Graduating from UCEM's BSc (Hons) Quantity Surveying programme is a notable achievement; something which makes my parents proud, as well as myself.
"The journey towards chartered status is a dream of every quantity surveyor and UCEM is one of the best facilitators for guiding you onto that path with its world-renowned accredited degree which utilises modern methods of teaching and produces capable and sound quantity surveyors to the industry.
"I would recommend the programme to surveyors in the industry for their career development due to its quality."
Ottilie Robinson-Shaw, Surveying Technician Diploma, UK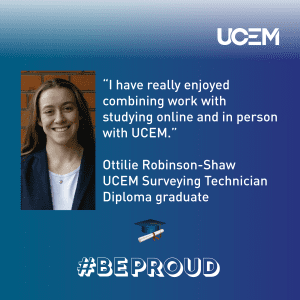 "I have really enjoyed combining work with studying online and in person with UCEM. The blend of workplace training and structured learning has greatly developed my knowledge and confidence as a surveyor and hugely assisted with my successful AssocRICS assessment.
"I personally believe a professional apprenticeship with structured learning offers the opportunity to gain valuable life and work lessons in a more mature and advanced environment than the traditional full-time educational route, whilst simultaneously securing both professional and educational qualifications.
"The added benefits of freedom from student debt and flexibility of study allow a perfect work/life balance which for me personally has enabled my ongoing training and competitiveness as a Team GB freestyle kayaker.
"My employer has been very impressed with the entire process which has provided very cost-effective training and huge benefits in the workplace."
Chanda Katotobwe, BSc (Hons) Construction Management, Zambia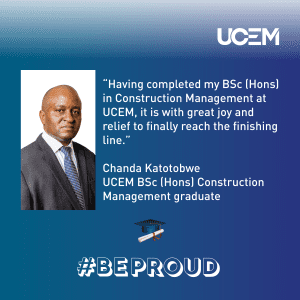 "Bravo and congratulations to all graduating students!!!
"Having completed my BSc (Hons) in Construction Management at UCEM, it is with great joy and relief to finally reach the finishing line. When I received the letter informing me of having successfully completed my degree with Second Class Honours, this gave me a sigh of relief because, as a mature student with a construction business with family commitments, coursework could be daunting.
"This degree has added value and depth to my understanding of construction contributing to improved management of my company here in Zambia while boosting my confidence when participating in civil engineering conversations at an international level. UK qualifications are respected here back home and it is my intention to pursue a postgraduate degree.
"I sincerely express my profound gratitude to all the lectures, supervisors, supporting staff and fellow students! Congratulations!!!"
Celia Lee, MSc Real Estate, Hong Kong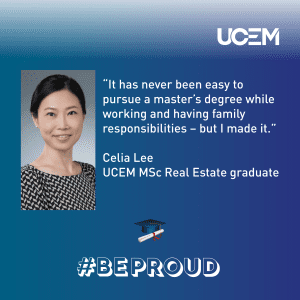 "The supported online learning at UCEM required students to invest time and effort just like on-campus higher education institutions.
"The service provided by Student Central and the responsiveness of the teaching staff was beyond my expectations. Moreover, I found the exclusive online resources of the real estate industry – such as industry-focused journals, iSurv access and the e-Librarian's guidance – beneficial to my graduate research project. The core modules and the electives equipped me with knowledge that I could never gain from daily work, which helps me better communicate with other work teams and make plans taking into account others' perspectives.
"It has never been easy to pursue a Master's degree while working and having family responsibilities – but I made it. I am sure my late mother would be deeply proud of me. Last but not least, I would like to thank my family and friends for the tremendous support they have shown me throughout my MSc Real Estate studies. "
Shane Jolly, BSc (Hons) Construction Management, UK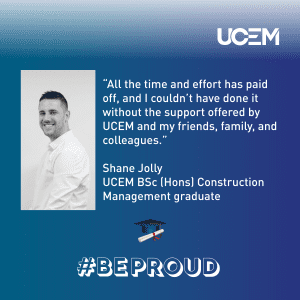 "I feel extremely proud to have achieved First Class Honours on UCEM's BSc (Hons) Construction Management programme. All the time and effort has paid off, and I couldn't have done it without the support offered by UCEM and my friends, family, and colleagues. It has been very tough at times, but I'm glad I persevered and am now looking forward to using the degree as a platform to further my career."
Stephanie Scott-Milby, MSc Real Estate, UK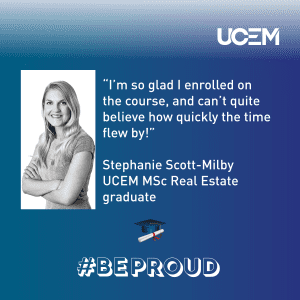 "Completing my MSc Real Estate course with UCEM earlier this year felt like such a huge achievement after two years of hard work. Studying alongside full-time employment was definitely a juggling act, which made it all the more rewarding to graduate with Distinction!
"The support I received from UCEM was exceptional throughout, and the course enabled me to gain an in-depth understanding of many of the subject areas I was coming across in my day-to-day role. Gaining the accredited qualification subsequently enabled me to also complete my APC this autumn and become a chartered surveyor, helping me progress to the next stage of my career. I'm so glad I enrolled on the course, and can't quite believe how quickly the time flew by!"
Namal Chaminda Bogoda, BSc (Hons) Quantity Surveying, Oman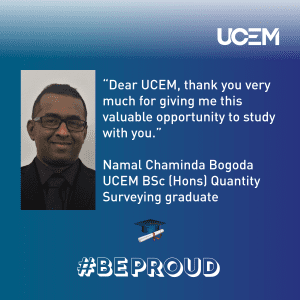 "I'm delighted to share the happiest feelings of my four-year journey with UCEM towards achieving this remarkable milestone in my life. The knowledge acquired is invaluable for my career as a professional with all the strengths gained mentally and physically through many ups and downs. Even though, initially, it was a challenge to adopt online learning, modes of communication and education systems, with the support of teaching staff, colleagues, my family and friends, eventually I was able to develop the
skills and capabilities to achieve my target.
"Truly, I was eagerly looking forward to attending the Graduation ceremony to have a nice time with my dear teachers and colleagues though, I missed that opportunity due to the COVID-19 global pandemic. Therefore, I want to take this opportunity to congratulate all my coursemates who achieved success together with me.
"Furthermore, I express my gratitude to all the academic and non-academic staff at the university for all the guidance received.
"Dear UCEM, thank you very much for giving me this valuable opportunity to study with you."
Laetitia Reboux, MSc Quantity Surveying, France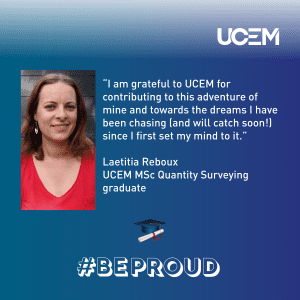 "Obviously, I wish I could attend a graduation ceremony in Reading. However, to me, there is more to this MSc degree than this. When I was looking for a career change, via online learning in the first place, UCEM offered me this opportunity. I have therefore been able to learn new skills while still working and saving money for the second leg of my career change.
"I am grateful to UCEM for contributing to this adventure of mine and towards the dreams I have been chasing (and will catch soon!) since I first set my mind to it. This may be online learning but this is by no means unpersonalised and cold learning. The tutors and administrative staff have always been there to support me and I have made a few friends, who I hope I will someday meet in person, during my two years of studies with UCEM."
Daniel Donaghy, MSc Real Estate, UK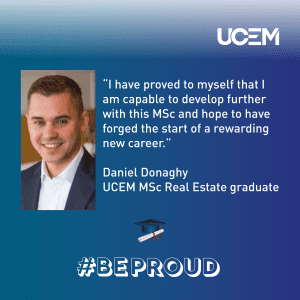 "I'm delighted to have completed UCEM's MSc in Real Estate with Merit. The programme has flown by but all throughout I have been able to apply most of the knowledge learnt in my daily role which really helped cement it and highlight its relevance. I have proved to myself that I am capable to develop further with this MSc and hope to have forged the start of a rewarding new career having changed careers in my late 20s."
Aino Kavantera, MBA Construction and Real Estate, Hong Kong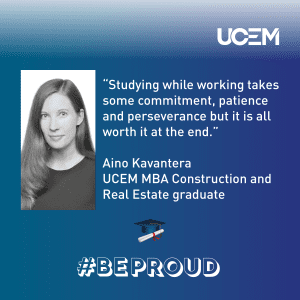 "I finally made it and got my MBA! I opted for a slow route due to a lot of life happening alongside my studies including becoming a parent as well as working full-time throughout the course. Studying while working takes some commitment, patience and perseverance but it is all worth it at the end. What you learn along the way is truly eye-opening!"
Charlie Noad, BSc (Hons) Real Estate Management, UK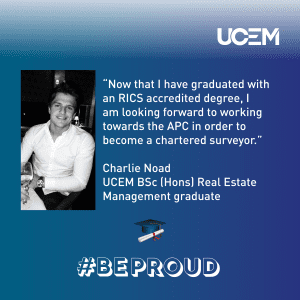 "Completing my BSc (Hons) Real Estate Management degree with University College of Estate Management is a proud achievement of mine. The flexible online learning programme sets out new learning criteria from week to week and enabled me to complete my studies confidently alongside working within a full-time role for the past 4.5 years. This process has allowed me to gain valuable industry experience, knowledge and insight that I may not have been able to achieve if I were to have chosen a standard university route.
"On the back of a difficult year, we have seen a rise in the use of online technology to connect with friends, family, colleagues and clients. As a result, I can only envisage online learning becoming increasingly popular in the future and can highly recommend University College of Estate Management for anybody seeking to further their career in the built environment.
"Now that I have graduated with an RICS accredited degree, I am looking forward to working towards the APC in order to become a chartered surveyor."
Francesca Matthews, MSc Quantity Surveying, UK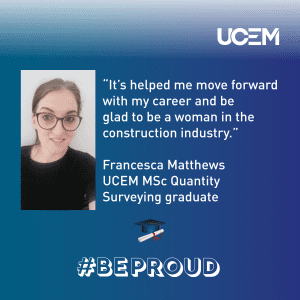 "As someone who completed their undergraduate studies over five years ago, I was apprehensive to go back into studying, especially online. How would I fit it around work? Would I be able to learn from a distance?
"The course helped me to not only learn new skills but also helped me gain a new confidence in my own abilities. The fact everything was recorded and online actually worked well for me as I could finish work and log in when I was free rather than having to attend physical lectures. Don't get me wrong, sometimes the last thing I wanted to do was log in after a 10-hour work day but it's part of the commitment you have to make.
"The best part was I met so many new and interesting people who were all in the same boat. Without the constant WhatsApp messages and forums I don't think I'd have been able to persevere and gain my MSc. So, thank you so much to the Class of 2020; I will be forever grateful.
"It's helped me move forward with my career and be glad to be a woman in the construction industry."
Simon Dela Cruz, MSc Quantity Surveying, UK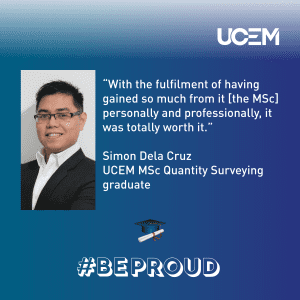 "I have been in the construction industry as a quantity surveyor for 14 years after obtaining a degree in Electrical Engineering from the Philippines. With the encouragement from my peers and colleagues, I decided to undertake and obtain a Master's degree in Quantity Surveying with UCEM.
"Throughout the programme, I was able to complete advanced coursework, increase my analytical ability and improve vastly on academic and technical writing. Most importantly, I was able to acquire structured learning of my professional field through the university's modules.
"It was indeed a remarkable experience having to manage my responsibility to my family, work demands and the drive to complete the degree which was truthfully challenging; but, with the fulfilment of having gained so much from it personally and professionally, it was totally worth it."
Natalie McRoy, MSc Real Estate, UK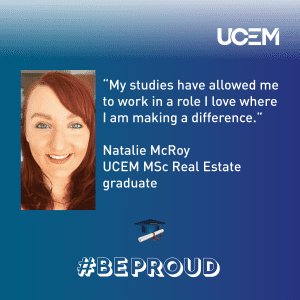 "Finishing my MSc Real Estate degree and achieving a Distinction would, I'm sure, be an achievement in anyone's book, but to do this whilst working full time in a busy role and during a global pandemic, I could not be prouder of myself. I am also extremely grateful that not only did my company sponsor my studies, but they also promoted me to a relevant role as soon as I had completed them.
"I am aware of how lucky I am, and the challenges I've seen others have faced this year make me value my career choice even more. My studies have allowed me to work in a role I love where I am making a difference: as I manage a portfolio of primary care properties and have been able to assist with making the buildings work for their users, in these new challenging times."
Steven Dalrymple, BSc (Hons) Real Estate Management, UK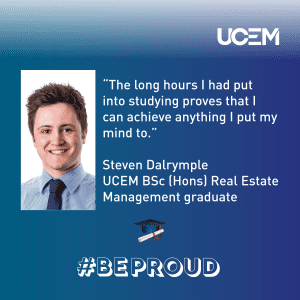 "I am incredibly proud of achieving my BSc (Hons) in Real Estate Management. The support I have had from the university has been brilliant from start to finish of my studies.
"Working full time and doing my degree at the same time has been the best way possible to prepare me for my career within surveying.
"The long hours I had put into studying proves that I can achieve anything I put my mind to."
Snehanjali Panigrahi, MSc Quantity Surveying, Bahrain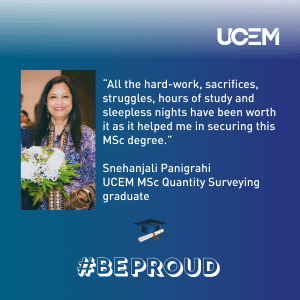 "Enrolling for the Master's degree in Quantity Surveying with UCEM has been one of the best decisions of my life. Balancing between work, family and study was not easy, but with the support of my family, experienced and highly knowledgeable tutors at UCEM and colleagues, I was able to achieve this goal. This degree has taught me a lot and has been a stepping stone to starting my career in quantity surveying. All the hard-work, sacrifices, struggles, hours of study and sleepless nights have been worth it as it helped me in securing this MSc degree."
Jose Carrasco, Surveying Technician Diploma, UK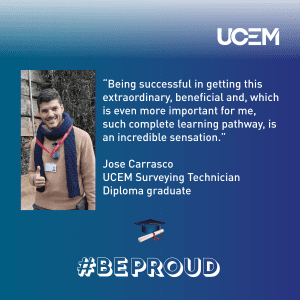 "How good and proud of myself I feel after having been completing the UCEM Level 3 Surveying Technician Diploma.
"Being successful in getting this extraordinary, beneficial and, which is even more important for me, such complete learning pathway is an incredible sensation.
"After a few years of having obtained my Building Engineering degree in Seville, Magna [employer] gave me the opportunity of progressing in my education by selecting me to undertake the apprenticeship, and I honestly cannot be more grateful for that.
"I encourage my colleagues within the construction industry to give it a go due to its deep technical learning material, where they will not only find lots of relevant resources for their professional lives but also will provide them with the confidence and a valuable strategy to face a wide range of specialized challenges within the sector, e.g. how to make an adequate building survey according to AssocRICS; what impact sustainability makes in society and in developing buildings or the importance of following certain ethical standards."
Claire Ridge, MSc Real Estate, UK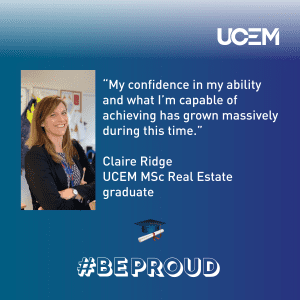 "I am delighted to be virtually graduating this week.
"My four years with UCEM have been tough. It has been a huge juggle between family commitments; three wonderfully patient children, a fantastically supportive husband, and a full-time demanding job. That said, being part of UCEM has transformed my life. Not only did the course provide a well structured environment to work remotely from, but each module offered so much, not just to pass the assessment or exam, but for my life as a surveyor moving forwards. My confidence in my ability and what I'm capable of achieving has grown massively during this time. I'm excited for my future. The next step is gaining my APC and finding that work-life balance. Finally.
"I'm so proud of this achievement. A Masters degree in Real Estate."
Kwame Asare, MSc Real Estate, UK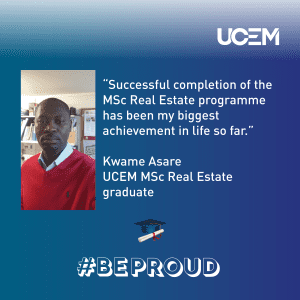 "After a long break in formal education, studying for my postgraduate degree was a challenge, however, successful completion of the MSc Real Estate programme with UCEM has been my biggest achievement in life so far and finally being presented with my certificate (Merit), which represents two years of hard work, is something quite special to me."
Karen Skelhorn, BSc (Hons) Real Estate Management, UK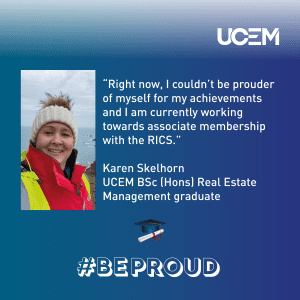 "Studying with UCEM has been fantastic. The flexibility of the online course was perfect for me and was very beneficial to my job. I initially set out to gain an HND in Surveying to learn the basics, however after completion, the opportunity arose to continue studying and I progressed onto the BSc (Hons) in Real Estate Management. The course covered many aspects of my current role, helping to further enhance my knowledge in commercial property.
"Being a mature student with a full-time job and two children was an added challenge, but I was determined to prove to myself that, with the right attitude and true determination, I could finish what I set out to achieve. The reward has been totally worthwhile and studying as a parent is achievable.
"Right now, I couldn't be prouder of myself for my achievements and I am currently working towards associate membership with the RICS."
Migara Perera, MSc Construction Management graduate, Australia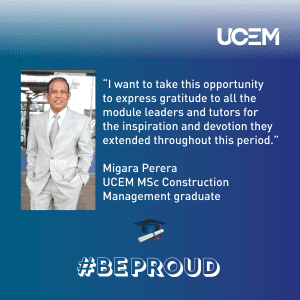 "I studied on the MSc Construction Management programmr from 2017 to June 2020.
"Due to COVID-19, workplaces across the world have changed, but UCEM offered a flexible learning approach which fit in with my full-time job where I had to change job locations from New Zealand to Sri Lanka and finally Australia during my study period. That is the beauty of the programme's flexibility through online learning. aAll webinars and learning materials are accessible 24/7 around the globe through the VLE platform. The discussion forum was an excellent substitute for face-to-face support. Module leaders and guidance were always quick to respond to any enquiries.
"I feel so proud to study with UCEM after 20 years again [having completed a quantity surveying course with UCEM in 2000]. Completing my MSc studies will help to developm my professional career further. I want to take this opportunity to express gratitude to all the module leaders and tutors for the inspiration and devotion they extended throughout this period. Sadly, there is no graduation ceremony this year, however, I appreciate the opportunity to mark the celebration by giving this special note.
"This is a remarkable achievement and I would recommend this UCEM programme to those who wish to study on it in the future."
Murtuza Challawala, MSc Quantity Surveying graduate, Kuwait
To read more about Murtuza's story, have a read of his blog.
Kate Collins, BSc (Hons) Real Estate Management graduate, UK
"I remember downloading the reading material for the very first week of studying my first modules and feeling totally overwhelmed. Fast forward to four years later and I'm absolutely over the moon to have graduated. I have learnt so much during my time with UCEM and have been lucky to have benefited from some really knowledgeable and enthusiastic tutors. While working full time alongside studying was very much a balancing act, the tutors were always very helpful and it was really reassuring to know my amazing family, friends and colleagues were always there providing additional support.
"Graduating was a goal for many years, and focusing on achieving this helped to keep me motivated during some challenging assignments. I know that gaining my degree in Real Estate Management will open up so many doors for me, and I'm now preparing to sit my RICS APC assessment in 2021."
Jothikrishnan Mariappan, MSc Quantity Surveying graduate, United Arab Emirates
"Hi all, I would like to state that enrolling for my Master's degree with UCEM is one of my best lifetime investments.
"I completed my Bachelor's a long time ago and had a dream to complete my Master's, however, due to my full-time job I was unable to take a full-time course. Hence, I decided to pursue my studies through online learning. This is when I got to know through one of my colleagues that online learning programmes are offered by UCEM and it is one of the best online universities.
"Through online learning, I had the flexibility to study at my convenience anywhere with just access to a computer without any disturbance to my professional and family life.
"A special thanks to the tutors with their vast experience and knowledge and under their guidance and support, I achieved completing the programme without any obstacles. I would also like to thank my course mates who connected with me on social media for interactive discussions."
Jason Ratcliffe, MSc Real Estate graduate, Cornwall, UK
George Kalino, BSc (Hons) Real Estate Management, Malawi
"The main reason to study with UCEM was that I could study while working. During this journey, there was nothing to worry about missing lectures as the VLE system was very supportive all the time. Student discussion forums were very useful and that tutors were readily available to provide guidance.
"My current job role is Technical Officer (Leasing & Valuation) in a company which specialises in property valuation, management and development. The UCEM BSc (Hons) Real Estate Management programme was very beneficial as the material covered was directly related to my current job role hence furthering my knowledge base.
"As I believe that there is always room for self-improvement both personally and professionally, I am confident that the knowledge and experience gained over the past years will be useful as I am also working towards gaining the RICS APC on my route to become a Chartered Surveyor."
Rhys Moreton, BSc (Hons) Quantity Surveying graduate, Wales, UK
"Turning 30, a fairly big milestone in anybody's life, for me, was a major wake-up call. I had two stable jobs, one with local government, and the other as a retained firefighter. My job was involved heavily in redevelopment and reinvigoration of listed and historic buildings. This was the wake-up call I needed, having just turned 30 as well and feeling a little sorry for myself!
"I enrolled to undertake my HND, juggling that and working over 100 hours a week was a challenge, but I relished it and the studies I undertook. After my graduation it was a no-brainer to complete my BSc. It has been a lot of hard work and stress but tied with my current job in construction worked so well hand in hand, allowing me to develop both scholarly and professionally."
Love Taderera, BSc (Hons) Quantity Surveying graduate, Botswana
"Studying the BSc (Hons) in Quantity Surveying at UCEM has been a really wonderful experience. Studying online enabled me to work full-time while improving my skills that I have gained over the past years of working as a Quantity Surveyor.
"Balancing work, family and studying hasn't been easy, but I was determined to complete this journey that I had started. I would like therefore to thank all the tutors and support staff at UCEM, my colleagues and friends for helping me achieve this wonderful goal.
"Thank you."


Buy a memento!
Should you wish to buy a keepsake to remind you of your time studying with us, we have a web shop stocked with the likes of hoodies, mugs and our cuddly Oswald the Owl Graduation mascot!

Get involved on social
From now until the conclusion of Graduate Celebration Week, we will be posting updates using the hashtag #UCEMGraduateCelebration and we would love for you all to get involved on our Twitter, LinkedIn, Facebook and Instagram channels!