Congratulations, UCEM 2020 graduates!

#UCEMGraduateCelebration
Graduate Celebration Week – 7-11 December, 2020
Were you due to graduate with us in Reading this year? Or were you unable to make a previous Graduation ceremony?
Graduate Celebration Week is for you! From Monday 7 December to Friday 11 December, we hope to flood our social media channels with your success stories!
If you would like to get involved, please email press@ucem.ac.uk with your name, year of graduation and programme studied, and 150 words on what graduating means to you with a high-res (above 1MB) professional photo.
We are still working hard to organise our usual ceremonies for next year but, in the meantime, this offers an opportunity to celebrate your achievements!
This December Graduate Celebration Week follows the first one we held between 7-11 September, primarily for those who would have been invited to our June Graduation ceremony. Our second online celebration is primarily for those who would have been invited to our December Graduation ceremony, though those who missed September's celebration week or missed their cohort's ceremony are encouraged to get involved too.
Staff and student messages will be added to the ones we published in September to create a page dedicated to all our 2020 graduates!

Our June 2020 cohort
Graduate Celebration Week is for any graduate of ours who was unable to make our Graduation ceremony, however, primarily this is for those who were due to graduate with us in June. For an overview of what programmes our June 2020 cohort completed, and where in the world they completed them from, take a look at our interactive map (a larger version on a new tab is also available).


UCEM Principal, Ashley Wheaton
Deputy Principal, Jane Fawkes
Director of Commercial and Business Development, Stephen Bartle
Associate Dean of the School of the Built Environment, Cathy Higgs
Director of Development, Ruth Grindey
MSc Quantity Surveying Programme Leader, Amanda Milambo
MSc Real Estate Programme Leader, David Hourihan
MBA Construction and Real Estate Programme Leader, Marios Konstantinidis
MSc Construction Management Programme Leader, Dr Afolabi Dania
Research Assistant – Education & Sustainability, Dr Renuka Thakore
Tutor, Natasha Collins
Safeguarding & Personal Development Manager, Lucy Kazandjian
Tutor, Hazel Lobo
Tutor, Janet Hontoir
Tutor, Rose Chetwood
Academic Support Tutor, Deb Davies
Academic Support Tutor, Jacqui Thijm

Tips for celebrating 
Whether you wish to reflect on your student experience, praise those who inspired you to keep going or take the opportunity to reward yourself during Graduate Celebration Week, we would encourage you to get involved and celebrate your achievement!
Reflection
Do you remember your first week as a UCEM student? How were you feeling? Apprehensive? Excited? Nervous? Did the VLE appear daunting?
Now, fast-forward to the present day. How far have you come since that first week?
Share your first impressions with us and reflections on how far you have come since those days by emailing press@ucem.ac.uk.
Inspiration
Who or what inspired you during your studies? Below are some questions you could answer – why not answer them or your own questions on inspiration by emailing press@ucem.ac.uk.
Favourite module?
Favourite tutor?
Best place to study?
Best supporting role (the person who best supported you through your studies)?
Best reason to motivate yourself when times got tough?
Favourite moment from your studies?
Celebration
We would encourage you to use Graduate Celebration Week to reward yourself however you feel appropriate. See below for a few examples of how you could celebrate during 7-11 December.
Meal with family/friends
Listen to the #UCEMGraduateCelebration playlist
Video call with family/friends
Cake!
A glass of bubbly
Watch your favourite film/TV programme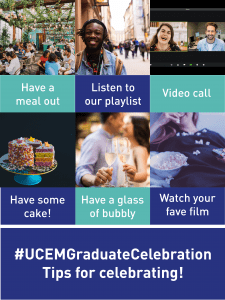 Don't forget to tag us on social media whatever you decide to do so we can widen the celebrations to our graduate community!

#UCEMGraduateCelebration playlist
What songs kept you going through your studies? Is there a particular song which reminds you of the years you were a UCEM student? Whatever the reason, this is your chance to contribute to your bespoke #UCEMGraduateCelebration playlist! Simply email press@ucem.ac.uk with the song/s which mean something to you and we will add them to the Spotify playlist made up of songs purely selected by the class of 2020 (plus one or two selected by the team here)!
Here's what we have so far:

Our graduates
This is your section! The videos and reflections we receive will be posted here and on social media during Graduate Celebration Week. Below are the submissions we received for our first Graduate Celebration Week, and we hope to have plenty more by 11 December!
Murtuza Challawala, MSc Quantity Surveying graduate, Kuwait
To read more about Murtuza's story, have a read of his blog.
Kate Collins, BSc (Hons) Real Estate Management graduate, UK
"I remember downloading the reading material for the very first week of studying my first modules and feeling totally overwhelmed. Fast forward to four years later and I'm absolutely over the moon to have graduated. I have learnt so much during my time with UCEM and have been lucky to have benefited from some really knowledgeable and enthusiastic tutors. While working full time alongside studying was very much a balancing act, the tutors were always very helpful and it was really reassuring to know my amazing family, friends and colleagues were always there providing additional support.
"Graduating was a goal for many years, and focusing on achieving this helped to keep me motivated during some challenging assignments. I know that gaining my degree in Real Estate Management will open up so many doors for me, and I'm now preparing to sit my RICS APC assessment in 2021."
Jothikrishnan Mariappan, MSc Quantity Surveying graduate, United Arab Emirates
"Hi all, I would like to state that enrolling for my Master's degree with UCEM is one of my best lifetime investments.
"I completed my Bachelor's a long time ago and had a dream to complete my Master's, however, due to my full-time job I was unable to take a full-time course. Hence, I decided to pursue my studies through online learning. This is when I got to know through one of my colleagues that online learning programmes are offered by UCEM and it is one of the best online universities.
"Through online learning, I had the flexibility to study at my convenience anywhere with just access to a computer without any disturbance to my professional and family life.
"A special thanks to the tutors with their vast experience and knowledge and under their guidance and support, I achieved completing the programme without any obstacles. I would also like to thank my course mates who connected with me on social media for interactive discussions."
Jason Ratcliffe, MSc Real Estate graduate, Cornwall, UK
George Kalino, BSc (Hons) Real Estate Management, Malawi
"The main reason to study with UCEM was that I could study while working. During this journey, there was nothing to worry about missing lectures as the VLE system was very supportive all the time. Student discussion forums were very useful and that tutors were readily available to provide guidance.
"My current job role is Technical Officer (Leasing & Valuation) in a company which specialises in property valuation, management and development. The UCEM BSc (Hons) Real Estate Management programme was very beneficial as the material covered was directly related to my current job role hence furthering my knowledge base.
"As I believe that there is always room for self-improvement both personally and professionally, I am confident that the knowledge and experience gained over the past years will be useful as I am also working towards gaining the RICS APC on my route to become a Chartered Surveyor."
Rhys Moreton, BSc (Hons) Quantity Surveying graduate, Wales, UK
"Turning 30, a fairly big milestone in anybody's life, for me, was a major wake-up call. I had two stable jobs, one with local government, and the other as a retained firefighter. My job was involved heavily in redevelopment and reinvigoration of listed and historic buildings. This was the wake-up call I needed, having just turned 30 as well and feeling a little sorry for myself!
"I enrolled to undertake my HND, juggling that and working over 100 hours a week was a challenge, but I relished it and the studies I undertook. After my graduation it was a no-brainer to complete my BSc. It has been a lot of hard work and stress but tied with my current job in construction worked so well hand in hand, allowing me to develop both scholarly and professionally."
Love Taderera, BSc (Hons) Quantity Surveying graduate, Botswana
"Studying the BSc (Hons) in Quantity Surveying at UCEM has been a really wonderful experience. Studying online enabled me to work full-time while improving my skills that I have gained over the past years of working as a Quantity Surveyor.
"Balancing work, family and studying hasn't been easy, but I was determined to complete this journey that I had started. I would like therefore to thank all the tutors and support staff at UCEM, my colleagues and friends for helping me achieve this wonderful goal.
"Thank you."


Buy a memento!
Should you wish to buy a keepsake to remind you of your time studying with us, we have a web shop stocked with the likes of hoodies, mugs and our cuddly Oswald the Owl Graduation mascot!

Get involved on social
From now until the conclusion of Graduate Celebration Week, we will be posting updates using the hashtag #UCEMGraduateCelebration and we would love for you all to get involved on our Twitter, LinkedIn, Facebook and Instagram channels!