Principal Thoughts: Forging a path ahead with our apprenticeships
Posted on: 8 March, 2021
Welcome to the latest edition of Ashley Wheaton's 'Principal Thoughts'. This month, Ashley reflects on National Apprenticeship Week and UCEM's journey a few years on since offering its first degree apprenticeship.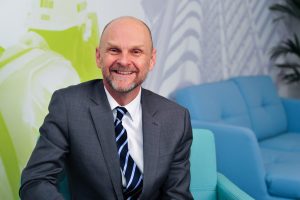 Our decision to invest in apprenticeships has proven to be transformative for UCEM.
Transformative neatly describes a number of milestones during my time as Principal – institutional independence, a wholly online education model, the successful renewal of degree-awarding powers, our HQ move to Reading town centre and the opening of our Asia-Pacific HQ in Hong Kong to name a few.
Whereas the achievement of those milestones listed above could be described as transformative in and of themselves, our move to offer apprenticeships was a decision without an obvious outcome.
It was, to an extent, a step into the unknown and a vote of confidence in the government and its ambitious plans to support a generation of apprentices into skilled professions.
Not quite five years on from offering our first degree apprenticeship, I think I can confidently say that our move to support the apprenticeships agenda has yielded a positive transformation for UCEM and also the built environment as a whole.
National Apprenticeship Week
One yardstick to assess where we are with apprenticeships every year is National Apprenticeship Week which took place last month.
In previous years, we have lobbied government ministers to make changes to how apprenticeships are administered to improve the process for stakeholders and called for the speeding up of approvals for standards we were ready to offer.
Progress has often been slow and stunted the growth of take-up in the apprenticeships we have been ready to deliver at various points but our satisfaction has now reached the stage where it far outweighs our frustration with the agenda, and we could fully get behind the national celebration of apprenticeships.
As usual, we shared content on our social media channels highlighting the strengths of our apprenticeship provision which benefit apprentices and employers in the built environment.
Working alongside employers
The statistic which impressed me most is the fact that we have 549 employers and business entities with an apprentice at UCEM.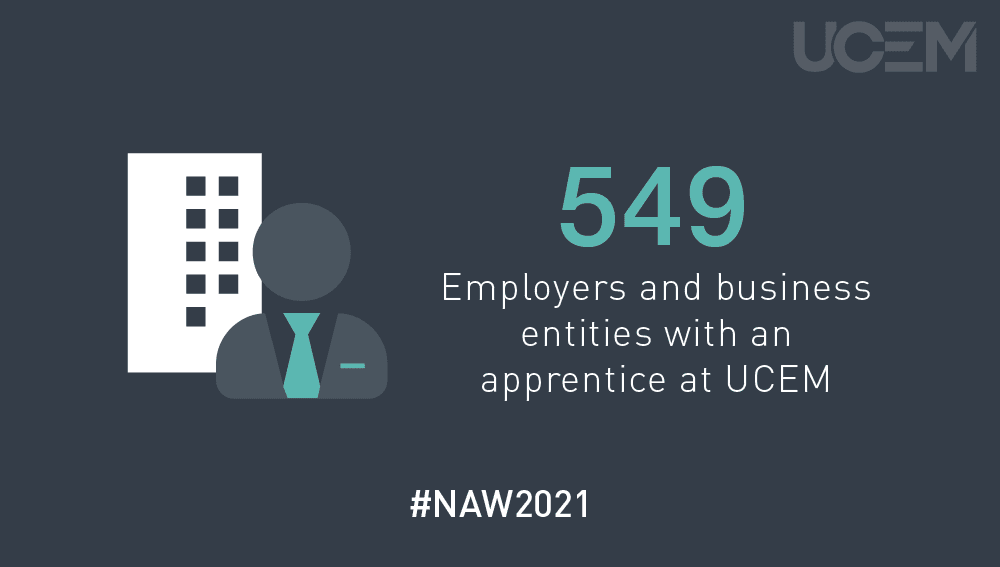 That is a staggering number of businesses we work with; organisations which have also seen the benefits of apprenticeships and have decided their apprentices would be best suited studying at UCEM.
As a benchmark of where we are after the first few years of our apprenticeship provision, I couldn't be happier with that.
On the whole, the employers we work with are satisfied with us as demonstrated by the 92.6% employer satisfaction on the Education and Skills Funding Agency's (ESFA) 'Find a provider' ratings. A snapshot of this employer satisfaction can be seen in our YouTube video where some of our employers describe what a difference having an apprentice in their business has made. Paul Brown and Claire Hill from Brown & Bancroft Interiors also recently discussed the benefit of hiring apprentices and why they decided to go with UCEM as their education provider for RICS Modus.
In that same RICS Modus article, our Director of Business Development, Meryl Bonser, outlined the benefit of hiring apprentices to SMEs. The fantastic relationships we have built up with employers owes a great deal to our business development team led by Meryl and Associate Director of Business Development, Martin Cawley, who are supported by Business Development Executives, Adrianne Lowe and Sam Jolley. The team's invaluable work is detailed in a blog which was published during National Apprenticeship Week.
Delivering for our apprentices
Employer satisfaction is one thing but equally important is the experience of our apprentices. The market to become an apprentice is highly competitive with a finite amount of opportunities in each profession and the obvious appeal of securing a job whilst studying on a professional qualification which will leave you with no student debt.
The positive experience of being an apprentice is borne out by the apprentices who study with us. A number of apprentice testimonials were shared on our social media channels throughout National Apprenticeship Week such as the one below and a few others featured in a YouTube video sharing their thoughts on being an apprentice.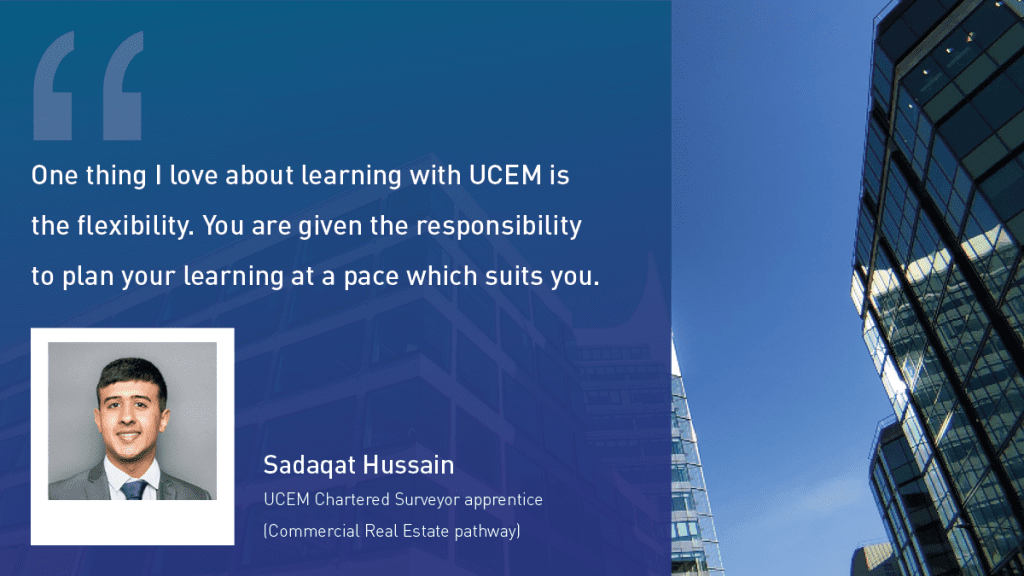 In addition to the teaching staff and support teams available to our apprentices, each apprentice is assigned an Apprenticeship Outcomes Officer (AOO) who provides pastoral support and ensures apprentices and employers are meeting their contractual obligations. This one-to-one support demonstrates our commitment to ensuring our apprentices succeed, and our AOOs play a hugely important role in ensuring the smooth running of our apprenticeships as detailed in our blog with three members of the team.
Who we support
National Apprenticeship Week offers us a chance to take stock of our apprenticeships provision. We shared an infographic about our provision on a few of the relevant webpages on our website. In addition to the fact that 549 employers have an apprentice studying with us, some of the other statistics I thought were of particular interest.
We had 26% more female apprentices join us in autumn 2020 than in the previous year. Our apprenticeships serve a sector which is traditionally male-dominated so the growth in female apprentices is really encouraging and hopefully will continue to grow to bring greater representation in the built environment moving forward.
In terms of age, 100 apprentices are under 20 and 89 apprentices aged from 40-60. The first stat is probably what you would expect when you think of an apprentice – young recent school-leavers – yet we have almost an equal amount of apprentices in the 40-60-year-old age bracket which demonstrates that apprenticeships are not just for those at the start of their career.
Forty apprentices are accessing additional funding support. You wouldn't perhaps expect that any apprentice would need additional financial support but we offer a range of bursaries and scholarships designed to help as many students as possible access our studies with each application given due consideration as to the circumstances of any of our students.
Investing in the UCEM apprenticeships team
In terms of staffing, 16.6% of our core staff work within the apprenticeships team and you would be hard pressed to find any member of staff who hasn't, at one time or another, had dealings with the apprenticeships side of the university.
Our commitment to apprenticeships is unwavering, and we recently made two key appointments to spearhead our work in this area with Mike Speight joining as our Director of Apprenticeships Compliance and Kate Deakin joining as Director of Apprenticeships Operations. Mike and Kate were the subject of another 'meet the team'-style blog during National Apprenticeship Week, and they were able to provide a glimpse of where we are headed with our apprenticeships delivery.
Transforming the sector
We will continue to evolve to meet the needs of employers, apprentices and the sector, and I look forward to reporting on our progress with apprenticeships in a year's time. Rather than closing with words, I thought I'd let the video below capture just how life-changing and exciting it is to become an apprentice and make a difference in the industry, and I am hugely proud that UCEM is a big part of this as the number one provider of surveying degree apprenticeships in the UK.
At UCEM, we are committed to contributing to a better Built Environment sector through excellence in online education. We deliver approved apprenticeship programmes, as well as undergraduate and postgraduate degrees. For more information take a look at our Study With UCEM page.
To keep up-to-date with the latest UCEM news and blogs, as well as more general updates from the Built Environment, make sure you're following us on Twitter, Facebook, Instagram, YouTube and LinkedIn.