Principal Thoughts: Building a student community
Posted on: 27 October, 2020
Welcome to the latest edition of Ashley Wheaton's 'Principal Thoughts'. This month, Ashley reports on the focus on developing a community at UCEM which students are proud to be part of, and reflects on the importance of retaining that relationship beyond Graduation.
How do you build a student community at an online university?
That's a question we grapple with constantly. We can never replicate the experience of a student attending a traditional university and, as the past several months have demonstrated, Zoom conversations with friends and family aren't as enjoyable as seeing them face-to-face.
Our model of supported online education, however, has a huge role to play in supporting Built Environment professionals across the world and having a UCEM degree is quite rightly a source of great pride for those who have achieved this.
Your study peer today might well be an industry leader of tomorrow.
The vast majority of our students juggle their studies alongside full-time jobs, raising families and their hobbies. Building relationships with their peers, perhaps unsurprisingly, doesn't always figure highly among their time commitments but the shared experiences of our worldwide student base can open up opportunities to benefit each other in the workplace and in their studies.
There is no reason, too, why alumni couldn't look back on their time studying with us as fondly as those who study at traditional universities.
This is why we have been working very hard to build our student community at UCEM.
For many years, students have been able to use discussion forums to speak to their peers, they have attended live webinars hosted by our tutors and there have been many opportunities afforded to provide feedback which we can act upon to enhance their experience.
Welcome Programme
This semester, we introduced the Welcome Programme for our new students. This enabled students the opportunity to 'meet' senior staff, Programme Leaders and their peers, and included signposts to the many support resources available to them, as well as tips on how to make the most of online learning.
The Welcome Programme took place across a fortnight before students began their studies with us with each Programme Leader hosting an induction, workshops held for our apprentices and our Hong Kong students given their own induction as they were introduced to the team there.
Three 'Welcome to UCEM' sessions were hosted twice during the fortnight – an 'Introduction to online learning' led by our Head of Digital Education, Kate Lindsay; student support sessions where members of our Academic Support, Student Engagement, Careers and Disability and Wellbeing Teams outlined how they can help; and general sessions where our Vice Principals, student representatives and I introduced ourselves and answered questions from our newest cohort.
For my part, I thoroughly enjoyed meeting our new cohort of students and was impressed by the questions posed during the sessions I attended.
In addition to the above sessions, there were two 'Building the Future' sessions – one on diversity and the other on sustainability. Each of these sessions offered attendees the chance to meet our four, new Student Ambassadors whose responsibility areas extend to diversity, sustainability, disability and wellbeing, and celebrating our student community, respectively. Our Student Outreach Manager, Nikki Bulteel, has done a great job creating these Ambassador posts, and we feel that this is another step in the right direction in terms of bringing the student body closer to the institution, following on from the introduction of two Student Trustees on our Board and the long-established Student Representatives who provide an essential link between staff and students.
The Building the Future sessions were designed to begin the conversation on diversity and sustainability, which will likely continue throughout our students' time at UCEM as we look to listen to our students and see how we can enhance our work in these areas moving forward.
The Welcome Programme was our interpretation of other universities' Freshers' Weeks, at least, from an orientation point of view and was very well attended. I hope all those students who attended feel more confident about their studies now, know which teams to contact when they have a query and have a greater understanding of UCEM and the staff members who will play a key role in their lives over the coming years.
A huge thanks to all the members of staff who took part, with a special thanks to our Head of Marketing, Communications and Brand, Donna Rourke-Houguez, and Internal Communications Officer, Eliza White, for organising the first of what will become a firm fixture in the UCEM calendar.
Graduate Celebration Week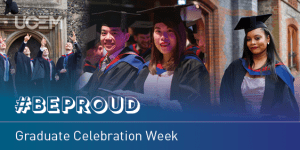 Whereas the Welcome Programme was for our new students, Graduate Celebration Week, held in September, was our online celebration for those who had recently completed their studies with us.
In this strangest of years, face-to-face events are near-enough impossible and sadly, our 2020 Graduation ceremonies were casualties of COVID-19.
We didn't, however, simply want the achievements of our 2020 graduates to pass us by, and Graduate Celebration Week meant we could celebrate their achievements online.
Staff members recorded their messages of congratulations, graduates shared their thoughts on completing their studies and we even created s Spotify playlist comprising graduate selections and celebratory songs.
This first Graduate Celebration Week was primarily focused on those who would have attended our June 2020 ceremony, and stats on this cohort were also shared on social media throughout the week.
Our second cohort of 2020 graduates received their results just recently, and I look forward to reading about their stories when we host our second Graduate Celebration Week in December.
Like the Welcome Programme, Graduate Celebration Week will become a fixture of the UCEM calendar with the hope being that it will complement our face-to-face ceremonies in future with those unable to attend in person duly recognised online.
We hope Graduate Celebration Week isn't goodbye for our new graduates but, instead, a way of marking the end of their studies with us before keeping in touch through our Alumni Association.
UCEM Property Awards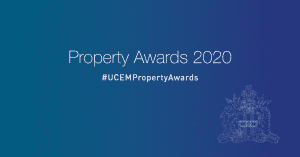 Speaking of alumni, we recently held our 2020 UCEM Property Awards. In addition to the announcement that Annie Hampson OBE became the 33rd recipient of the main UCEM Property Award, we crowned our 2020 Alumni of the Year and Academic Excellence Award winners.
The Alumni of the Year category showcased the wonderful achievements of recent alumni within the Built Environment whilst our Academic Excellence nominees were recognised for the outstanding final dissertations they had written as students over the past year.
Whilst, the Awards, like our Graduation ceremonies, could not be hosted in person, we shared shortened versions of the usual speeches and announcements via our social media channels on the day itself.
Prior to event day, the stories of each of our 12 alumni nominees were shared on our website. Reading these individual stories of success in industry and academia, respectively, was inspiring with these exemplary role models reflecting the hard work and talent evident in all our graduates.
In recent years, winners of the UCEM Property Award – which goes to somebody who has made an outstanding contribution to the Built Environment – have been former UCEM students. Our newest addition to the Awards is the Harold Samuel Research Prize which is a prize of up to £15,000 going towards a research idea with the ability to transform the sector, and, perhaps, in future, we'll see some alumni recipients too.
UCEM community
These recent examples show our increased efforts to make our students and alumni feel part of a community, whether it's at the start of their learning journey or to share in their success at the end.
During our students' studies, we make every effort to support them, with our Learning and Teaching Enhancement Team assisting with the development of their soft skills and our Academic Support Tutors providing more specialist academic support, with other hands-on support coming from our Careers Service, Disability and Wellbeing Team and e-Library among others. That's not even mentioning our Tutors who have a huge role to play in guiding our students throughout their learning journey.
The Welcome Programme has opened the dialogue with the newest members of our community who I hope stay engaged throughout their studies and beyond to form a lifelong association with UCEM.
As a vocational university, we recognise the importance of engaging with our students to help them in their careers, and to assist in creating a network of contacts within the sector. This is why we have placed so much emphasis on building our student community.
I feel hugely honoured to lead UCEM, and as we develop our community even more, I hope all of our students and alumni see their association with UCEM as a very positive and lifelong asset, and have as much pride in the institution as I do.
At UCEM, we are committed to contributing to a better Built Environment sector through excellence in online education. We deliver approved apprenticeship programmes, as well as undergraduate and postgraduate degrees. For more information take a look at our Study With UCEM page.
To keep up-to-date with the latest UCEM news and blogs, as well as more general updates from the Built Environment, make sure you're following us on Twitter, Facebook, Instagram, YouTube and LinkedIn.