Our students in focus: Changing career path to pursue a future within the Built Environment
Posted on: 9 April, 2018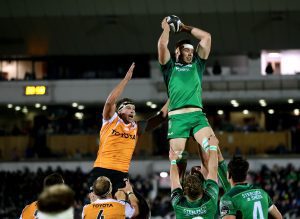 Aiming high: UCEM student, James Cannon, in action for Connacht Rugby
James Cannon is eyeing silverware with Connacht Rugby in rugby union's Pro 14 competition but the 6 ft 8 in lock is also looking beyond his playing career and sees a future in real estate.
"The career I am in at the moment won't last forever," says the 29-year-old. "I wanted something challenging and different to get my teeth into, and I had an opportunity to do a bit of work experience in the real estate industry. I enjoyed it so I spoke to people who had careers in the industry and they suggested I look at UCEM to do a course there."
This taste of the real estate industry occurred when James was living in England and playing for Wasps but a mid-season move to Connacht and the west coast of Ireland didn't derail his ambitions, and having taken his peers' advice, he decided to take the plunge and study the MSc Real Estate programme with UCEM.
"It's been great. It has fitted around my work commitments and lifestyle very well," James says. "If I was at a traditional institution, there would have been no way I would have been able to continue with my studies. The flexibility you get with UCEM has been invaluable."
James is not the only professional rugby union player to look to UCEM to sharpen skills needed in the Built Environment for a new career after rugby.
One former rugby union player reaping the benefits of studying with UCEM is Sean Henry. Like James, Sean played for Connacht Rugby, but an injury early into his playing career forced him into retirement and he sought a career within the real estate industry, having already gained an undergraduate degree in Construction Management and Engineering.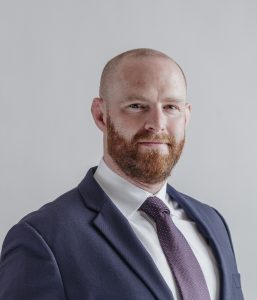 From the rugby pitch to the office: UCEM alumnus, Sean Henry
Sean recalls: "I was fortunate to get a job relatively quickly after rugby finished with a development company in the US called the MG2 Group. Therefore, I needed a Master's programme that would allow me to travel, work full-time and was accredited by RICS. When I learned about UCEM, it was simply a case of picking a programme that complemented my undergraduate degree so I was upskilling in the right areas. After a couple of phone conversations with David Hourihan [UCEM's MSc Real Estate Programme Leader], I settled on the MSc in Real Estate."
Having graduated with UCEM in 2017, Sean, who has returned to Ireland and works as a Project Manager for Venturis Investment Group, adds: "Eventually I would like to set up my own development company but it won't be today or tomorrow as there is just so much to learn on this side of the business. I feel as though my MSc in Real Estate has given me an excellent foundation from which I can progress."
The memories on the rugby pitch will remain and Sean is already creating memories in his new field of work. When asked what the highlight is, or most interesting experience of his career to date, he responds: "For my rugby career, it was when we beat Toulouse with Connacht in the Champions Cup and ended their unbeaten streak at the Stade Ernest Wallon. In property, I had quite an interesting experience in directing 540 apartments and 60,000 sq ft of retail space while we went through a management transition. I wasn't working in real estate for that long at the time so let's just say the learning curve was fairly steep!"
As well as helping to ease the transition from professional sport to post-retirement work in the Built Environment, UCEM caters for those seeking a change in career with its range of conversion programmes.
Theodora Jack-Ryan graduated from UCEM's BSc (Hons) Quantity Surveying programme last year and says: "I was looking for a career change therefore, to see if it was a good fit, I did a Foundation programme to determine whether or not it was the best fit for me to help with my decision-making, and it was.
"I was looking for an online RICS-accredited institution and UCEM was the only option for me with the flexibility it afforded."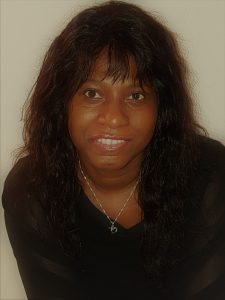 Quantity surveying in the Caribbean: UCEM alumna, Theodora Jack-Ryan
Theodora, who now works as an Assistant Quantity Surveyor for Glossy Bay Construction Ltd. in Canouan (an island in St Vincent and the Grenadines), adds: "I had a really great experience with UCEM. Studying online, a person has to be determined and able to manage their time.
"When it comes to studying, the only difference in having a Tutor present is that you can see them to have that face-to-face interaction. Having said that, UCEM provided live webinars where students were able to see their Tutor when covering a topic which made the experience just as good as having a face-to-face lecture as with the traditional method of studying.
"The staff were always supportive, especially [UCEM Tutor] Paul Fitchett who helped make my learning experience very good and Amanda Milambo [UCEM BSc (Hons) Quantity Surveying Programme Leader] whose affable personality made it easy to interact with.
"My ambition is to start my own practice and go on to become a member of RICS. UCEM has helped to get me on that track by laying the foundation for me to progress forward, and by gaining the necessary experience as time progresses, I will accomplish that goal."
Bex Gibson also sought to change career and enrolled on UCEM's MSc Construction Management conversion programme last year and is aiming to graduate next year.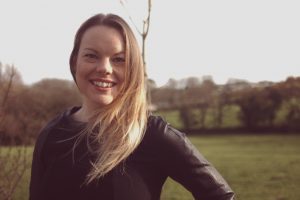 Construction convert: UCEM student, Bex Gibson
The 30-year-old Project Officer, from Cornwall, says: "After a recent change in career, I wanted to learn about all aspects of construction management to help develop my knowledge and improve my career opportunities.
"UCEM offered a flexible learning approach I could fit in with my full-time job and came highly recommended by colleagues.
"Studying with UCEM works very well for me. All webinars and learning materials can be accessed at any time, so I am able to fit my studies around my life.
"I knew when I started studying for an MSc that it would be challenging to balance work, life and studying. However, it was clear from the outset the commitment I'd be required to make and was able to schedule my time accordingly. At Master's level, there is a lot of work, but I enjoy the subject matter and the way it is taught – the flexibility of the course makes the balancing act more manageable.
"Having been out of education for almost 10 years, the thought of writing essays initially terrified me. However, I was given support and encouragement by the tutors and module leaders and it made me feel a lot more comfortable putting my pen to paper to submit that first assignment!
"The flexibility and support are the best things about studying with UCEM. Even though I live in Cornwall, I feel connected and involved in the UCEM student community.
"I work on a university campus, with many developments ongoing at any one time. Within my role, I can see all projects grow from ideas through to completion. Seeing how construction can change lives, be it through improving research facilities or building new accommodation, is a daily inspiration."
Are you a professional sportsman or sportswoman looking to forge a career beyond your playing days? Or are you interested in changing career and joining the Built Environment sector? If so, why not check out our student testimonials here or our range of undergraduate or postgraduate programmes for more information about how we can help you realise your potential within the Built Environment.