Jodi-Ann Morgan – 2023 Shortlisters
Posted on: 10 February, 2023
Junior Cost Consultant, Arcadis Consulting (UK) Ltd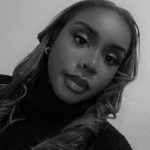 For many apprentices, their decision to enrol is the result of months of research and planning – but not for Jodi. She had planned to go to a traditional university after college, and hadn't thought about doing an apprenticeship until her circumstances suddenly changed.
In her words, Jodi was "slingshotted into adult life". Living on her own, with bills to pay, meant Jodi needed to start working earlier than she had expected. Her college tutor encouraged her to apply for an apprenticeship as a way of working, earning and studying at the same time.
Jodi had always been interested in buildings, and was attracted to the idea of working in a truly global industry that could take her anywhere. A conversation with her sister's manager introduced Jodi to the idea of surveying as a career, and it instantly appealed: "[Surveying] just sounded like something I'd enjoy – going on site, making sure a project stayed within budget, being a part of it from start to finish."
Jodi secured a role with Arcadis Consulting, and began her journey towards becoming a chartered surveyor.
She credits UCEM not only with helping her acquire the knowledge, skills and behaviours she will need for her qualification, but also for supporting her when she was recently diagnosed with dyslexia. Jodi believes the virtual learning environment helps her make more progress than would be the case at a traditional university with in-person lectures:
"I found out I was dyslexic in my third year of uni, and I thought it was wild I'd got so far. But then I realised I probably didn't struggle with my work as much as I would at a physical university because of the recordings."
Jodi explained that being able to re-watch parts of lectures, and ask questions in forums and WhatsApp groups where the answers are all recorded, helps make sure she doesn't miss key information.
Being shortlisted for the Apprentice of the Year award "means the world" to Jodi: "It feels like all my hard work has paid off, and everything I've been through has been noticed by my manager who's nominated me for this award."
2023 Winners >