Introducing the Research, Innovation and Partnerships Team
Posted on: 28 April, 2020
UCEM's Research, Innovation and Partnerships Team is small in number but broad in terms of the diverse range of work it undertakes.
Aled Williams, UCEM's Director of Research, Innovation and Partnerships, leads the team which comprises Research Assistant (Education & Sustainability), Dr Renuka Thakore.
Here, the team discuss their roles, their career backgrounds and what they enjoy about what they do…
'Driving forward sustainability, research and scholarship within UCEM'
AW: This team came about in order to focus driving forward sustainability, research and scholarship within UCEM. A recent publication we worked on was The Value of Community in partnership with The Prince's Foundation which revealed a direct link between housing type and social benefits – so-called 'social capital'. Allied to that, a constant theme with the team is operating at the interface of education, business and the wider community via collaborating with Built Environment, professional statutory and regulatory bodies.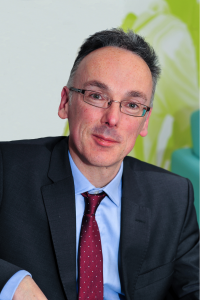 Aled Williams
We regularly get involved in thought leadership with the aim of influencing policy. I have a number of external roles including CIC Champion (Education) and Chair for the Council of Heads of the Built Environment (CHOBE). I sit on CIC's Climate Change Panel leading a strand on education and qualifications in light of the climate emergency. This is a key strand within research and sustainability for our team.
RT: As part of my role, I have been engaging with UCEM sustainability work externally and internally with the Sustainability Working Group [SWG]. My role is to emphasise sustainability in education and the Built Environment. I took the role because of my passion for sustainability and the Built Environment so it was an attractive role for me.
I engage with international forums on the topics of societal resilience and sustainability, for example, my presentations 'Identifying and leveraging the capacity to exploit small and medium-sized cities' internal resources for financing and the creation of a resilient development network of tri-border region in Latin America' and 'Investigating urgent energy efficiency and sustainability challenges in housing sector of Jordan'. UCEM has been doing a lot of work on institution-wide sustainability. I try to influence this work in education in the Built Environment, especially showcasing sustainability credentials and increasing UCEM's profile as a global leader on sustainability.
Career backgrounds
AW: My passion for the Built Environment came from my family of farmers. From a very young age, I have had a hands-on approach with the Built Environment.
In terms of my professional career, I practised as a Building Surveyor working both for the NHS and private practices. I taught at John Moores University for 10 years in charge of various activities where I engaged with employers on programmes and cross-disciplinary projects. At Salford University, I worked as an academic and engaged with industry
I was partially seconded working for the Higher Education Academy (HEA) on innovation and best practice in education. I led on construction, property and surveying within the UK Centre for Education in the Built Environment where I was Deputy Director and subsequently HEA Discipline Lead.
I moved to UCEM five-and-a-half years ago.
RT: I have worked in the construction industry for 20 years in India. Construction has always been my passion. Buildings are so exciting for me.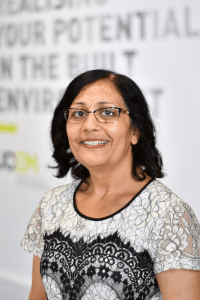 Dr Renuka Thakore
I moved to the UK to start a new career and went back to education. I trained myself as an Environmental Manager and because of my past experience and knowledge in the Built Environment, I combined these two fields of expertise through my Masters in Sustainability in Built Environment Practice. My dissertation focused on the financial benefits of environment management and was very exciting which motivated me to get a PhD and become an academic.
My PhD was on a strategic engagement model for delivering energy efficiency initiatives in the English housing sector. I did a case study on English housing and led a discussion on the strategic capabilities, such as leadership and regulations, that would increase overall capacity to achieve English housing low carbon targets. I really enjoyed researching English housing.
When I completed my PhD, I got a job as an Associate Tutor at UCEM, three years ago now. The module I lead on is Sustainable and Innovative Construction. Following a discussion with Janet Hontoir [UCEM Tutor], she introduced me to Aled and I found out there was a Sustainability Working Group which I decided to join. I then saw the Research Assistant role which I fortunately got.
'Sustainability is my passion'
RT: I enjoy my work as sustainability is my passion. Sustainability and the Built Environment are two fields I love working in. My role provides me with the opportunity to put my experience into practice.
AW: The passion, engagement and commitment of the staff within UCEM is what makes my role so enjoyable. Allied to that is the opportunity to make a tangible difference to the Built Environment community and to wider society in terms of research, education and sustainability.
What next?
AW: My ambition is to create a model to improve and demonstrate that UCEM is the world's most sustainable university. We are developing this in the team at the moment for implementation in the near future. Allied to that, we are looking, over the longer term, to develop research degree awarding powers. It's a long journey we are starting on now which is important for the progression of our students and creating another offer in terms of the wider industry.
Head to the Sustainability webpage to find out more about the work the team undertakes to embed sustainability within UCEM. Visit the Building People website to discover how it connects people to opportunities within the Built Environment.