Increasing accessibility awareness among colleagues
Posted on: 19 May, 2022
Today is Global Accessibility Awareness Day (or GAAD). The purpose of the day is to get everyone talking, thinking and learning about digital access/inclusion and people with different disabilities.
At UCEM, accessibility is essential to how we operate as an inclusive, online university. Our learning technology researcher, Dr Tharindu Liyanagunawardena, has been one of the key drivers in making colleagues more aware of accessibility and, here, she reflects on the activity and progress made to advance the cause…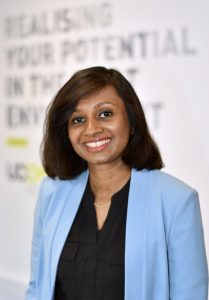 Over the past few years, we have taken steps to raise accessibility awareness among colleagues. This has been achieved through poster and screensaver campaigns, workshops (in-person and online), webinars and, most recently, through the creation of a bespoke accessibility awareness course.
It is this final achievement that I am most proud of in my efforts to embed accessibility awareness and suggest implementation with my peers.
To date, 58 colleagues have attained assistive technology badges, 43 web accessibility and standards badges, 46 accessible colour badges, 36 heading and document structure badges, 34 accessible video and audio badges, 34 accessible images badges, 34 accessible tables badges and 24 accessibility awareness badges.
To put this into context, this means that almost one-in-five staff members have earned an accessibility badge. Numbers of those who have attempted to earn badges could be higher still as you only attain a badge upon gaining 100% in the associated quiz.
I am really pleased that the Accessibility awareness course has received so much engagement from colleagues, especially given that this is not made compulsory. It is easy to put it off when the course is a self-paced course which you can start any day.
I believe its success has in part been due to the short sections of learning which colleagues can account for in the gaps they have in their schedule for CPD/learning. I also think it helps that we run a workshop every few months to raise accessibility awareness and remind people of the available learning opportunities.
I recall an incident talking to a colleague about the work I was doing on accessibility and they asked: what is accessibility? With all our hard work in raising accessibility awareness, I really hope we all have passed that point by now.
For further resources on accessibility, take a look at the W3C Web Accessibility Initiative website or watch this selection of accessibility perspective videos.